No gym – no problem: Keeping it real for busy mums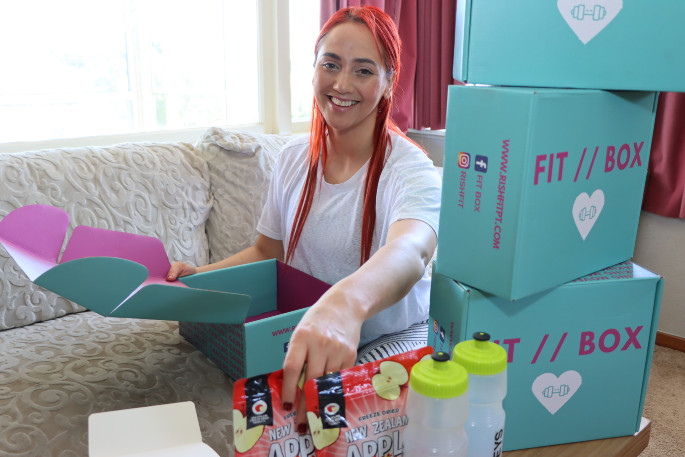 The secret to success for one Tauranga start-up business is 'keeping things simple'.
While Marisha 'Rish' Wilson has joined the ranks of online gym trainers, you won't find any glitzy gym backdrops in her videos.
Key to her online popularity is the fact Rish delivers her gym classes from her kitchen at home.
She's all about 'keeping it real' for busy mums, because she lives that life herself.
To emphasise the point, her own one-year-old Ezekiel occasionally puts in a cameo appearance in the background of his mum's videos
Mum of two, Rish knows first-hand how important regular exercise is for physical and mental wellbeing, and now she's doing all she can to help other people get on track too.
The 29-year-old personal trainer and social worker experienced bouts of depression and anxiety after the birth of her six-year-old son Boston and found exercise was what helped her cope and get through it.
She's now putting that hard-won wisdom to good use.
Earlier this year, after feeling for a while that she needed a change of direction from her job as a social worker, she took the plunge into self-employment and launched an online exercise programme for women.
"In April I ventured off from my usual nine-to-five and started a business called 'Fitness for Females', where I do online workouts for women every week-day at 9.30am," Rish says.
The mid-morning timing of her livestream workouts gives mums enough time to get the kids off to school, before meeting up online for group exercise sessions.
At the same time she's proving that you don't need a flash exercise room or expensive equipment to achieve fitness goals and have fun.
She inspires her growing number of followers with contagious energy, some catchy music and motivating talks.
It's a down-to-earth approach that seems to be working, judging by the views and followers on her website and Facebook pages.
'No gym, no problem' is her motto.
The self-employment start-up journey has definitely been a learning curve and Rish is grateful for the support and advice she received from business mentors through the Manaaki.io website.
She's about to launch stage two of her business which is called Fit Box NZ. It came about following demand from Fitness for Females members for food and diet information.
Launching on October 28, the Fit Box NZ kits contain meal and workout plans along with products from companies like Nibblish, NutraTech, Simply Kawakawa, New Zealand Apple Products and Dilmah teas.
As the owner of a new and relatively unproven start-up, Rish says approaching companies with her Fit Box NZ plan was daunting at first. Her perseverance paid off and now a variety of local companies have joined the venture.
Underlying everything Rish does is a desire to keep fitness and health affordable for clients.
"Meal plans these days are very expensive - upward of $100. Personal workout plans can also be super expensive. So $35 for everything in one [kit] is very realistic and affordable. Something that it should be."
She feels part of the reason some people don't invest in their health is because businesses like to over complicate it – and overprice it.
"I guess that's where my social work comes into play," she says.
"It upsets me that some health professionals are just in the industry for the money or their own ego. It is hard to find a healthcare or fitness professional now days that does it for the people."
Initial profits from both Fitness for Females and Fit Box NZ will go towards the third – and philanthropic – side of Rish's enterprise.
She's in the process of setting up 'Wahine United', a registered charity which helps school girls play the sports they enjoy, attend school camps, and pay for other extra-curricular activities that they would otherwise be unable to participate in due to financial hardship.
A talented netballer from a young age, Rish says her own parents struggled to meet the costs of helping her go further in her chosen sport.
Missing out wasn't a nice experience and it was hard on her own and other families.
Consequently, she's determined that her business success will be shared with girls in the shoes she was once in by helping kids with potential to get the opportunities they deserve.
"I love 'win-win' situations," says Rish.
For more information, visit: www.rishfitpt.com
More on SunLive...