We all need a good dose of comedy gold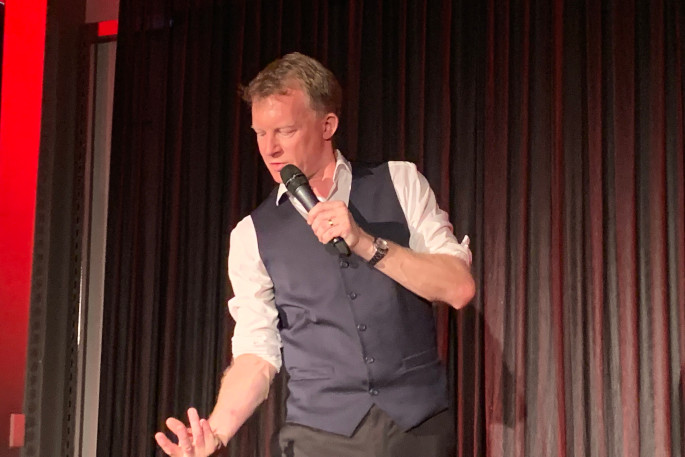 For those who haven't managed to laugh much this year, this weekend is the time to get your laughing box out, dust it off and head to downtown Tauranga to the fabulous Tauranga Pop-up Comedy Club.
Let's face it, there hasn't been much to laugh at during 2020, and we're all a bit rusty at it, as I discovered last night when Simon McKinney took to the stage in Devonport Rd.
The Tauranga Pop-Up Comedy Club is one of the best activations yet for the central business district which has seen retailers stream off out to other locations, leaving the area rather depleted. So the comedians have moved in. The club, run by seasoned comedy producers Events Limited has taken over the old Glassons store next to Goddards Shopping Centre and directly opposite Sandi Cutts' stunning night window activation display. There's a warm welcome, and inside a bar and stage area, with lighting and a mix of cabaret and theatre-style seating helping create a wonderful intimate feel. It's perfect for live comedy.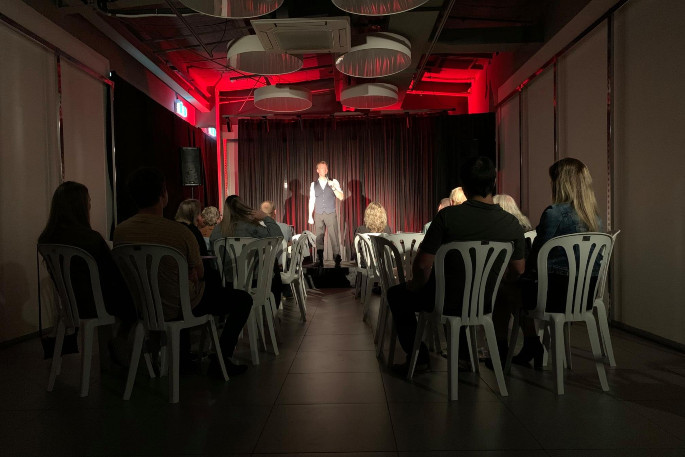 Of course there is a wealth of fabulous eateries, cafes and restaurants in downtown Tauranga to enjoy which some of my "coconut or soy in our spiced chai latte please" Auckland friends told me this week are the best they've ever been to. And that was mid-week.
It's 'flippin fantastic' to be served up some of NZ's leading comedians here in Tauranga this weekend. Three days, eight shows and 12 comedians.
"We have wanted to set up a comedy club type venue for a long time in Tauranga, and with the city continually growing it seems it's a great time to introduce this style of comedy room that you find in all of the best cities around the world," says Heath Ingham, from Events Innovated.
"We've got some great comics in NZ and this gives a really cool event space that gives something new and unique to do in the city centre during the long weekend."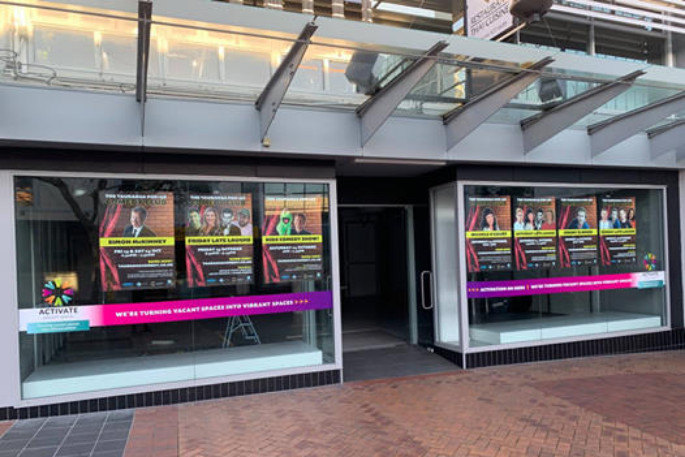 Following Simon on Friday night was the Friday Late Laughs Lineup Show with Brynley Stent, Nick Gibb, Advait Kirtikar and Hamish Webber.
This afternoon a Kids Comedy Show running from 2pm – 2.45pm has sold out. Simon returns for a solo show this evening from 6.30pm – 7.30pm and then Michele A'Court will be taking to the stage from 8pm – 9pm. The night and laughter continues to build with the Saturday Late Laughs Lineup Show starting at 9.30pm featuring a killer lineup of Michele A'Court, Advait Kirtikar, Jack Ansett and Ruby Esther.
The worst thing that happened last night at the comedy club? I laughed. The best thing that happened? I laughed. All thanks to Simon who plucked our minds up out of the misery of 2020 and Covid, and happily took us off on a brilliant and hilarious jaunt through his view of the world.
Incredibly it was only a one-hour show, which meant plenty of time to enjoy a dinner as well afterwards, but he managed to stretch it out a bit and gave us some of his best comedy gold. He brought us Sean Connery, a Maori visiting a pub in Scotland and many other characters while dropping us into hilarious encounters he's had around the world.
The audience was slow to pick up on some of the subtle brilliance that Simon spun at us, his wordplay like a free-spinning Frisbee failing to get caught on occasion, probably more than I realised. 'On trays' and 'entrees' was one of probably many that he graciously sailed through. He was outright funny from the start, we were slow to disentangle from our complex lives but soon warmed up, our muffled guffaws and snorts gradually turning into deep belly laughter.
On Sunday night Jeremy Elwood presents his solo show at 7pm, followed by the Sunday Late Laughs lineup show from 8.30pm with Jeremy Elwood, Tim Batt, Eli Matthewson and Janaye Henry.
Tie in dinner at one of the local restaurants and it's a perfect combination for a night out – dinner and a show.
This is what we all need. A good laugh. Thanks Heath. Doctors should prescribe a dose of comedy every week for the general population for the next decade.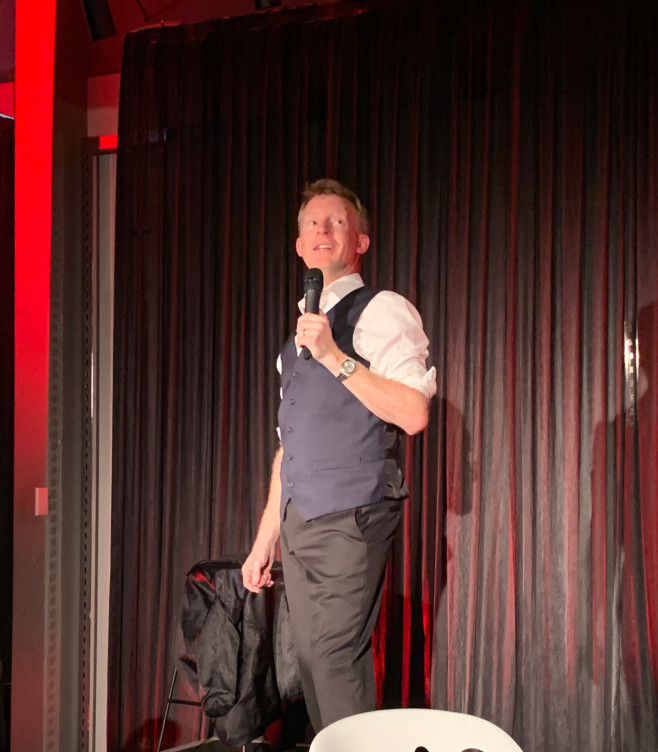 More on SunLive...