Cochlear implants transform Tauranga two-year-old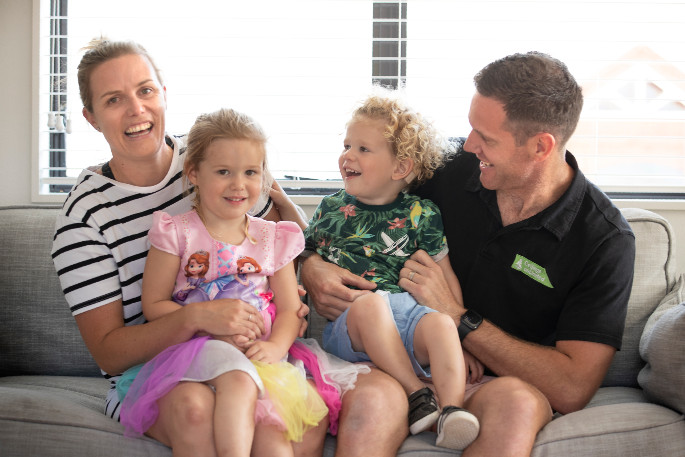 Profoundly deaf Tauranga toddler Hugo Roberts is 'blossoming like a flower' in front of his family's eyes.
That's how Hugo's mum Becky Roberts describes her son's journey ever since having his cochlear implants switched on about a year ago.
"The world is becoming more and more exciting for Hugo and we are so thankful that his cheeky little personality is coming out.
"We didn't realise how much he was missing before the cochlear implants, and now he is just a different child," says Becky.
A cochlear implant is a surgically-implanted electronic device that restores hearing for those with profound hearing loss, and it works by imitating the function of the inner ear.
The two-year-old's experiences with hearing loss has been different to most, says Becky.
"He was such a content baby - we thought he was just the most amazing sleeper, so calm and placid. We didn't even think twice about hearing until the six-week newborn hearing test picked it up," she says.
This is when Becky and Hugo's dad Damo Roberts found out he was profoundly deaf in his left ear. At the time, hearing in his right ear was completely normal.
But as Hugo grew up, the couple noticed that he wasn't developing as he should be.
"His balance was off, he was floppy and he wasn't responding to a lot."
The family then found out that Becky had contracted Cytomegalovirus when she was pregnant, which was passed onto Hugo.
One-year-old Hugo underwent an auditory brainstem response test under general anaesthetic to determine his level of hearing.
That's when the family found out hearing had dropped by more than 70 per cent in his right ear.
"It makes me well-up now even thinking about it when we were told he had profound hearing loss it was devastating," says Becky.
"As parents to find out your child is profoundly deaf is indescribable. It's that sinking feeling of the unknown, and the prospect of never hearing your child talk and them never having the gift of sound."
Cochlear implants were the obvious solution after receiving this news, and once they were switched on Hugo slowly started to transform, says Becky.
Surgery and the subsequent switch-on is only one part of the cochlear implant process. Patients need to learn how to use the technology and interpret the new sounds through ongoing audiology and speech and language therapy.
"It took a while for his brain to reprogram and for him to learn how to hear with his implants but after about six months we noticed a huge change."
Hearing Hugo talk sometimes brings Becky to the point of tears.
"Hearing is little voice, is just something that without cochlear implants we would have never heard."
"He started properly talking about two months ago - before then he was just saying 'mama', 'car' and 'dada'. But he had a burst and is just kicking off - he probably has about 15-20 words that he is now using every day," Becky says.
"He is less frustrated and is more interactive with us and his sister. He wants to read more, listen to music and dance – which is something we have never had before."
Throughout this journey the family have received ongoing support from The Hearing House and the Southern Cochlear Implant Programme which Becky describes as "next level".
"The wrap-around support has been incredible. I actually can't fault it –they are kind, informative and make sure we have access to all the information we need."
Loud Shirt Day is the annual appeal of The Hearing House and the Southern Cochlear Implant Programme – and it's taking place today.
New Zealanders are encouraged to dress up in their brightest outfits and hold fundraising events at workplaces, homes and schools throughout the country to raise awareness for the cause.
According to The Hearing House, nearly 900,000 New Zealanders – or 18 per cent of the population - suffer from hearing loss.
"They are children, teenagers and adults – many of whom are stuck in a silent world.
"Loud Shirt Day funds ensure SCIP and THH can continue to provide specialised listening and spoken language therapy to thousands of New Zealanders with hearing loss."
For more information, visit: www.loudshirtdaynz.org
More on SunLive...