Tauranga Domain to host Steamers this weekend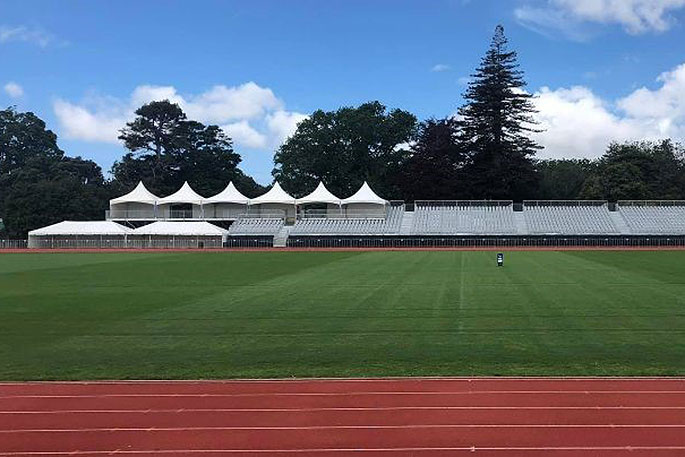 In the space of a week, the Tauranga Domain is transformed from an athletic track and club rugby ground into the Tauranga Stadium, a Mitre 10 Cup venue with the ability to host 6000 spectators and 750 Corporate guests.
The Bay of Plenty Rugby Union's Pat Rae changed his role as community rugby manager to the person overseeing the build.
"We have in excess of 15 contractors involved in the complex build and they have been great to work with as the try to meet the tight timeframes of the build," says a statement from the BOPRU.
"From building a 2200 seat temporary grand stand, temporary fencing, extra toilet facilities, sound system, temporary generators, a big screen, corporate hospitality suites are all part of the extensive build.
This year, the Bay of Plenty Rugby Union is grateful to receive some event support funding from the Tauranga City Council through their Event Fund, which has helped in a small way with some of the costs involved.
"We are excited to be able to provide the first large sporting event for the Tauranga city since lock down and with quality opposition such as Canterbury, Hawke's Bay and North Harbour, family friendly kick off time of 2.05pm and some gorgeous Spring weather, we hope we've created the perfect recipe for a great day out for all the family," says Rae.
There is no doubt 2020 has been uncertain for many and a year to forget for others. As in past years, food trucks will be lined up along with a Whanau zone and there is a special treat at half time with the launch of Good Buzz Bonkers.
"With so many local businesses involved in these matches, not only do our supporters and spectators get to experience a great day out, but our local businesses, some of whom have really battled for business thanks to COVID, get a chance to open their doors, earn some revenue and start to rebuild their livelihoods."
For this weekends game v Canterbury, Gates Open at 11.30am and the curtain begins at 11.45am with a FMG Boys Rural XV taking on the Thames Valley Rural XV. The FMG Boys Rural XV team is selected from rural Bay of Plenty Secondary School players and will be coached by Aaron Bidois, Steve Axtens and Steve McGregor.
Tickets range from $5 for children to $20 for adults and are available to purchase online by clicking here.


More on SunLive...