Top showjumper's addiction ends in tragedy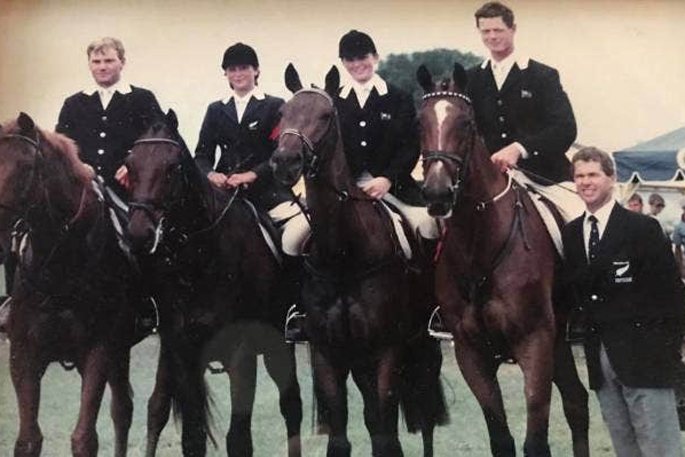 Helen Smith was once a well-known showjumper representing her country and 'total over achiever', says a friend.
But then addiction took over.
Helen Dorothy Smith, 49, was found dead on October 16 on the shoreline of Lake Taupō near Mere Road along with Trevor Malcolm Wiringi, 50, from Rotorua.
Paula Mussen, who knew Helen for 33 years, described her as a "heap of fun", but says she had lost her way due to an alcohol addiction.
The day Helen died she had been drinking down by the lake and swimming with Wiringi.
The pair drank so much they passed out, and Paula says she understands hypothermia killed Smith overnight.
It was a sad end for someone who had achieved so much earlier in her life.
She was a top rider, representing New Zealand as a showjumper, as well as receiving other accolades early on in her riding career like Young Rider of the Year at Horse of the Year.
When Helen broke her back in a tractor accident she lost a lot of weight, which was when she changed and spent two years working as an apprentice jockey. At one stage she was the leading apprentice jockey.
Paula described Helen as someone who had "ants in her pants".
"She was a heap of fun."
Helen met her ex-husband in Greece, and they got married in Romania, having two children now aged 14 and 17.
Prior to 2014 Helen and her ex-husband had been living in Rotorua, buying properties and doing them up, and they also owned a lawn mowing business.
"She was a total over achiever, then the booze took over."
Helen started to spiral in 2014 and Paula says despite multiple efforts from family and friends she could never kick the alcohol habit.
"She started to lose her way, and we all tried to get her help.
"She didn't want to drink, she knew she struggled with it.
"But she needed the professional help, and she struggled to find it.
"She would go through stages where she would give up drinking completely and you would say 'yay she is back'.
"But...then she started mixing with the wrong crowds."
Paula says she wanted to speak about what happened to Helen as she felt there was a misconception about alcoholics in New Zealand.
"I think everyone is just judgemental, they think 'you're just a booze hag' [and] 'just stop drinking'.
"If she could have, she would have.
"She was a totally successful person until the addiction took over.
"It has been [like] watching a slow motion train crash."
Paula says Helen came from a good Kiwi family, with her sister also a showerjumper and her brother a top golfer.
"Addiction can touch everyone, it [affects] successful people as well.
"The family just desperately wanted to help her."
On Monday, a group of Taupō police and Ngāti Tūwharetoa kaumātua Manunui Blake gathered at Taharepa to uplift the rāhui on the lake after police deemed both deaths not suspicious.
The deaths have been referred to the coroner.
More on SunLive...