New Tauranga rubbish service sparks debate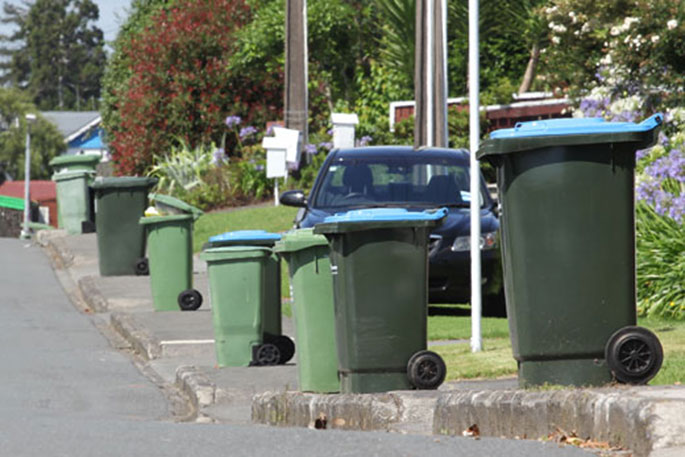 The rise in landfill costs and discontinuation of council rubbish bags are just two of the reasons behind a new Tauranga City Council-led kerbside waste collection service.
From July 1, 2021, all Tauranga households will be provided with a 140L rubbish bin, a 240L recycling bin and a 23L food scrap bin to add to their existing 45L glass recycling crate.
The decision for the new service was made following consultation with the community as part of the Long Term Plan 2018-28.
Infrastructure general manager Nic Johansson says 66 per cent of those who submitted to the plan were in favour of a council-led kerbside waste collection service.
But not everyone is happy.
Many people have taken to social media and the comment section of SunLive to voice their concerns, many of whom are angry because they feel this is a service they neither need nor want.
A lot of people feel they will be paying more for the new service, which is expected to cost $230 a year.
Johansson says the cost of sending waste to the landfill will increase due to future increases in the government's waste levy and emissions trading scheme.
He says these increases mean it will soon become more expensive for everyone in New Zealand to send waste to landfill.
Another popular complaint is that people are worried they will not be able to take the bins to the kerb due to ailments, living up a long drive or for some other reason.
Johansson says it's difficult to provide a service that suits all individual household needs.
"People who are unable to take their bins to the kerbside are encouraged to contact council to see if they qualify for an assisted service, which will be free of charge.
"Some households in our community are using council's rubbish bag collection service (black rubbish bag), however, this contract will end on June 30, 2021, therefore the service will not continue after this date.
"The main reasons for this are health and safety concerns over manual handling of bags and also to reduce the number of single use plastic bags being sent to landfill."
Opting out of the service is not an option.
Johansson says sharing the cost of the service across the city in rates ensures the collections are cost effective, consistent and more efficient.
SunLive put additional questions to the council following concerns raised by members of the community.
See Tauranga City Council's response below:
Why is there not an option for people to opt out in the first year? Especially for those residents who would only fill a council rubbish bag once a month?
Households are not able to opt out of the rates-funded kerbside rubbish, recycling, food scraps and glass collection services ($230 for the first year) however, the monthly garden waste collection ($60 for the first year) is an opt-in service.
"We have an opt-in system currently with our kerbside collections now being largely in the hands of private waste collection companies – and nearly 70 per cent of our household waste that goes to landfill could be composted or recycled instead," says Johansson.
"In order for the new service to make an impact and reduce household waste unnecessarily going to landfill, we need the service to be convenient for all households to take part in."
He says spreading the cost across a centralised, city-wide service in rates also ensures it's cost effective.
"It's difficult to provide a service that suits all individual household needs, however, households that produce less waste than average will be able to select smaller rubbish and recycling bins after the first year of the service."
Is there an option for people to have smaller bins or to change what bins they get based on their own household needs?
After the first year, ratepayers will be able to select from different sized rubbish and recycling bins to suit their particular household's needs, says Johansson.
"Any changes in bin size will be reflected in rates charges – with reduced rates for smaller bins and increased rates for larger bins.
"Final costs for the smaller and larger bin options are still to be confirmed."
What is going to happen to the existing rubbish bins people already have?
"We are currently working with the private waste providers to determine the number of bins they currently have and what they plan to do with these bins e.g. some may use these in other areas they provide services to," says Johansson.
"We are looking at ways we can help waste companies with existing bins that can't be re-used in other areas to recycle these bins instead of them ending up in landfill.
Which company will be handling the collection of the council bins? Is it a local/Tauranga company? If not, why has the council opted for an outside company?
EnviroWaste has been awarded the contract for kerbside collections.
Johansson says the competitive procurement process welcomed proposals from all companies who provide waste services.
"All local suppliers were given an equal opportunity to bid for contracts.
"While EnviroWaste is not a NZ-owned company, they employ more than 900 people nationwide and will be looking for skilled employees who are currently employed in Tauranga's waste services to be part of their team – and will be paying the living wage."
Additional information
The service will initially cost $230 including GST for the first year and be charged in residential rates from July 1, 2021 through a new targeted rate.
Households can also choose whether to opt into a rates-funded monthly garden waste service for an additional $60 including GST for the first year.
The majority of households will see their current waste disposal costs reduced, while receiving a more comprehensive service, says Johansson.
The annual cost for the new service is the same as using one and a half rubbish bags a week.
He says this is "significantly less than the $515 a year the average household that only uses private kerbside rubbish and recycling collections pays, according to market research".
The service is expected to make it easier to reduce waste, will be more accessible and will be more affordable for the community as a whole, and the collections are expected to halve the amount of waste each household sends to landfill by 2028, according to council.
The new service will be consistent throughout the city, with everyone having the same service.
This is expected to make it easier to educate people on what goes in each bin and to further minimise waste to landfill.
More on SunLive...