The Shows must Go On in Tauranga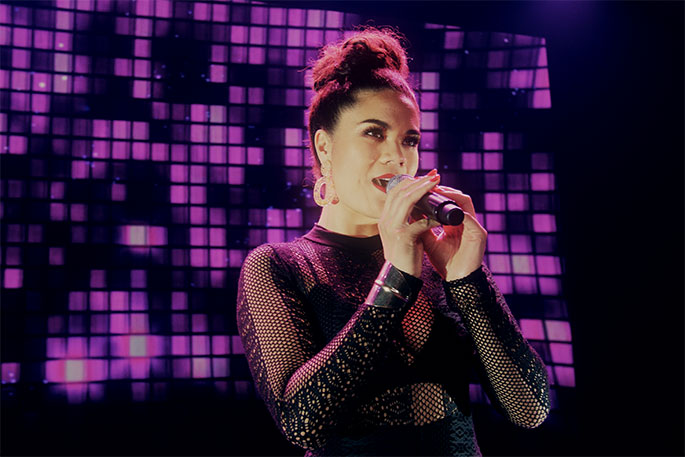 A Bay of Plenty woman, who has gone on to become a musical theatre star throughout Australasia, returns home to the BOP this week to perform - and we have COVID-19 to thank for it.
Akina Edmonds was born in Napier, of Ngati Kahungunu, Ngati Porou descent, and grew up in the Bay of Plenty area. She is the eldest of seven in her family.
While she had fond childhood memories of singing and dancing around the coffee table in the family home as a child, Akina's first exposure to performing and singing was at high school.
She attended Ngata College in Ruatoria, which had a role of about 400. Akina says she has fond performing memories of her time with the School Kapa Haka group.
There is no background of music connections in her family, other than her great grandmother, who she thinks was a singer with a beautiful voice.
Three years of tertiary study at NASDA (the Christchurch-based National Academy of Singing and Dramatic Art), has been followed by over a decade of consistent work in some of the biggest professional productions in Australasia – including Buddy, Hairspray and The Lion King, and the Australasian Premiere of Sister Act in New Plymouth, New Zealand in 2016.
Since Sister Act concluded in July 2016, Edmonds has been performing professionally, including touring Australia as part of the cast of the Broadway Musical Beautiful – the Carole King Musical and a TV appearance on The Voice – Australia where she was selected by Delta Goodrem.
Following the conclusion of Beautiful, Edmonds was back home in New Zealand enjoying some quality times with her friends and family, when the COVID-19 lockdown hit.
The Shows Must Go On is a glittering concert of musical theatre showstoppers, featuring songs from the world's greatest Broadway and West End musicals in concert including The Phantom of the Opera, Chicago, Mamma Mia, Priscilla The Greatest Showman, and more, along with New Zealand's favourite musical Les Misérables.
"I am so looking forward to being back in the BOP," comments Edmonds. "I have so many special memories of the Bay and all the amazing people of region."
"I'm also really looking forward to catching up with so many of my friends and family while in town – and I know it's going to be a great home audience for me.
"The Shows must Go On cast are all coming together as kiwi musical theatre performers to put together a night out for everyone to enjoy."
Joining Akina amongst a stellar all-Kiwi cast is international Theatre star Hayden Tee – who has performed the role of Javert in Les Miserables right throughout Australia, as well as on the West End and Broadway.
Hayden most recently appeared on the West End as Miss Trunchball in the original London production of Matilda – The Musical, and was home for a break when COVID-19 hit, and was due to fly out to New York to star on Broadway, not long after lockdown commenced.
The entertainment industry world-wide has been one of the hardest hit by the COVID-19 pandemic.
Theatres on Broadway in New York and the West End in London still remain closed, with no re-opening in site.
New Zealand is one of the only countries in the world right now where live performances can be held.
"I can't get over the fact that we're performing," says Akina.
"Trust me when I say, I know how incredibly lucky I am. Singing for our entire industry has never felt more important."
Of The Shows Must Go On, Akina says "it's a feast…. and it's live theatre …. And we haven't had live theatre for so long, so get out and amongst it. It's the human experience of it all."
"It's a rare opportunity for New Zealanders to enjoy the magic that Broadway and West End audiences do every day," says producer Dave Spark.
"The idea to present The Shows Must go On sprang up during lockdown, when we found a wave on cancellations and postponements of events, meaning we had all of these great kiwi performances plus a lot of experienced technical teams out of work because border closure and lockdown rules meant so many other events had been cancelled or postponed.
"It's really been a great effort by many in the industry in New Zealand to put together a show for kiwi's, by kiwis, which we know kiwi's will love and support."

The Shows Must Go on performs in Tauranga at the Baycourt Theatre on Tuesday and Wednesday at 7.30pm.
Tickets are available from Ticketek.
More on SunLive...