Tamati claims 'race isn't over yet' for Waiariki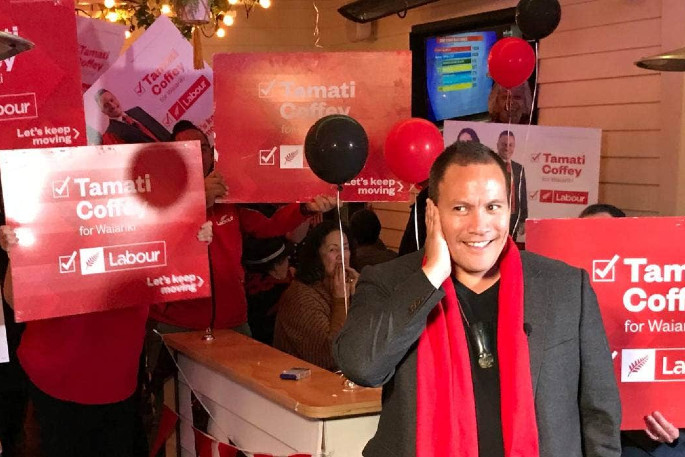 A defiant Tamati Coffey has claimed the "race isn't over yet" for the Waiariki electorate, despite Māori Party rival Rawiri Waititi's 421 vote lead on the Labour candidate.
It was a rollercoaster night for Coffey and supporters gathered at the Our House restaurant on Rotorua's Eat St on Saturday night, an evening that started with Coffey saying he was "quitely confident" of his chances.
For the first hour or so his prediction looked on the money, until the tide started to turn and Waititi took top spot.
All through the night as the votes were counted the margin between the two men remained slim – at one point in the count Coffey was just one vote behind.
Coffey said he is set to return to the Beehive either way thanks to Labour's landslide win and his list position, but the closeness of the two men has convinced him the game isn't up just yet.
"We'll just wait until everything is settled. I'm not quite ready to concede just yet," he said. "It's still tight and we've got special votes, and at the last election I did pretty well out of special votes. I'm not ready to call this."
He said Labour had delivered for the people of Waiariki and that he was "absolutely stoked I've managed to return with a Labour Government".
Asked whether he had any words of advice for Waititi should he take the Waiariki seat Coffey said "I don't think I'm quite at that point".
He did aim a parting shot at his Māori Party rival however.
"We've been able to deliver quite a lot for the people of Waiariki, it's hard to deliver from opposition, that's all I'll say."
More on SunLive...