A new way to love your local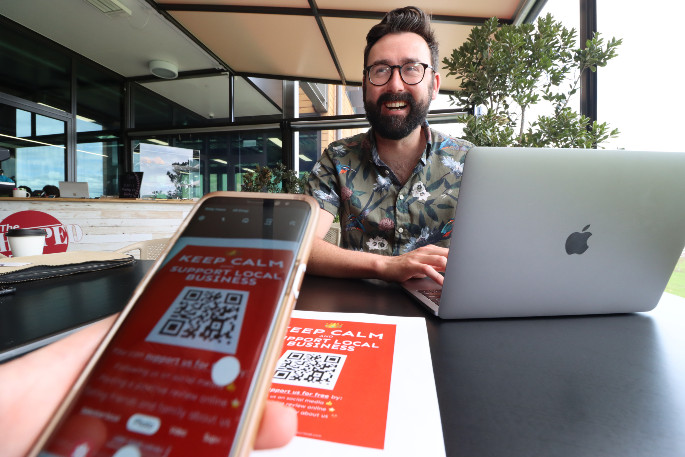 A new site is aiming to simplify the web experience for small businesses by giving them tools to maximise people's online interactions with them.
Like Your Local is a website where businesses can create a simple website and personalise posters with a QR code to link to the site they've created.
Co-founder Mark Murphy says the online world is really fractured with different social media platforms and ways of interacting so their site enables people to create one link to like them all.
"It's one URL that they can share everywhere, that allows everyone to have this point of reference, which is a jumping off point for all the important business activities that that business needs to do."
Mark says it is "the world's simplest small business website" where people can add links to their social media, sell gifts cards or bookings for their services.
"Like Your Local is a solution for these small businesses who want to engage their local community and unlock the love of their locals to help grow their business."
The site came about because software designer Mark and his business partner Josh ran a ticketing website for events and gigs and when the COVID lockdown happened their business dried up.
From there they created the Shout Your Local site, because while a lot of people wanted refunds others were happy to donate their ticket cost to the venue, so their ticketing technology was used to create e-gift cards instead.
Once gigs started up again they decided to repurpose their skills to create Like Your Local, because as a small business they understand the need to grow a business in different ways.
"The post COVID-19 world we're going into is probably a lot more local, a lot less global, small businesses want to diversify their revenue and also engage their local audience easily."
Another outcome from COVID that Mark and Josh have capitalised on is the use of QR codes in their posters.
"QR code posters are everywhere now because we've had to use them due to COVID-19. So an interesting behaviour that the population is now adopting is scanning those codes to their smartphones."
Signing up to Like Your Local is free and people can generate their own smart poster, print it and display it and the QR code will link back to their site.
Mark moved to Tauranga from Melbourne a year ago and although Like Your Local is only a few weeks old he is hoping to grow it to an international level over time.
"If we can get a lifestyle business working here and scale it up, it would be a lovely story for the region and also nationally."
There have been around 30 sign ups so far including a personal trainer in Mount Maunganui, a Napier artist and a community farm in Fiji.
The first 50 local businesses that join get a year of the pro plan for free using the code LOCALKIWI at checkout.
More on SunLive...