Bridges and Muller win Tauranga and Bay of Plenty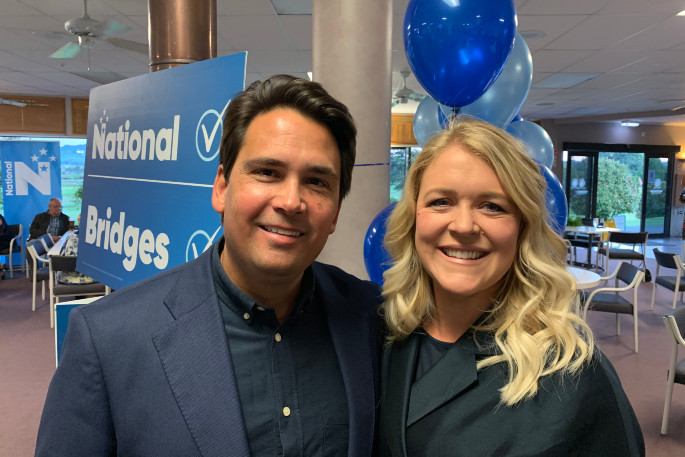 With 99 per cent of NZ's votes counted in this year's general election, the preliminary results are showing a landslide victory to the NZ Labour party tonight.
Nationwide Labour has 49 per cent of the vote, National 26.8 per cent, ACT 8 per cent, Greens 7.6 per cent, NZ First 2.7 per cent and Maori Party 1 per cent. This projects to 64 seats for Labour, 35 for National, ten for ACT, ten for Greens, one for Maori Party and none for NZ First.
The results show a 12.1 per cent rise since 2017 for Labour and a 17.7 per cent drop for National since 2017. A total of 2.36 million votes were cast in this year's election, with 1.16 million votes going to Labour.
The New Conservative Party secured 1.5 per cent of votes, The Opportunities Party 1.4 per cent, and Advance NZ 0.9 per cent.
Tauranga
In Tauranga, with 37,116 or 97.3 per cent of the votes counted, incumbent MP Simon Bridges is leading with 16523 votes ahead of Labour's Jan Tinetti who has 14054 votes, a margin of 2469 votes. However the Labour Party leads the party vote for Tauranga on 40.9 per cent (15169 party votes) with the National Party on 33.9 per cent (12563 party votes).
Cameron Luxton from ACT is running in third place with 1492 votes, and Josh Cole from the Green Party with 1363 votes. The ACT Party secured the third most party votes for Tauranga with a total of 3476 party votes.
The results were very sobering for local Tauranga MP Simon Bridges. Simon has been a member of the National Party since he was 16 years old.
"I can't think of a worse night on the numbers except for possibly 2002. Really grim," says Bridges.
He says he has a group of National Party colleagues who are losing their seats, and he is very saddened by that.
"There's a massive mandate for Labour to do whatever they want with unfettered power," says Bridges. "As one who is hopefully returning to Parliament, there is a difficulty with that to hold a government like that to account with the lack of numbers that we and ACT will have on the other side of the parliamentary benches."
Bridges attributes much of the sweep towards Labour being due to the personal popular sentiment towards Jacinda Ardern.
"She's benefitted tonight from that in spades and we can see that in those numbers. On the other side was a National party struggling with its own issues, that didn't have a plan or a strategy. The candidates out in the field weren't really sure what they should be saying on issues.
"We'll do some soul searching about that."
He says there wasn't a clarity on what the key messages were that National should have been presenting, and that the election night results reflected that.
Bay of Plenty
In the Bay of Plenty electorate tonight with 36973 or 96.5 per cent of the votes counted, incumbent MP Todd Muller is leading with 16929 votes, ahead of second candidate Angie Warren-Clark who has 13457 votes, a current margin of 3472.
However the Labour Party is leading with 41.8 per cent of the party vote, and the National Party with 33.4 per cent.
Bruce Carley from ACT New Zealand is in third place with 1699 votes. The ACT party is also in third place with 3851 part votes. Greens have 1617 party votes.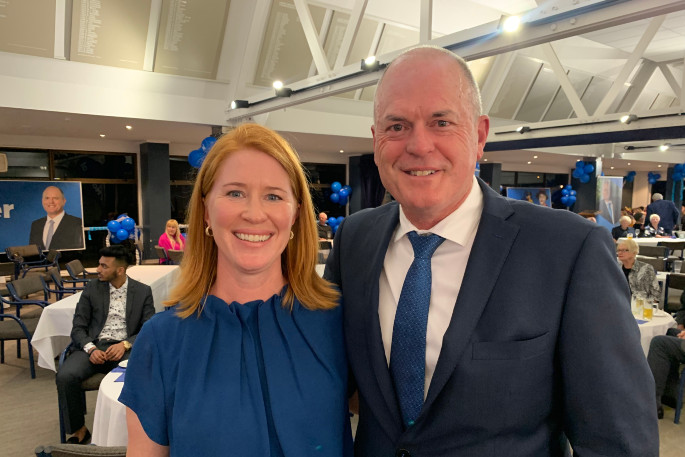 Michelle and Todd Muller
At the Bay of Plenty National Party function tonight at the Omanu Golf Club, Todd Muller's wife Michelle spoke about her family's journey, thanking party volunteers for their support, before handing over the microphone to Todd.
"There's no easy way to put this," says Muller. "It's a bit of a disaster from an electorate perspective for the National Party.
"We put forward our vision for the country, our strong view that a National Government is better for the times in which we find ourselves relative to the Labour and Greens opposition. New Zealand has reflected on that and taken a different view.
"I'm incredibly disappointed. But the thing that sits above that is that we live in this remarkable country, a phenomenal place to live, this is democracy in action, and unfortunately this time, our voices and our vision and our perspective for this country was not the one that the wider community thought appropriate.
"Of course the great test is what we do with that rebuke," says Muller. "I think it's going to be a great test for us as MPs, those of us who have the privilege of returning, because it will be very easy to look for recriminations, to seek to frame up what's happened in ways that are disruptive as opposed to constructive.
"The great test for the National party MPs that have the privilege of representing you down in Wellington is that we don't succumb to that. We always have at the core of our approach humble representation of the people that sent us there, the communities that sent us there, and the National Party whose values we have been tasked to represent to the best of our effort and endeavour and intellect down in Wellington. And that is what we must bring to the next three years.
"It can't be defeatist, it can't be recriminations, it can't be all looking to point at whose real fault this is, we are where we are.
"One of my favourite sayings is 'it is what it is'. Now we have to rebuild.
"There's not many of the leadership team left, and that's the hardest part of this actually because these are people and friends that Michelle and I know deeply who will be devastated that they have not been returned and now no longer have the opportunity to take NZ National Party values to Wellington and to the wider country.
"I do want to acknowledge what appears to be at this stage the support from this community. It is incredibly humbling. Some of you may not be seeing the results but currently Labour party lead the National party in this community by close to eight per cent. But somehow I lead my opposition by over 2000 votes. We have a massive swing against us here but to retain the support of this community in the face of a once in a generation swing against us is very humbling and I will certainly bring the best that I can bring of myself over the next three years to earn that trust."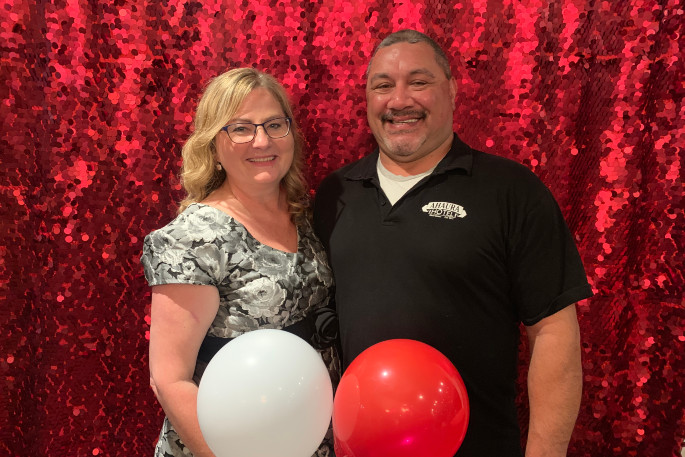 Labour List MP Angie Warren-Clark with her husband Blair
Coromandel
Incumbent National MP Scott Simpson has won Coromandel with 19241 votes, a lead of 4206 votes ahead of the Labour candidate Nathaniel Blomfield who has 15035 votes. Labour won 42.7 per cent of the party vote with National on 33.7 per cent.
East Coast
The East Coast electorate, previously held by National MP Anne Tolley has gone to Labour's Kiri Allan with 18360 votes. National candidate Tania Tapsell won 13718 votes, a margin of 4642 votes behind Allan. Labour also won the party votes on 49.2 per cent, while National won 28.2 per cent of the party votes.
Rotorua
In Rotorua, incumbent MP Todd McClay has held Rotorua with a margin of 1245 votes. McClay won 14283 votes, with Labour's candidate Claire Mahon winning 13038 votes. The Labour Party won the party votes with 45.8 per cent, and the National Party was second with 29.6 per cent.
Waiariki
Labour's MP Tamati Coffey has lost Waiariki to Maori candidate Rawiri Waititi. With 98.7 per cent or 20709 votes counted in Waiariki, the preliminary count shows that Rawiri Waititi from the Maori Party has 9415 votes. This is a margin of 421 votes ahead of second placed Tamati Coffey from the Labour Party who has won 8994 votes.
Labour leads the party votes with 61 per cent. The Maori Party is second with 17.2 per cent of the party votes in the Waiariki electorate.
More on SunLive...