Tauranga city councillor resigns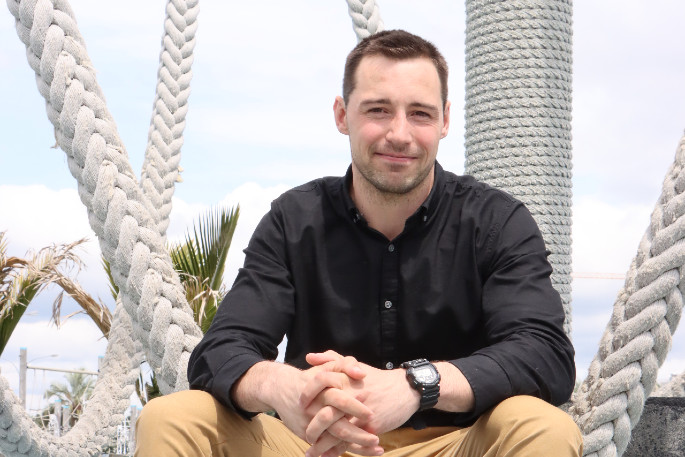 Tauranga City Councillor Jako Abrie has resigned from his role as a city councillor citing council dysfunction, and advocating that all elected members also step aside.
Jako handed in his resignation to Tauranga City Council CEO Marty Grenfell on Thursday, it was effective from Friday, and the announcement was made public this morning.
"When I ran for council, I'd hoped to make a genuine difference in the community," says Jako. "I quit my previous job shortly after being elected to fully dedicate my time to the new role and have worked hard to represent the people of Tauranga.
"Unfortunately, I have found the political environment seriously dysfunctional. Tauranga City Council is facing unprecedented challenges, and needs to invest billions of dollars into infrastructure over the medium term.
"I don't believe this group of elected members can work together to face these challenges. We should step aside, so that the Local Government Minister can implement stable governance. This will be unfair on some elected members, but I'm convinced it will be best for Tauranga."
Jako says his decision was not an easy one to make.
"I have enjoyed meeting many new people and helping where I have been able. I was pleased to see the controversial begging ban reversed, a Māori ward progressed, kerbside recycling approved, and housing and homelessness prioritised by central and local government.
"I have also been particularly impressed by Tauranga City Council staff who responded exceptionally during the national emergency. Tauranga is fortunate to have dedicated and hardworking staff keeping this city running.
"I look forward to continuing roles as a trustee and volunteer with local homeless charities and spending more time with the people I love. I will take time off before searching for another role," says Jako.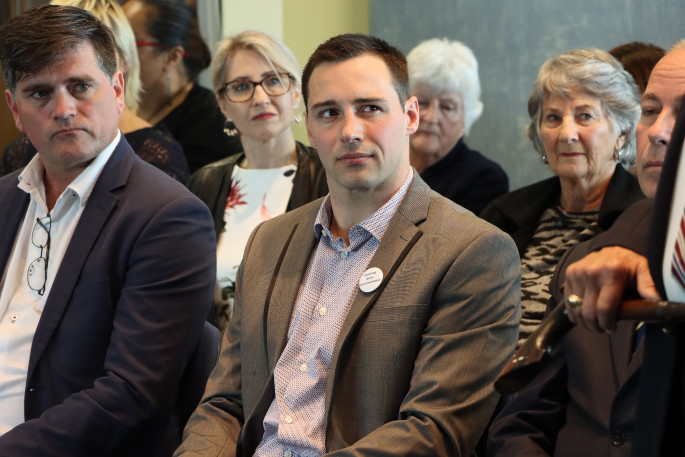 Jako Abrie at the swearing in of councillors for Tauranga City Council following the previous election. Photo: Daniel Hines
Mayor Tenby Powell is disappointed to lose someone who he believes has been part of a progressive council group.
"I am tremendously saddened by Jako's resignation," says Tenby. "He's been a voice for much needed change in our council and the city will greatly miss the intelligence and thoughtfulness of a very bright young man with a great career ahead of him, but clearly not in local government.
"The comment Jako made - about seeing the begging ban reversed, a Māori ward progressed, kerbside recycling approved, and housing and homelessness prioritised - are all the things that a group of us have been advocating strongly for. All these things have been led by the progressive side of the council.
"What we're seeing here and what Jako has, I think, completely underestimated is that this is a time of huge change for Tauranga and it's a council which is going through that change. Despite the massive resistance that still resides within it by a core group of elected members, we are making really positive change, and believe me the Government can see that.
"I think Jako's age and inexperience misses the fact that we have made more progress in one year than the previous council made in three years. In fact we've made all the decisions that they couldn't make and we've done an awful lot more," says Tenby.
"Jako was very surprised to win the seat. He didn't expect to but he did throw himself into it regardless, and at one point halfway through the year he said 'this is really not my jam'. He has been struggling with it really from the outset.
I also understand that Jako has made a decision he felt he had to make, for his family's sake," says Tenby. "I respect that, but I also deplore the circumstances which mean that a good man, who has had the community's interests at heart in everything he has done, feels that he has no choice but to walk away. That is our loss – and it is a profound loss."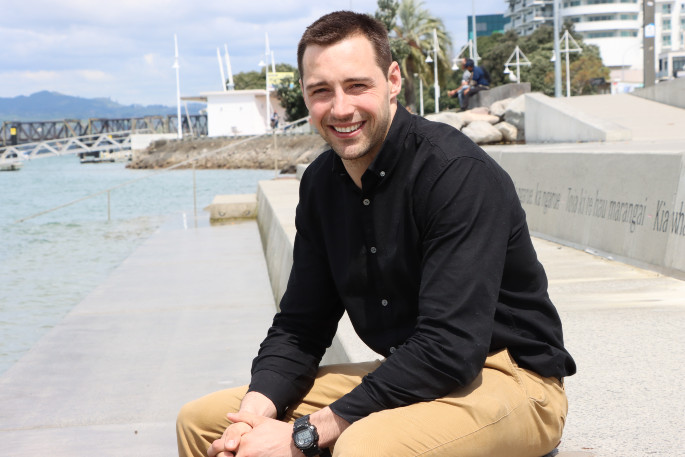 Jako Abrie. Photo: Daniel Hines
Councillor and former Tauranga deputy mayor Kelvin Clout says he will miss Jako.
"Jako brought a relatively youthful perspective and was very aware and concerned about Tauranga's social challenges, particularly homelessness and house affordability," says Kelvin.
"Local government clearly frustrated Jako in terms of the slow pace of making meaningful change, and because of some of our recent governance issues.
"He got on very well with his fellow councillors and I have no doubt he will continue to succeed in business, family and NGO circles."
Councillor Steve Morris will also miss Jako being part of the Council.
"Jako has made the best decision for him and his family and I support him," says Steve. "If his heart isn't in it; it's the right thing to do.
"I know he was shocked and surprised to get elected as he only stood to highlight the issue of homelessness in Tauranga. He's done his best as an unwilling appointment to Council but feels the political climate isn't for him.
"I understand, the last 12 months have been the worst I've experienced in my seven years on Council and probably my entire working life. While he was an unwilling Councillor, he brought engineering experience and a kind heart to the table. I'll miss him," says Steve.
"I'm really disappointed to see Jako go," says Councillor Heidi Hughes. "He's had such a great contribution into this council and he's smart and young and the kind of non-politician we need at the council table.
Heidi disagrees with Jako's comment that all councillors should step aside.
"I don't agree that the best thing for the city is to let everybody go. I think that we've got a very good organisation and that it is making good thorough decisions based on evidence and based on a lot of work. Even though I agree that these elected members are really not working cohesively at all, I think that it would be enormously disruptive for a complete change at this time," says Heidi.
"I am confident that at the council chambers that we are in fact making good decisions with the best interests of the city at heart, and I'm really proud of some of the work that's been achieved this term already.
"I wish Jako all the best, and hope that we get someone in the next by-election that's going to be a good one," says Heidi.
Andrew Hollis says that Jako hasn't wanted to be a councillor since he was elected.
"Jako hasn't wanted to be here since the get-go," says Andrew. "Basically he entered it on a whim, didn't do any marketing, and he said openly that he was surprised to have been elected. He hasn't liked it since the beginning. He has wanted to leave since he got elected, and he has been trying to do the right thing.
"He even said once he got elected he'd give it a year and see if he enjoyed it, and he's decided that he doesn't enjoy it. He's not designed for this type of thing. He's designed for the corporate world. It could be that he was too young.
"I think the guy himself is a spectacular individual. I really like Jako and one of the things I really like is that he always stuck to his values. Whatever he felt was right, he did. You always knew what you were going to get with Jako. He was never duplicitous and I appreciated that. But he's not geared for politics. He's not confrontational enough and he's not quite in the governance space yet," says Andrew.
Councillor Larry Baldock is also disappointed on hearing of Jako's resignation.
"It's disappointing because he was generally an intelligent and positive council member who helped progress some things for the city," says Larry. "By-elections always create real problems during a three year term and it's disappointing because I don't think his belief that commissioners can solve the problem is really the answer.
"His lack of experience in that area is being revealed. Commissioners don't solve the problem."
Councillor Dawn Kiddie is disappointed too but pleased that Jako is doing what is best for himself and his family.
"I am pleased Jako has made the right decision for himself and his growing family and I support him fully with this," says Dawn. "Being a councillor in unprecedented times is extremely challenging especially with ongoing leadership issues which we are all looking for positive outcomes too.
"We must remember there are a majority of hardworking ethical integrity based councillors working together with the community when and where possible, it would be a great disappointment to see them leave too!"
Deputy Mayor Tina Salisbury also expressed disappointment.
"I'm really disappointed that Jako has chosen to resign," says Tina. "But I totally respect that that is his decision to make.
"I don't agree that commissioners would be the best way forward for the city, because despite some of the personality politicking that's going on between a few members, we're actually making good decisions for our city. I don't believe that commissioners would be the right choice."
A Review and Observer team, appointed in September, has been monitoring interactions and performance of the council.
"They're going to be writing a first report and then based on their findings from that, the recommendations will come to us from them," says Heidi. "We haven't heard any collective feedback from them yet. They've just been observing and having interviews and gathering data to this point."
It is expected that a by-election to replace Jako will be held early in 2021.
More on SunLive...