Community feedback needed on public space use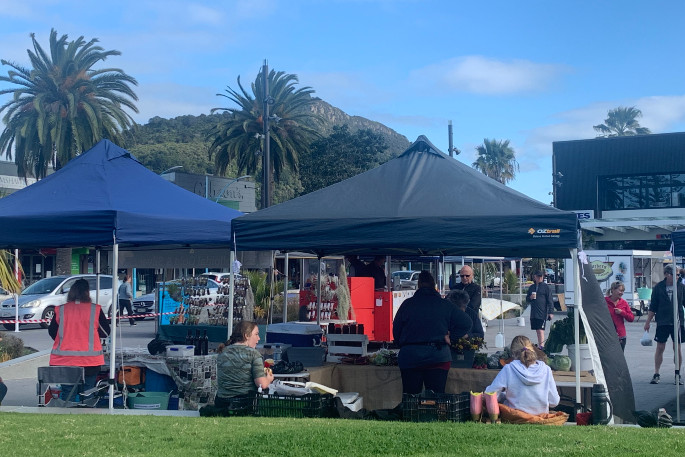 Do tour operators, boot camps and fitness classes currently require a licence or make a payment to set up in a public space? What about businesses like a coffee cart, scooter and kayak hire or surfing lessons?
To ensure everyone has fair access to Tauranga's recreational spaces, council wants to hear how people wish to use parks, reserves and stormwater reserves in the future.
Feedback on the use of Tauranga's public spaces will be closing soon. What role should council play in providing community gardens?
Council currently requires some activities to book to use public land but does not require them to pay for it. This includes things like weddings, small community events, professional photography and filming. What are your thoughts on which activities should be free, and which should pay a fee to use the land?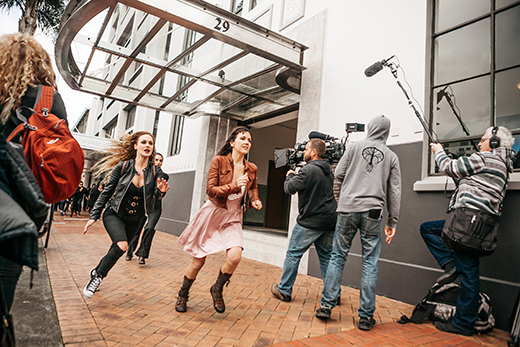 'Just Three Girls' was filmed in public spaces in downtown Tauranga. Photo: Tez Mercer.
Like in any other growing city, there are many different events and activities that can be held on public land. These range from large music concerts and national/international multisport events to community markets and family fun days. Sometimes, event holders want to book the same public space at the same time – especially during the busy summer season. What is your view on how we should determine who gets to use the land if multiple users want to use the same public space at the same time? And are there any reasons council should say no to an event or activity?
People have one more week to provide feedback at www.tauranga.govt.nz/councilland.
Council currently provides land for some early childhood education facilities and playcentres. Some have long term leases and have been operating for many years. Council decided some years ago that there should be no new facilities for early childhood education facilities on council land. What are your thoughts? Should we continue providing land for the existing facilities? And what role should council play in general in providing land for early childhood education?
Council may grant licences to network operators under the Telecommunications Act 1987 for the purposes of placing and maintaining telecommunications facilities. This includes things like temporary facilities at Mount Maunganui over summer when the network needs additional capacity due to increased demand. It's time to share your view on the criteria that council should apply.

With a growing community and increased use and demand, it is time to review how council manages the use of places and spaces that meets the needs of the community. The aim is to ensure public land is available for everyone's benefit, and that it is consistently managed. Council is seeking the community's view to inform the review of eight policies that set out how public places and spaces are managed for community, private and commercial purposes.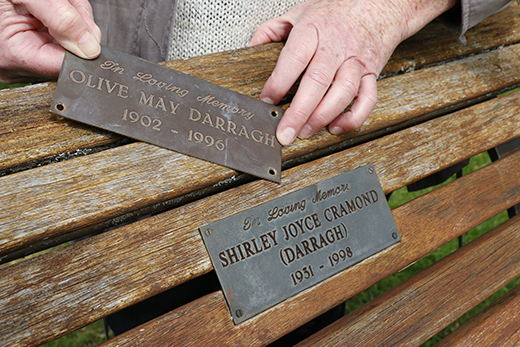 People often wish to honour the memory of a loved one by donating memorial seats, picnic tables, planting a tree or scattering ashes in public spaces. Tauranga is a fast growing city and many of our most popular reserves are already at capacity for memorial seats and picnic tables. What are your thoughts on how we should manage memorial activities in the future?

The community's feedback will help council to identify what can and can't be done on public land that is available, and to ensure fair and consistent access for everyone, making it easier for community groups, commercial and private users to access council land for various purposes.

Following community feedback analysis, a draft policy will be prepared for adoption and formal consultation in early to mid-2021.

This is a staged process, with further policies dealing with the use of council land coming up for review. We will provide further information and ask the community for feedback on those in the next year.

Head to www.tauranga.govt.nz/councilland to find out how council land is currently being used and to have your say. People can answer as many questions as they like or pick the ones most relevant to them and/or the group they represent. The survey closes on Friday, October 23.
More on SunLive...