WBOP youth celebrated at excellence awards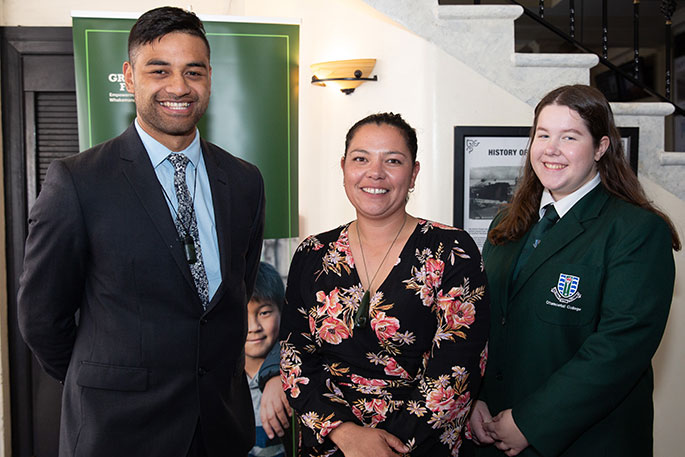 Two of the Western Bay of Plenty's most inspiring Kiwis have recognised for their outstanding work as team leaders of tamariki (young people), at the Graeme Dingle Foundation 2020 Excellence Awards.
Pitiera (Peter) Tuhura and Renee Leabourn won the Kiwi Can – Outstanding Team Leader Award, for team leaders who have demonstrated a positive change in their school, students and community, while using creative and innovative delivery to demonstrate the philosophy and values of the Kiwi Can programme.
The programme develops the values and life skills of young people.
Renee says the award is an overwhelming honour.
"With the Graeme Dingle Foundation programme it has not just helped with the schools that I have worked across in the Western Bay of Plenty but has reminded me of the values that we follow through in life.
"With those tools and being a Kiwi Can leader, I encourage our values in and out of the school with children I work with in sports while coaching, but also with my own two sons at home and wider whanau. Through my Kiwi Can journey in the last two years it has given me the confidence to study and become a youth worker."
Peter says he is really proud for himself and Renee because COVID-19 presented great challenges.
"We have had obstacles as an organisation and had to show perseverance through this time as a team. We work with two intermediate schools and two primary schools in the Bay of Plenty. With the different diversity of wharekuras and mainstream schools we feel we can still get our message across with our values in each school.
"For myself I feel that through this organisation and through being a Kiwi Can leader, I have gained much confidence being in front of children and also gained better management skills through our lessons.
"During co-facilitating lessons with Renee I always get to reflect on myself, whether or not I am practising each value. I have learnt a lot from the students and teachers from each school and feel I have developed as a person, majorly looking back at my shy self. This experience has solidified my passion to become a teacher in the future."
Renee and Peter particularly thanked their coordinator Jan Buist and regional manager Dan Allen-Gordon for working really hard behind the scenes and making sure Kiwi Can stays and grows in the Bay of Plenty as well as the foundation's other programmes.
Sir Graeme Dingle, says this year's Awards, coming at a time when COVID-19 has changed lives throughout the world, perfectly showcase what the Foundation lives and breathes – teaching young people to be resilient.
"The ethos of our Foundation is focused on helping young New Zealanders overcome obstacles. We want them to have a life full of possibilities so they can achieve their dreams and make the most of their unique talents. We want to help them make a contribution to society.
"This year in particular, with the lockdown restrictions imposed by COVID-19, these young people and their mentors and volunteers had to work extra hard to complete their programmes, often online."
Sir Graeme says the Awards are an opportunity to celebrate this country's future - our children and our young people.
"They provide a valuable platform for them to recognise their own strengths and muster, from within, the conviction to overcome challenges, both big and small. It is also a reminder of the incredible work that our mentors and volunteers deliver, day in and day out, for children and young people throughout the country.
"Each year, these kids show courage, determination and resilience. It gives me a tremendous sense of joy to be able to recognise and acknowledge each and every one of our winners. We are really proud of all of them," says Sir Graeme.
The annual Excellence Awards began life as the Project K Outstanding Student Award and were first hosted by Governor General, Dame Sylvia Cartwright, in 2000.
This year's awards were held in Auckland yesterday afternoon.
More on SunLive...