Submissions sought on Tauranga mural project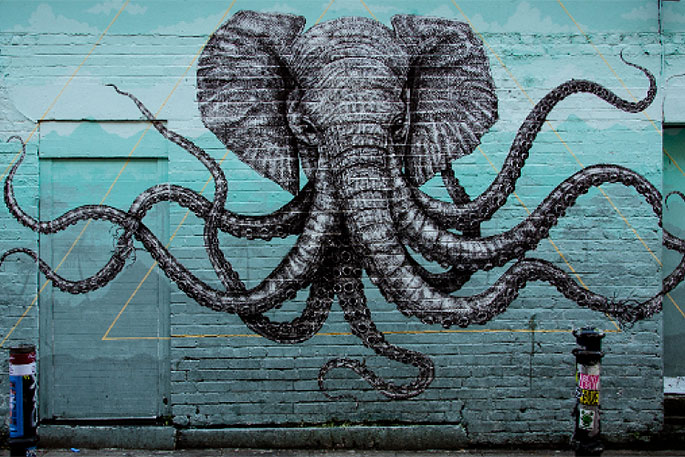 The creative community is being invited to submit for two exciting new projects in the city centre.
The projects are part of the Mainstreet Tauranga Activate Vacant Spaces programme, with delivery prior to Christmas.
Mainstreet Tauranga spokesperson Sally Cooke says the projects will bring vibrancy to a laneway in the city centre and showcase our creative sector.
"We want to add vibrancy to the Grey Street laneway that acts as an access laneway to the Spring Street carparking building and for people coming into our city centre.
"These two projects combined will hopefully transform the laneway into an interactive creative space for the public."
The two projects provide opportunity for local artists to showcase their creativity in a dynamic way.
"For the Laneway mural project we are looking for artists to submit an immersive mural art concept that will visually transform the wall space in the alleyway and for the Laneway Installation project we are seeking creative concepts for an installation that will hang overhead.
"Installation art engages people on multiple levels, activating your senses to experience art in a new way, so we can't wait to see what the creative sector come up with."
Sally says the laneway mural will add to the existing 'love note' interactive murals in the city centre that Mainstreet Tauranga has delivered.
"Some years ago we delivered the Wings Mural down on The Strand and then the Love Seat wall art in Masonic Park.
"Both simple, interactive murals yet it's probably safe to safe the Wings Mural would be one of the most photographed sites in the city centre; people are constantly photographing themselves or loves ones, in front of the wings.
"The new laneway project will add to this collection of love note murals and hopefully provide another point of engagement in the city centre."
The two projects are just part of a growing list of initiatives being delivered by the Activate Vacant Spaces pilot programme, tasked with turning vacant spaces into vibrant places in the city centre.
"We have a number of installations and activations opening in the city centre over the coming weeks, that we have been able to nurture, support or deliver.
"Most recently the STEM HQ initiative in Devonport Road is just one example of how Activate Vacant Spaces provides support to community initiatives.
"In this instance we were able to secure a vacant space and provide some support for the Stem Wana Trust team to launch their incredible initiative."
Since launching in February, despite COVID-19 lockdown, Activate Vacant Spaces has delivered a variety of exhibitions and installations ranging from the Kotahitanga Exhibition, the Home Exhibition, securing a site for Dress for Success to establish a retail and social enterprise initiative in Devonport Road, a corporate photography studio, a Wood Crafters Exhibitions, a space for TCSC Entertainment to establish a film production workshop space, an Envirohub exhibition, art and photography exhibitions and more.
"Launching soon we also have a series of Christmas and summer installations coming into the city centre, plus a Comedy Takeover initiative featuring nationally recognised comedians, window displays and a co-op ceramics exhibition to name but a few."
Through Activate Vacant Spaces we are able to provide spaces and platforms to showcase and nurture our creative sector, art and culture.
"It's an exciting programme and one that couldn't be delivered without the collaborative support of our property owners, landlords and stakeholders in the city centre.
"While we go through transformational change, this programme helps deliver diversity and pockets of vibrancy in our vacant spaces for the public to enjoy."
The successful artists will be commissioned to create an install their art prior to Christmas. For more information go to www.activatevacantspaces.co.nz
More on SunLive...