Darae makes history at The Carrus Open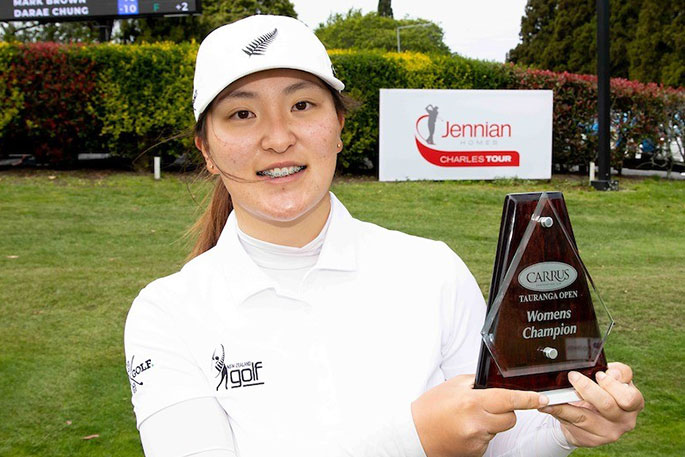 There were many headlines to come from The Carrus Open on the Jennian Homes Charles Tour.
Luke Toomey went back-to-back at Tauranga Golf Club; his home club that has given him so much and enabled him to practice and hone his game to pursue his dream.
Another story line coming out of the final day was Darae Chung's history making performance.
As part of the new mixed-gender event format adopted by the Jennian Homes Charles Tour, Chung became the first female golfer to play in the final group on Sunday.
She fired opening rounds of 64, 68, and 66 to be 12-under and just two shots back of Ryan Chisnall.
Beginning the final day, Chung was relishing the opportunity to test her skills against the best in the field.
She played alongside the overnight leader Chisnall and defending champion Luke Toomey; who are also some of the countries in-form players.
Before the first round, she said she was both nervous and excited.
"It's a whole new experience playing in the last group with the men and it's a great opportunity to set my standards higher," says Chung.
"It's different playing with the women as I play with the same few people every time whereas playing with the men will open up a whole new side of the game that I've never experienced before which I really like.
"I'm going to go through the same processes in great detail, be level-headed, and do what I know works. If the results come, I will welcome them with open arms, but if not, it will be a great experience to learn from."
She quickly got into her groove on the final day, opening with a birdie at the first to creep within one of the lead.
Unfortunately, she would make double bogey at the par 3 fourth and another bogey at the ninth to fall three shots back.
Chung rallied with birdies at the ninth and 10th to stay three shots back. She'd eventually sign for a three-over 73 after another double bogey at the 12th and a bogey at the 14th.
Although it wasn't the result she was looking for, it was a huge success for her development as a golfer.
"Honestly, today I wasn't focusing on winning the golf tournament. I just wanted to learn as much as I could from the guys as this was an amazing opportunity for my development.
"I was a bit nervous with the big crowd we had following us, but I think that was a great thing to go through and it will hopefully help me when I get into these positions in the future."
Chung also believes the mixed-gender format is a positive change for women's golf in New Zealand.
"I think this is just a peak as to what it's like for us playing on the bigger stages in professional golf. I love how New Zealand Golf has made this opportunity for us to set our standards higher. Overall, it was a really good day."
Now, she heads back to school for a week before travelling back up the coast to Gisborne to play in the New Zealand Amateur Championship.
More on SunLive...