Chisnall eyes Jennian Homes Charles Tour title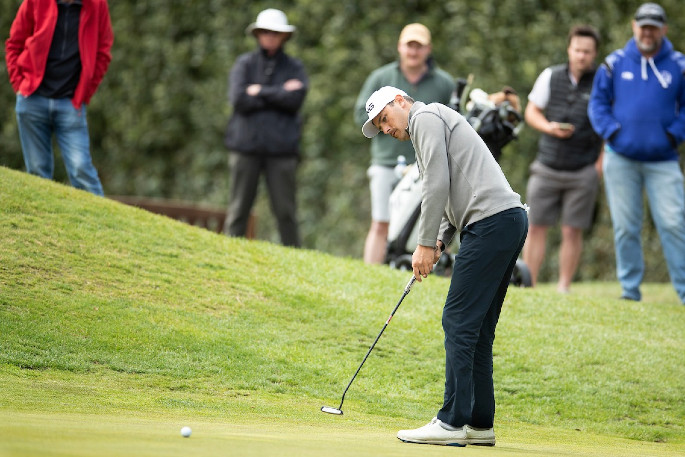 Ryan Chisnall has made a habit of contending in Jennian Homes Charles Tour events this year, and The Carrus Open is no different.
He leads at Tauranga Golf Club by two at 14-under par following a third round of five-under 65.
Ryan has contended in both the Autex Muriwai Open and the DVS Pegasus Open last week and looks forward to the prospect of winning his second event on the tour.
He says he's looking forward to the challenge.
"I'm really excited for tomorrow [Sunday]. I've obviously been in the mix a few times in these Jennian Homes Charles Tour events and it feel really good to be right there again. I'm very happy," says Ryan.
Conditions were cold and blustery on moving day, but Ryan knew he needed to get off to a hot start to track down overnight leader Jared Pender who was four in front of the field, and six ahead of Ryan.
He managed to do just that, making four birdies in his opening nine to tie the lead quickly with Jared faltering early.
Ryan put a stamp on his round with birdies on the 16th and 18th holes to take a two-shot lead.
He says it was a satisfying day out there.
"It was a lot tougher today I thought. It was a lot colder and the wind was really gusty at times.
"I got off to a fast start which I knew I needed to do. Jared was six in front of me and I knew if he got off to a fast start, he would have been hard to catch. It was nice to roll a few in early and put a bit of pressure on him and plot along for the rest of the day in some tough conditions. Really happy with five-under," says Ryan.
He knows he will have his work cut out for him tomorrow with nine players within five shots of the lead.
Ryan believes the packed leaderboard will make it easier on Sunday.
"The bunched leaderboard will make it a little easier tomorrow [Sunday]. There are plenty of guys tomorrow that are going to go low tomorrow. I've just got to go out there and play with as much freedom as I possibly can. We saw today with Toomey shooting 61 the scores are definitely out there. I've just got to keep making birdies and continue to go low."
Joining him in the final group is defending champion and hometown favourite Luke Toomey.
Beginning the day at three-under par, Luke knew he needed to do something special to throw his name back in the mix; and he did just that.
He fired an astonishing round of nine-under 61 including an incredible stretch on the front nine where he made and eagle at the sixth followed by an albatross at the seventh to be six-under early in his round and just a couple of shots back at the time.
He says the secret to today was getting out of his own way.
"It was a crazy day today. Getting a bit of a jump start at six and seven is not something you plan for or expect. My goal for today was to really let go; I think I wanted it too badly the first couple of days, especially the first day. I found it hard to get out of my own way," says Luke.
"As I say, I have a fairly good connection with this club and almost felt a sense of responsibility that first day. My only goal today was to let go and I felt like I did that so I'm really proud of that," he smiles.
An eagle and an albatross will usually help anyone scorecard; and Luke had both in two holes today.
He says the two hole stretch certainly got the blood pumping.
"I hit five awesome shots in a row. I aimed at the last tree on the left off the tee and actually hit the trunk and luckily it hopped to one side and I had a clear shot at the green. Hit that bang on my line and then rolled in the putt with perfect speed.
"The next hole I aimed it up the right and I knew if I went left, I might get an average lie in the rough.
"I had a clear shot at the green for my second and saw the slope just right of the green. At worst I wanted to give myself the best chance of getting up and down for birdie. The shot came out like a missile and it was halfway through its flight and I asked it to go in.
"Sure enough it tracked all the way around and it was in movement for about 15 seconds and it disappeared from about 240 metres out. It was a bonus," says Luke.
The last player joining them in the final group is Darae Chung.
She's the first female to play in the final group as part of the new mixed-gender format on the Jennian Homes Charles Tour.
Darae carded a third round of four-under to finish at 12-under for the tournament.
She says the new format is a good challenge and is great for the women's game in the country.
"I'm really excited for tomorrow. It's a whole new experience playing in the last group with the men and it's a great opportunity to set my standards higher," says Darae.
"It's different playing with the women as I play with the same few people every time whereas playing with the men will open up a whole new side of the game that I've never experienced before which I really like.
"I'm going to deal with tomorrow the same how I've dealt with the first three days today. I'm going to go through the same processes in great detail, be level-headed, and do what I know works. If the results come, I will welcome them with open arms, but if not, it will be a great experience to learn from," says Darae.
Play gets underway from 8.30am Sunday.
To visit the tournament page, click HERE
Scores after round 3 – Saturday October 10 2020
196 Ryan Chisnall (PGA New Zealand) 62 69 65
198 Luke Toomey (PGA New Zealand) 69 68 61, Darae Chung (Shandon) 64 68 66, James Hydes (Gulf Harbour Country Club) 64 65 69
199 Woonchul Na (PGA New Zealand) 64 69 66, Jared Pender (Te Puke) 62 63 74
200 Chang Gi Lee (PGA New Zealand) 69 66 65, Michael Hendry (PGA New Zealand) 67 66 67
201 Gareth Paddison (PGA New Zealand) 71 64 66, Jim Cusdin (Tauranga) 65 66 70
202 Dongwoo Kang (PGA New Zealand) 65 72 65, Mako Thompson (Maraenui) 70 65 67, Josh Geary (PGA New Zealand) 65 68 69
203 Kazuma Kobori (Rangiora) 68 70 65, Mark Brown (PGA New Zealand) 66 70 67, Cameron Jones (PGA New Zealand) 67 69 67, Tae Koh (Windross Farm Golf Course) 67 66 70, Trent Munn (Manawatu) 62 70 71
204 Samuel Jones (Manaia) 69 70 65, Trevor Marshall (PGA New Zealand) 69 66 69, Mitchell Kale (Tauranga) 64 70 70, Sam An (Titirangi) 66 68 70, Jimmy Zheng (Howick) 66 67 71
205 Luke Brown (PGA New Zealand) 71 69 65, Pieter Zwart (PGA New Zealand) 68 70 67, Zachary May (Russley) 72 65 68, Harry Bateman (PGA New Zealand) 66 68 71, Munchin Keh (P) 64 69 72
206 Lachie McDonald (Marton) 67 73 66, Taylor Gill (PGA New Zealand) 70 70 66, Peter Fowler (PGA New Zealand) 67 71 68, Kieran Muir (Omokoroa) 70 67 69
207 Eunseo Choi (Takapuna) 64 74 69
208 Fraser MacLachlan (PGA New Zealand) 70 71 67, Jayden Ford (Judgeford) 68 72 68, Fiona Xu (Titirangi) 68 70 70, Hiroki Miya (Russley) 64 71 73, Joshua Bai (Akarana) 69 65 74
209 Fraser Wilkin (P, PGA New Zealand) 71 71 67, Jerry (Xiangming) Ren (P, Gulf Harbour Country Club) 68 73 68, Momoka Kobori (Rangiora) 71 68 70, Cameron Harlock (Royal Auckland and Grange) 66 70 73, Matthew Morris (Royal Wellington) 63 72 74
210 Tyler Wood (Palmerston North) 68 70 72
211 Jesper Bengtsson (North Shore) 67 72 72, Shaun Campbell (Omanu) 68 71 72
212 Dominic Brettkelly (Hororata) 71 71 70, Daniel Hillier (PGA New Zealand) 68 73 71
213 Daniel Pearce (PGA New Zealand) 66 74 73, Aileen Du (Remuera) 68 70 75
214 Logan Madden (Morrinsville) 70 72 72, Sung Jin Yeo (PGA New Zealand) 70 72 72
215 Kit Bittle (Gulf Harbour Country Club) 68 72 75
216 Kevin Koong (Muriwai) 71 71 74, David Kim (Akarana) 67 72 77
217 Caerwyn Ross (Paraparaumu Beach) 68 72 77, Ethan Jones (Manaia) 69 68 80
218 Stephen Liu (Whitford Park) 70 70 78, Hayato Miya (Russley) 68 71 79
219 Misong Jang (North Shore) 69 73 77
More on SunLive...