Tauranga skating on thin ice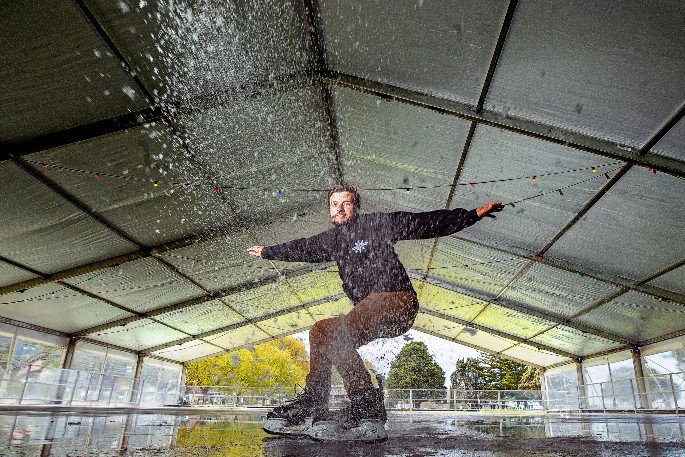 A man with 'ice in his veins' has brought his passion to Tauranga in the form of an ice rink.
Darren Woodacre has been working with ice for 35 years and has even studied ice making at the University of Guelph in Canada.
"Give me the facilities to make ice and I'll make ice all day," says Darren, but he's not talking about the ice your freezer makes.
Darren and his business partner Zak Tapling decided to put their years of experience to good use and started Chilled Events which sets up portable ice rinks.
Originally from Blackburn in the United Kingdom Darren's ice engineering has taken him to Norway, Germany, Switzerland and Dubai.
He moved to New Zealand 13 years ago and hired Zach as a 15-year-old. After 10 years of working together they decided it was time make their dream of owning an ice rink a reality.
The rink in Memorial Park is the first event they have held and Darren says people are loving it and have suggested they set up here permanently.
Creating an ice rink from scratch sounds easy when Darren describes it, but there's a lot involved.
"In essence, all it is, is creating a huge bath with insulation underneath."
He says the 20m by 30m rink in Tauranga took five days to build and starts with making a suspended floor.
The ice rink floor is put on top of the suspended one, made watertight and insulated before a series of refrigeration pipes are put in, then water is added and it freezes and a roof is erected to keep the sun off.
About 42,000 litres of water is used in the Tauranga rink to create eight-centimetre thick ice.
A 40-foot and 20-foot container, a separate truck for the refrigeration unit and a cluster of cars with trailers are required to carry all the equipment.
Darren hopes their business will encourage people to try out ice skating and other ice sports.
"Our philosophy first and foremost is to put smiles on people's faces and help grow the ice sports of New Zealand.
"Somebody may come on the ice for the first time and may turn into the next New Zealand figure skater, you just don't know."
The ice rink is at Memorial Park until October 18 and Darren says they will be back next year as well.
More on SunLive...