Anne Wintle - living a full life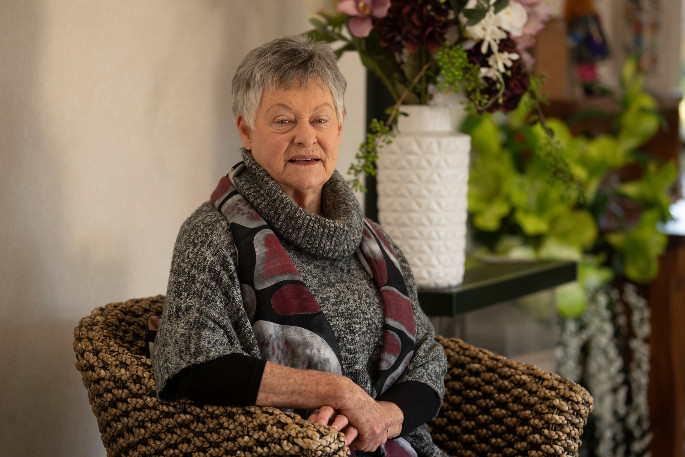 Anne Wintle enjoys the good feeling that comes from regular exercise and attends Zumba and aerobics classes.
"The Zumba Gold class is taken by young and vibrant Tina, and the aerobics class by a lovely older lady called Rita," says Anne, who lives in Papamoa.
"It's fun. I've made some fantastic friends. You just feel good when you've had some exercise."
Anne was in her early 40s when she had her first experience with breast problems.
"I had three breast lumps out and fortunately only one was pre-malignant."
Since then Anne has had regular mammograms.
"Two years ago at 78 years of age, after one of my regular mammograms, I talked with my daughter and said: 'I don't think I need any more mammograms, I should be alright now'.
"However, within a couple of days, radiology rang and said: 'would you mind coming back for a biopsy?'"
An abnormality had been discovered in her breast.
"This covered a reasonably large area, was all contained in the ducts, the lymph nodes were clear but I had to have a full mastectomy. That meant that I didn't need chemotherapy or radiotherapy, because the whole lot was gone.
"The hospital was fantastic. It was only three weeks from the date of my diagnosis until my surgery. However, I do continue with regular check-ups at the breast clinic," says Anne.
It's Paint October Pink this month, or Breast Cancer Awareness Month, with many events being held to support local breast cancer support services.
The two main fundraisers each year for Tauranga Breast Cancer Service are the Papamoa Hills Night Walk during winter and the Hot Pink Walk in October.
"But this year, due to Covid-19, both of those events had to be cancelled," says Tauranga Breast Cancer Service manager Helen Alice.
The month kicked off with the launch of the 2020 tee shirt at Urban Vogue in Bethlehem. The tee shirts are also available for sale online.
"Every year we have a different design, created for us by a different artist," says Helen.
Spreading a range of Paint October Pink events through the month means that smaller fundraisers can take place providing more opportunities for people to be involved.
More Pink Fridays will be taking place at Z Stations on October 16 and 23. There will be pink baking and bake offs, pink tennis at the Mount Maunganui Tennis Club, a virtual mystery cake stall and a pink breakfast event.
A retired nurse, Anne believes you can't change what has happened.
"It's a matter of learning to accept and simply doing one's best to get on with life," says Anne.
"My children are a great support to me, and I've great friends and neighbours who have supported me when I've needed it."
She has some sound advice for living life fully.
"It doesn't do you, mentally or physically, any good just sitting around at home. You have to get out and about. Do things, join clubs, exercise. Be with other people. Have a goal. Enjoy yourself, have fun."
On Pink Day on October 23, everyone is encouraged to go pink for the day - wear pink to work, at home, at school and make a donation to help local breast cancer services."
For more information about Paint October Pink, go to: www.breastcancerbop.org.nz/paint-october-pink
More on SunLive...