Accolades flow for first Tennis WBOP Life Member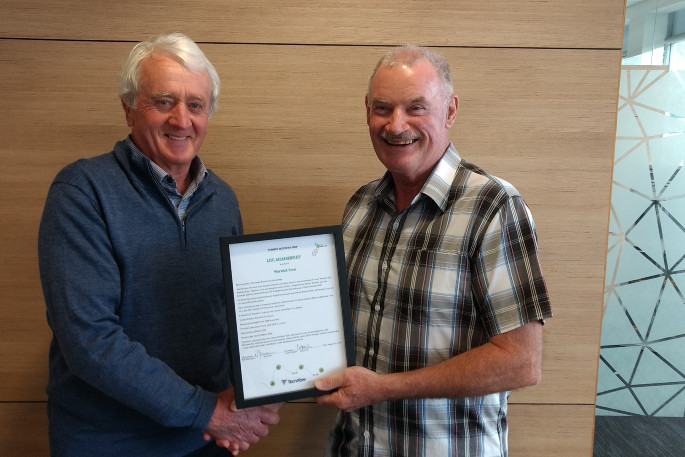 Community sports clubs rise or fall on the back of the voluntary effort put in by enthusiastic club members. They're a special breed – often with a long, unsung list of achievements.
Trying to convey the magnitude of the contribution they make in a few hundred words is nigh on impossible, but here goes.
Tennis Western BOP has recognised and thanked long-standing volunteer and tennis stalwart Warwick Brew by awarding him its first Life Membership.
Warwick has been a member of the Bay of Plenty tennis community since the 1970s when he joined the Otumoetai club after his family moved to Tauranga from Australia.
Word on the street – or in this case tennis court – is that he's a pretty handy player after that long in the game, but it is Warwick's excellence at behind-the-scenes governance that has really stood out.
Those skills have resulted in him not only being the current and long-standing president of Otumoetai tennis club, but an integral and highly valued member of other tennis groups including the Papamoa Tennis Charitable Trust, Sport Bay of Plenty, Tennis Western BOP and Tennis Waikato Bays.
Warwick tells us the key to his success has been a single piece of advice he got from club mate Barry Lowish more than 40 years ago.
Barry told Warwick to 'spread the load and sub-committee everything'.
Warwick took that advice on board and if his contribution to Bay of Plenty tennis in the four decades since is anything to go by, it appears to have worked.
While the 'spread the load' idea has helped, there's no denying that a huge dollop of old fashioned work ethic has also been involved.
Warwick's personal drive and dedication has at times seen him spend up to 70 voluntary hours a week working to promote the sport he loves. He says he's dropped his hours back a bit this year – to a mere 30 or 40 a week.
Over the years Warwick has been instrumental in helping bring major tournaments like the Davis Cup to Tauranga's Baypark TECT arena, and organising for ITF-level competition matches to be held in the city.
It's clear upon speaking to him that he also sincerely appreciates the continued assistance of the other volunteer committee members he's had the good fortune to work with over the past 40-plus years.
"He is, and has been for many years, a selfless contributor to the sport of tennis," executive chair of Tennis Western BOP Robert Naumann says.
"While he is a handy veteran himself who really enjoys the game, he is the 'volunteer's volunteer' who has devoted much of his leisure time to providing for others.
"He is an expert on court construction and club equipment who shares his hard-won experience with whoever needs help and he is often the go-to person whenever a problem arises. If he can't sort it he knows who can," Robert says.
An accountant by profession, Warwick's business nous has been particularly valuable.
At the Otumoetai club alone he is club president; prepares all grant funding applications; is chairperson and active member of the sub-committee that runs the complex; and is bar manager to boot.
Warwick says the club has experienced huge growth recently, including doubling the number of junior players in the past two years, something he puts down to having a great coaching team.
On top of all that Warwick organises and runs the club's very successful business house competition and is treasurer and grants manager of Tennis Western BOP.
"While he is the president of a large and successful club, he enjoys being part of a team such as the Tennis Western BOP Executive and is a valuable critical friend to have on that team," Robert says.
"His financial foresight and accounting skills ensure that the association is viable and able to support the game of tennis, particularly for the juniors.
"Warwick is highly respected for his abilities, his commitment and his energy.
"The Life Membership Award is a worthy and public recognition of what he continues to give to tennis in the Western Bay of Plenty."
The sentiments are echoed by those Warwick continues to work closely with at club level.
Vice president and patron of Otumoetai tennis club Vivian Jones simply sums up Warwick's contribution, leadership and dedication in one word – "superb".
This weekend will see seven tennis clubs throughout the Western Bay of Plenty open to all-comers on Saturday and Sunday, October 10-11 for Tennis New Zealand's annual Love Tennis promotion.
The clubs, from Papamoa through to Omokoroa and including Otumoetai will open from 1pm-4pm each day.
Organisers say the event is to encourage people of all ages and abilities to go along to their local tennis club and just have a go.
Plenty of spot prizes and vouchers are on offer along with social games and free tuition.
The full list of western bay clubs taking part in the Love Tennis promotion are Omokoroa, Mt Maunganui, Otumoetai, Papamoa, Gate Pa, Tauranga Lawn, and Te Puna.
More on SunLive...