Living a full life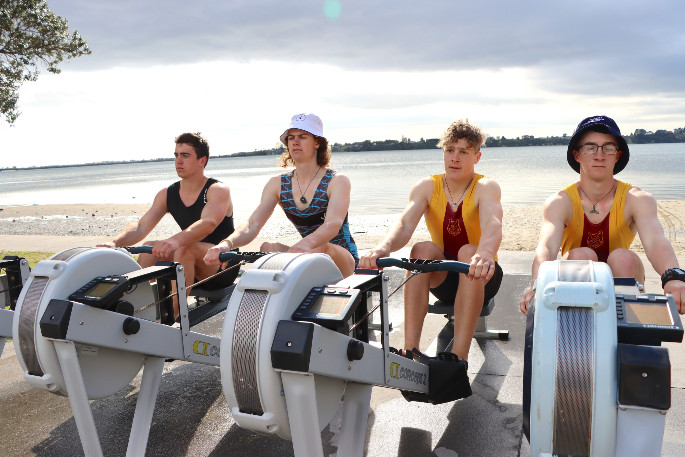 Two-time Olympic gold medalist rower Eric Murray is lending his star power to the Tauranga Rowing Club's first 'Ergathon' fundraiser at Tauranga Boys' College gymnasium this weekend.
The event is being held to raise funds for club boats and equipment. It will see a mix of college and corporate teams race off against each other on 'ergs' – rowing-speak for indoor rowing machines.
Fourteen school teams will each row for 12 hours starting at 7am and a further six corporate groups will compete over a six hour period, starting at 1pm and going through to 7pm.
Each team has fundraised its own sponsorship for both the duration and distance of their rowing efforts.
"We've been really lucky that Eric Murray and ErgFit, a locally-based supplier of indoor sport-training equipment, are supporting us with the event," rowing club secretary Tracey Fellingham says.
Eric, who has an impressive number of world champion titles to his name in addition to his Olympic medals, will be there running the event, she says.
Some clever technology will allow data from the rowing machines to be linked up together and displayed on a large screen, enabling competitors to track their progress against the other teams during the 12-hour event.
The big screen set-up will provide a lot of motivation and a huge competitive element for the rowers, Tracey says.
It's the first time the club has held an Ergathon and it's hoped the occasion will raise much needed funds.
It's not a cheap sport, Tracey says. We need new oars and are constantly needing to get boats fixed and new riggers.
Indoor erg workouts are extremely important for rowers but it tends to be a 'love it or loathe it' relationship for most people.
"Ask anyone in the sport, it is the main component of their training," Tracey says.
"It builds your cardiovascular fitness and has all sorts of scientific benefits, however you need to use it right to get the best gains.
"The majority of people who get on a rowing machine at the gym would not know how to use it properly. Rowing is actually a leg sport, not a back and an arm sport. To have the right posture and to row it correctly takes a lot of training," she says.
The machines are a great substitute for times when weather conditions prevent people getting out on the water, and they also give coaches the opportunity to critique techniques up close.
Club coach coordinator Brendan Cullum says ergs provide a stable platform with no wind or off-balance boat worries for rowers so they can just push as hard as they can.
"It's a feeling of pure power and that's the 'love it' part," Brendan says.
However they also 'loathe it' because it's just plain hard work – without the bonus of fresh air and water views.
For winter training the kids do two 45-60 minute erg training sessions a week, in addition to their on-water time. Come next term the number of erg sessions double, Tracey says.
There's still time to put a team together and enter the Ergathon.
"We'd love more corporates to get involved and support the rowing club, and the community," Tracey says.
The Tauranga Rowing Club trains over 80 local high school students from Papamoa, Mount Maunganui, Tauranga Boys', Tauranga Girls', Aquinas, ACG and Otumoetai colleges, and also has a masters section for rowers aged over 27 years.
Anyone interested in attending the Ergathon to see the athletes in action can visit the Tauranga Boys' College gym on Devonport Road between 7am and 7pm on Saturday October 10.
Those interested in participating can contact Tracy on: 021 847 143.
More on SunLive...