Aotearoa Music Awards finalists announced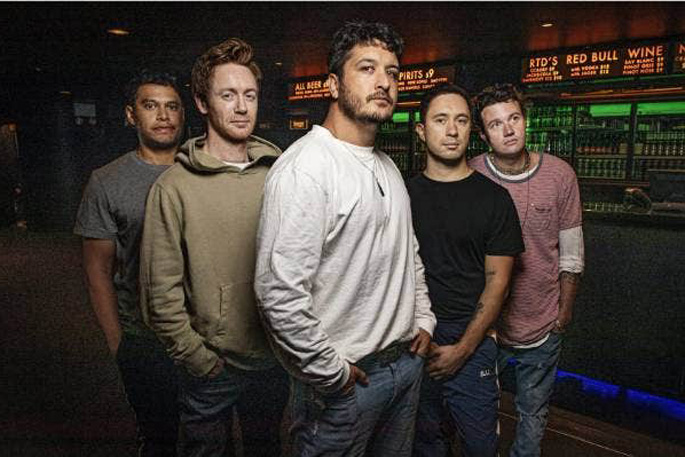 Aotearoa Music Awards have announced a "sensational group" of 2020 Tui finalists, showcasing the country's outstanding musical talent.
After selling out Western Springs, releasing a double platinum album and creating a feature film due out in November, longstanding favourites SIX60 emerge as frontrunners for the 2020 awards with five nods.
They have been nominated for Album of the Year for SIX60, Single of The Year for 'Please Don't Go', Best Group, Best Pop Artist, and the new Te Māngai Pāho Mana Reo award, which recognises albums or singles with at least 50 per cent te reo Māori content, for their song 'Kia Mau Ki Tō Ūkaipō'.
Founded by the Kora brothers, Stu and Brad, with Ara Adams-Tamatea from Katchafire, Joel Shadbolt and Miharo Gregory, it's no surprise L.A.B. has emerged has a key local playlist staple. The group is a regular on this summer's festival circuit and will headline their first Mt Smart Stadium show in 2021.
L.A.B. are finalists for four Tui this year including Album of the Year for L.A.B III, Single of the Year for the melodic 'In the Air', Best Group and Best Roots Artist.
After winning four Tui at the music awards last year, pop sensation BENEE is back and up for three Tui - Best Solo Artist, Edge Best Pop Artist, and Single of the Year for Supalonely, the song that dominated TikTok earlier this year.
After performing at the 2019 Music Awards, indie pop group The Beths are also up for three nominations this year. They're contending for Best Alternative Artist and Best Group, both of which they won last year, and their latest album Jump Rope Gazers is nominated for Album of the Year.
American-born, South Island raised folk favourite, Reb Fountain's self-titled album is up for Album of the Year, featuring the moving single 'Don't You Know Who I Am'. She's also up for the Best Solo Artist and Best Alternative Artist Tui and is soon embarking on a nationwide tour.
Jawsh 685 has had a whirlwind rise to fame this year. His single 'Laxed (Siren Beat)' created a global movement on TikTok where it has been used in over 63 million creations, and 'Savage Love' (w/ Jason Derulo) has topped the charts in more than 15 countries including New Zealand, Australia the United Kingdom and Canada. The seventeen year old is up for Single of the Year and Spotify Breakthrough Artist of the Year
Up-and-coming Māori artist Paige has been winning over fans with her melodic pop tunes and standout style. She's nominated for two Tui this year, Spotify Breakthrough Artist of the Year and Edge Best Pop Artist.
Acclaimed for her intimate musical performances Nadia Reid is up for two Tui at this year's Aotearoa Music Awards. She's a finalist for Best Solo Artist and Album of the Year for her third studio album Out of My Province.
Mōhau, a supergroup collective of Rob Ruha, Ria Hall, Troy Kingi, Bella Kalolo, Majic Paora, Kaaterama Pou, the East Coast Tira Waiata sensation Ka Hao, and The Witch Doctor & Friends are finalists for the Te Kaipuoro Kairangi Toa | Best Worship Artist and Te Māngai Pāho Mana Reo Tui.
Their self-titled album made up of eight waiata whakamoemiti (gospel songs) were composed entirely in te reo Māori and were recorded in a single take as a live visual album a month before the audio release.
Other 2020 Aotearoa Music Awards finalists include Ria Hall, Stan Walker, Tami Neilson, Troy Kingi, Miss June (Best Group), JessB, CHAII, MELODOWNZ, Lepani, Haz & Miloux, Mermaidens, Lomez Brown, City of Souls, Devilskin and Villainy.
Drax Project are up for Single of the Year with their song 'Catching Feelings' featuring SIX60. Lee Mvtthews, State of Mind and Truth are nominated for Best Electronic Artist, and Best Hip Hop Artist nods go to Church & AP, Raiza Biza and choicevaughan.
Kane Adams (Best Worship Artist), Te Rautini (Best Worship Artist), Andrew Beer & Sarah Watkins, Klara Kollektiv, and Matthew Marshall (Te Kaipuro Inamata Toa | Best Classical Artist) are also finalists at the Aotearoa Music Awards this year.
Recorded Music New Zealand CEO Damian Vaughan is incredibly proud of all the artists being showcased at the 2020 Aotearoa Music Awards.
"It is imperative as we continue to navigate through these times and the difficulties we all face due to COVID that the Aotearoa Music Awards continue to not only be a light for our music community and their achievements but a focal point for our industry and the NZ public to rally around our music whanau," says Vaughan.
"Our musicians and their music are always there for us in times of shared experience and when tragedy strikes, and now more than ever our artists need to be celebrated and supported so they can continue to make music and bring us all together.
"But while we celebrate our artists, it's important the 2020 awards also shine a light on the industry at large in these challenging times and the work groups like MusicHelps and others have undertaken to support and help people in the industry who were most impacted by COVID.
"It makes me proud to be a part of the ever-evolving and growing local music industry. We can't wait to celebrate our music at the reinvented Aotearoa Music Awards for 2020. Mā te puoro, ka tuia."
The decision to rebrand the awards aligns with continued efforts over the years to recognise Aotearoa's tangata whenua and te reo Māori as the first language of New Zealand, as well as the importance of Te Ao Māori in our lives.
The recipients of the Highest Selling Artist, Radio Airplay Record of the Year, People's Choice, and International Achievement Award will be announced on the night at the 2020 Aotearoa Music Awards.
The event will take place Sunday November 15 at Spark Arena and will be broadcast live on The Edge TV from 7pm and continue on Three from 8.30pm. The entire broadcast will be streamed on ThreeNow.
More on SunLive...