Award for NZ's first commercialised red kiwifruit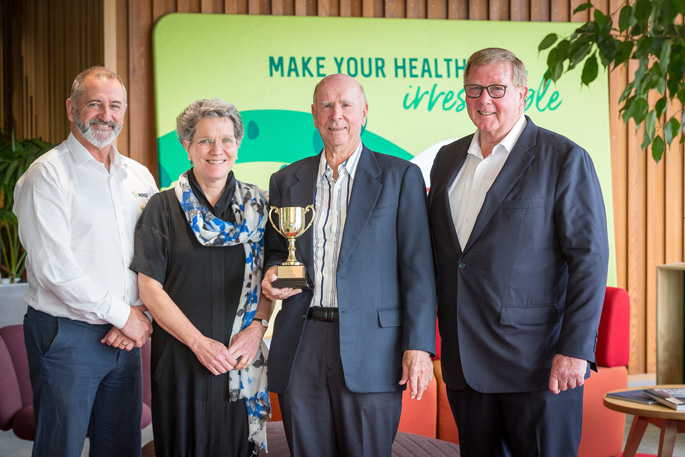 Esteemed New Zealand kiwifruit breeder and scientist Russell Lowe has been awarded the 2020 Kiwifruit Innovation Award for his work breeding the first commercialised red kiwifruit cultivar, Zespri Red.
Russell, who has recently retired from his role at Crown Research Institute Plant & Food Research, first began working on the challenge of breeding a new red kiwifruit in 1993, for the new varieties breeding programme jointly run by Plant & Food Research and Zespri.
First planted at the Kerikeri Research Centre in 2007, the cultivar was commercialised in December 2019 following many years of research, including exploring the fruit's tolerance to Psa.
Zespri Chairman and awards judge Bruce Cameron says Russell epitomises innovation within the industry, not just with his work on developing the red cultivar, but throughout his distinguished career spanning 50 years.
That's also seen him involved with selecting gold varieties which have proven exceptionally popular with consumers across the world.
"Russell's success in developing this red cultivar has again enabled the New Zealand kiwifruit industry to provide the market with a new, distinctive great-tasting fruit which will strengthen kiwifruit's share of the global fruit bowl in the years ahead," says Bruce.
"Innovation drives continued industry growth which leads to stronger returns for growers, greater employment opportunities across New Zealand's growing regions and increased contributions to regional communities across the country."
Bruce says the commercialisation of the red cultivar was based on extensive trial work and consumer demand for new and unique products, and would help Zespri continue to provide the world's leading portfolio of branded kiwifruit for all 12 months of the year.
"While it's still relatively new, its already generating real excitement in international markets and the industry is indebted to Russell for his efforts," says Bruce.
Fellow judge, Kristy McDonald QC, Chair of kiwifruit industry regulator Kiwifruit New Zealand, says Russell's successful development of a red cultivar reaffirmed the industry's reputation for innovation.
"Bruce's efforts in developing this new cultivar reflects the strong sense of innovation that characterises the New Zealand kiwifruit industry.
"The red cultivar will help extend seasonal employment opportunities given its early season harvest, and also enable the better use of industry facilities and infrastructure.
"We congratulate Russell for his achievement and his career in which he's forged a world-class reputation for breeding unique variants of kiwifruit for fruit-lovers around the world," says Ms McDonald QC.
Outgoing NZKGI Chairman and fellow judge Doug Brown says Russell's breeding success with the red cultivar would become more apparent in future years as growers' knowledge of the variety's optimal growing conditions increases and more markets retail the fruit.
"This award is about recognising a contribution that will create enduring value for the kiwifruit industry.
"Russell has put a huge amount of work into breeding a successful red kiwifruit which in itself marks a significant milestone for the industry, and I look forward to watching this cultivar continue to grow in popularity amongst growers and consumers in the years ahead."
More on SunLive...