Toomey eyes back-to-back titles at home track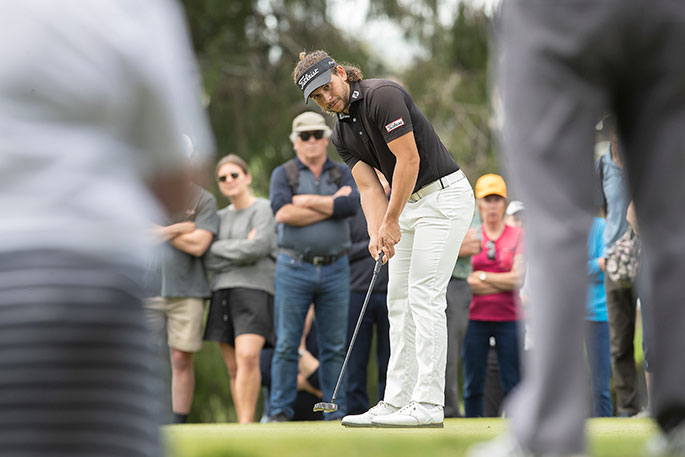 The Carrus Open holds a special place in the heart of the defending champion Luke Toomey as he looks to defend his second Jennian Homes Charles Tour title this week.
Tauranga Golf Club is where Toomey bases himself to train and hone his game. He also won his second Jennian Homes Charles Tour event in a row in front of his home crowd last year, one of his most rewarding achievements as a professional.
The 27-year-old says defending The Carrus Open at home carries a little extra weight and is excited for the challenge of going back-to-back in front of friends and family.
"I'm feeling really good about this week. The game is in great shape. There is a sense of excitement which also brings some nerves and the expectations are naturally a little high given my history with the golf club.
"Defending at my home course carries a bit more meaning, and with that I feel more responsibility to perform for them. It would be the dream to have the likes of Josh Geary, Mark Brown and myself playing in the last group which would be so cool for the club," Toomey says.
He was also the defending champion at the DVS Pegasus Open last week where he finished in a credible tie for seventh place.
Toomey says experiencing the emotions of defending his title last week will put him in good stead for his home title defense this week.
"I would love to say I'm going to treat this like any other week, but I don't think it will be that way for me. With that extra hype and expectation that I have put on myself, hopefully I can channel that energy in the right direction and stay out of my own way.
"I have a few new additions to the bag which will be a huge help. We had great conditions last week to test the new equipment. The game is in good shape and I think this week will be a story of how well I can handle myself," he explains.
With a win, Toomey will join an elite group of golfers who have won three or more times on the Jennian Homes Charles Tour.
Daniel Hillier joined the group with his win at Pegasus last week and will be another golfer who is sure to feature come the weekend.
Round one begins tomorrow 7.30am.
More on SunLive...