Whakatane Mayor takes a rally ride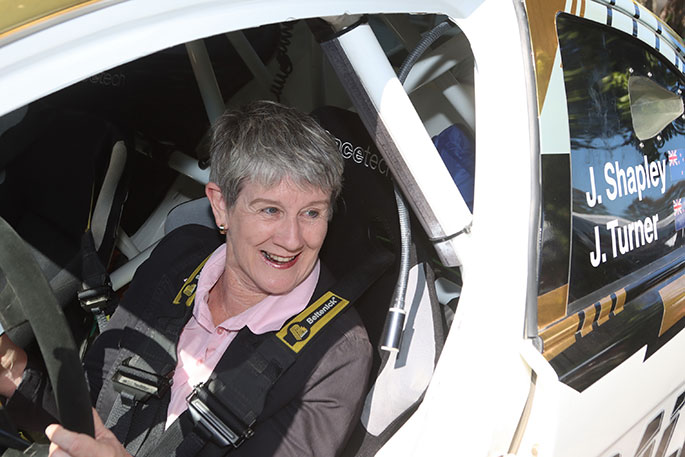 The build-up for this month's Whakatane-based Driven Auto Sales Rally Bay of Plenty has been given a mayoral endorsement.
Whakatane mayor Judy Turner was not letting anyone else take her place in Jono Shapley's Mitsubishi rally car on Monday, even though several of her work colleagues expressed extreme interest in accepting the opportunity on her behalf.
While admitting to being a little nervous prior to her ride, as soon as she saw her name sign written on the car window as co-driver she relaxed.
"Oh I have to show that to my grandchildren, that's very special," says Turner.
Strapping herself into the specially designed racing seat and clicking on the 5 link seat belts, Turner says the experience was "a bit like getting yourself into a plane".
With his important passenger safely strapped in, Shapley fired up the motor and headed out of the Radio 1XX car park.
Not at racing speeds, but just a quiet drive around some of the Whakatane's iconic locations to commence the build-up for the Driven Auto Sales Rally Bay of Plenty that will be based from Whakatane over the October 17-18 weekend.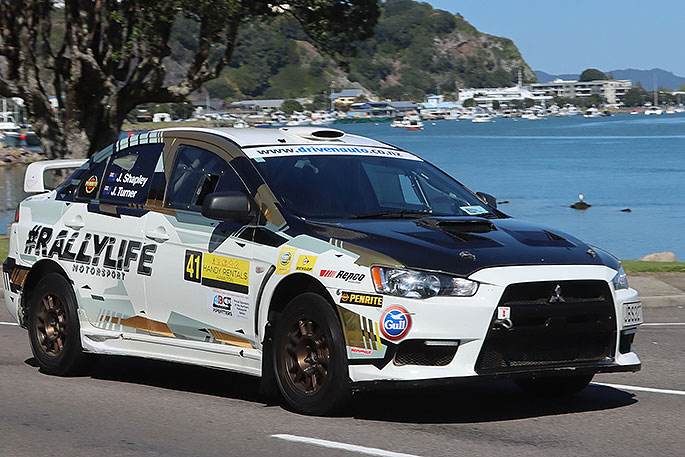 Jono Shapley driving toward the Whakatane Heads.
After the ride, Turner was bubbling with excitement and any nervousness had completely disappeared.
"It was fantastic, I was going with an experienced driver in a car that was designed for that purpose. I've never sat in a racing car before and you're enclosed in this very strong frame (roll cage) and you do feel very safe."
Afterwards, Turner was interviewed live on-air by the local Radio 1XX who asked how she felt about the number events returning to Whakatane.
"Fabulous, we're really grateful. It's interesting that it's been the sporting community that has been really good to us lately.
"We had the All Blacks a week or so ago and now having a car sporting event here is really exciting for the locals, but it also does something for our visitor economy which we really appreciate."
The national status rally organised by Motorsport BOP Inc. brings a return of high-speed gravel road action to Bay of Plenty roads and begins with a Rally Car Show and Ceremonial Start to be held in Whakatane on the afternoon of Saturday, October 17.
Rally competition begins at 7am on Sunday, October 18, with crews set to tackle nine special stages before the finish ceremony in Whakatane about 3.30pm.
There will be just over 120km of special stage competition on closed public roads including venues familiar to World Rally Championship competitors and spectators such as Stanley Rd, Manawahe Rd and Herepuru Rd. Service parks - where the cars can be worked on by support crews - are located at the Matata rugby grounds and the Pukehina School.
The entry list and route details including prime spectator viewing points will be announced next week.
More on SunLive...