Omanawa Falls injuries prompts warning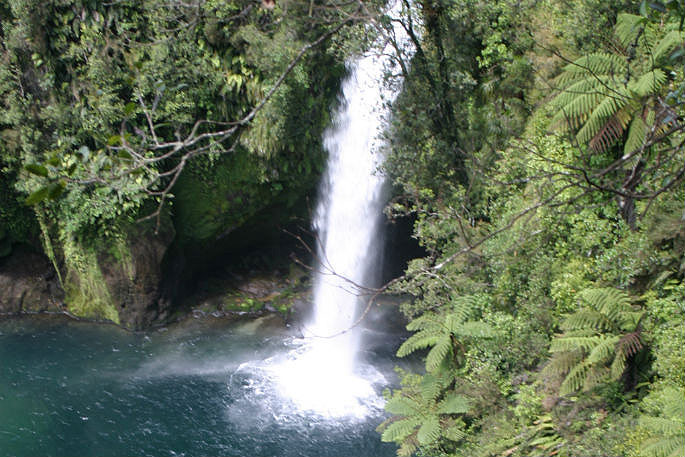 Two people have been injured in a week at Omanawa Falls, prompting a reminder from council that the spot is out of bounds.
Emergency services were called to the falls about 3.40pm on Monday after a person was injured after falling.
A man was treated at Tauranga Hospital before being discharged, a hospital spokeswoman says.
The Waikato Westpac Rescue Helicopter was then called to the falls last Tuesday to perform a winch extraction after a 16-year-old man seriously injured himself.
After safely winching him out, he was found to be suffering from possible back injuries, and was airlifted to Tauranga Hospital.
Coroner Robb urged the public in a recently released corners report not to visit the falls until safe access was established. The recommendation came after Kishore Kumar Arvindan died in 2018 from drowning.
When Arvindan and his friends visited the falls to view the waterfall, they saw people standing at the base and decided to walk down too.
Once they arrived at the waterfall one of Arvindan's friends decided to walk closer and thinking the water was shallow, attempted to cross a stream.
The water was up to her knees, but the current pushed her into the middle of the base of the waterfall, which is a large pool that is deeper.
The current was too strong for her, and she struggled to keep her head above the water, so Arvindan jumped into the water to assist her, but was unable to stay above the water.
Another tourist jumped in to assist both of them and all three of them struggled in the water, but Arvindan's friend and the tourist managed to get out of the water.
Arvindan was unable to get out of the water and his body was found the following day in the middle of the pool.
There is currently no public access to the falls, says Tauranga City Council manager spaces and places Mark Smith.
"Access to the bottom of the falls has always been closed to the public."
Smith says council are planning to create a safe accessway, which would likely include a viewing platform, upgraded track, as well as supporting infrastructure including carparking and public toilets.
The falls area was in the rohe of Ngāti Hangarau and council were partnering with them on the design and development, together with Tourism Bay of Plenty.
"Although nothing has been agreed regarding a commercial operation at the falls, we see increasing understanding of the cultural significance of the area as a key benefit of the project."
Council are working through options of having cultural ambassadors onsite this summer and Smith said they would consider security as any project work progresses.
"We continue to state publicly not to visit the falls."
More on SunLive...