Hot temperatures on the cards for BOP today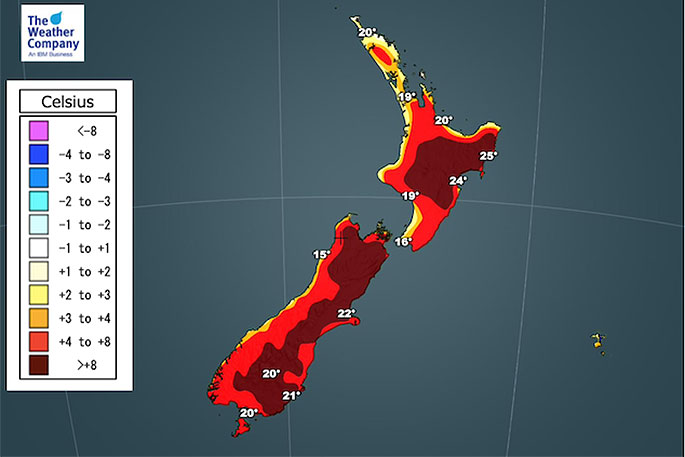 Temperatures in to mid-to-late 20s are being forecast for many places around New Zealand today.
WeatherWatch.co.nz says people should expect highs to reach into the mid 20's for the South Island's east coast and perhaps even late 20's for the North Island's east coast.
"A west to northwesterly airflow lies across New Zealand today moving around a large anticyclone to the north," says a post on the weather organisation's website.
North Island
Expect mostly sunny weather for the upper North Island, perhaps some early fog to start then again overnight, says WeatherWatch.co.nz
"Winds are light tending onshore in the afternoon. Mostly sunny about the lower western North Island also, perhaps some morning cloud then clearing away, winds build from the west or northwest.
"The east coast has a sunny and hot day, northwesterlies for most, tending northeast in the afternoon about coastal Hawke's Bay and perhaps Gisborne.
"Morning low level cloud about Wellington breaks to sun and some high cloud, winds gusty from the north."
South Island
Mostly cloudy for the West Coast south of about Hokitika with showers, turning to rain for Fiordland at night with heavy falls, says WeatherWatch.co.nz.
"North of Greymouth skies are sunnier with some high cloud, the odd shower sneaks northwards through to about Westport in the evening however.
"Mostly sunny about Nelson and Marlborough, a touch of high cloud and afternoon north to northwesterly winds. High cloud for Canterbury through to Southland (sun may break through at times), expect gusty northwesterlies especially in the afternoon / about inland areas.
"Around midnight a southwest change pushes into Southland bringing rain, moving into Otago overnight."
More on SunLive...