Skating disco, art competition and LEGO workshop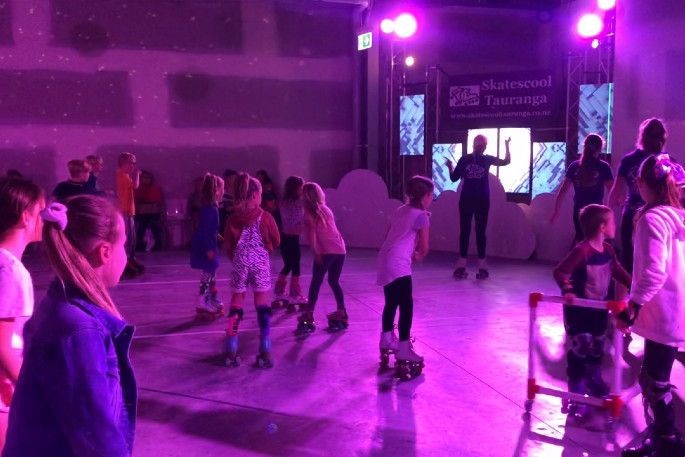 These school holidays Bayfair Shopping Centre is staging a groovy pop-up disco skating rink with a special sensory twist.
Skating sessions are free and will be open Monday to Friday throughout the coming week.
At all sessions, Skatescool Tauranga will be on hand with specialised coaches who will be covering basic instruction and giving tips on how to skate, no matter your ability level.
"We are committed to the community surrounding us at Bayfair Shopping Centre, and you can see this through our marketing programmes and involvement in many local events and activities," says Centre Manager Steve Ellingford.
"We hope young people and their families will find skating a fun group activity, and we are pleased to have Skatescool Tauranga working with us to help everyone make the most of each session.
"The conversation around accessibility has always been very important for us, which is why we are hosting a special sensory skating session. This will be open to families of children with sensory processing disorders who need a safe, non-judgemental environment eliminating factors such as crowds, loud noises, close proximity to people, music and bright lights."
Bayfair Shopping Centre have actively been involved in the accessibility and disabilities space, and recently opened a quiet room for those with sensory needs.
"We are ensuring children have a calm space where they can enjoy the skating rink at ease with their parents. Centres are important places for social connection and entertainment and we want to continue being a community hub, a common ground where people can come and feel comfortable, connected and supported."
Bookings for the roller disco are recommended through the website. If spaces are available these will be on a first-in, first-served basis and attendees will be required to sign in at the door. Sessions are limited to 35 children and are for children 5 years+. Skates and knee pads will be provided upon arrival. All equipment that is provided will be sanitised between sessions. Masks and hand sanitiser will also be available.
Children's Art Poster Competition
Te Rūnanga o Ngāi Te Rangi Iwi Trust Education Unit, will be holding a Children's Art Poster Competition from 1pm – 3pm on Monday October 5 outside Cotton On. Parents, grandparents and childgivers are encouraged to bring their children along down to complete their "Mauao – Caught by the Dawn" Poster to enter. There will also be spot prizes on the day and no bookings are necessary. All poster entries will be displayed at the Te Rūnanga o Ngāi Te Rangi Iwi trust office where a special guest judge will pick a final winner. Winners will be notified via the Ngāi Te Rangi Facebook.
All children and ages are welcome, with one entry per person and parent or caregiver supervision compulsory.
Toyworld LEGO workshops
There will also be Toyworld LEGO workshops taking place outside Cotton On, Monday to Friday October 5 – 9 with two sessions planned per day from 10am – 11am and from 11.30am – 12.30pm.
The workshops these school holidays have a 'build your own Lego Mosaic Design' theme with a daily winner announced at the end of each day and one overall winner announced at the end of the school holidays. Children are invited to design a mosaic piece and leave it for judging. Each session will begin with warm up game and children will receive a free gift to take home at the end. Bookings are required for these workshops.
More on SunLive...