Tours on medical mission ship MV YWAM Koha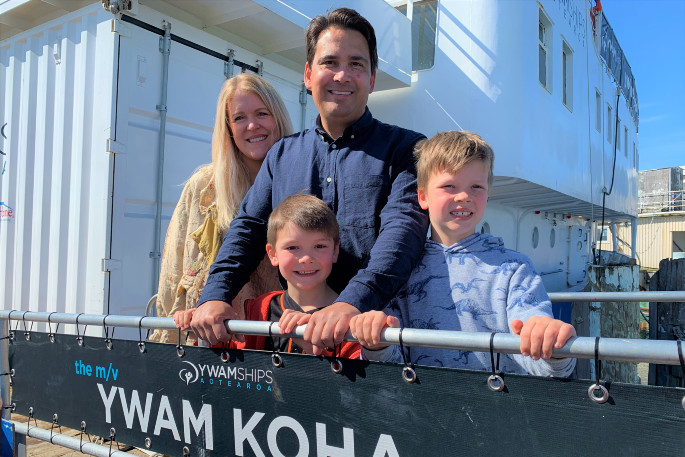 The crew of the MV YWAM Koha are inviting the public to come on board for a free tour of the ship for four days over two weekends in early November.
Tauranga's NZ-registered medical mission ship is berthed at the end of the dock below the Tauranga harbour bridge.
Due to sail to the Pacific Islands in May, the YWAM Koha had to stay here because of the global pandemic, providing opportunity for many locals to volunteer their time and expertise to help with the ship's mission of taking medical aid into the islands.
"Covid actually gave us breathing space," says YWAM Koha director Marty Emmett. "What we planned to do over the next five years with a roll out of upgrades, we were able to do this year, because we weren't going anywhere, so we were able to push 'go' on a bunch of projects.
"Being an older ship there's just a lot of upgrades that it needs, so we've been working through that."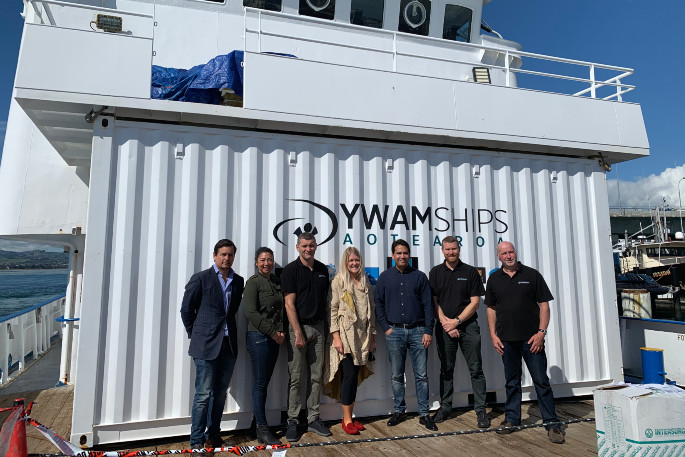 YWAM Koha board member Dave Turner, Dr Kaasandra Chee, YWAM Koha director Marty Emmett, Natalie Bridges, Tauranga MP Simon Bridges, YWAM Koha technical director Tony Fish and Robert Atkins.
Marty says over the last year a deep sense of connection has grown between the Tauranga community and the vessel.
Each week Koha receives food from Good Neighbour through their Food Rescue programme.
"It's been amazing," says Marty.
The vessel and its crew had been hoping to welcome the public aboard over two weekends in early September, coinciding with Father's Day, however the return to Alert Level 2 meant that the open days were postponed until November.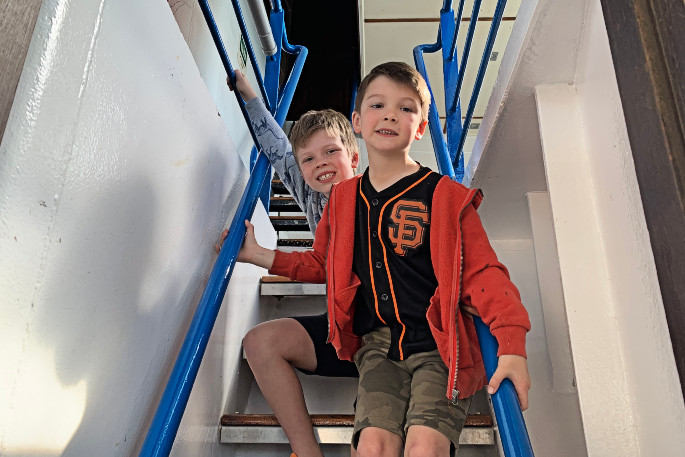 Emlyn and Harry Bridges exploring on board the MV YWAM Koha
Tauranga MP Simon Bridges and his wife Natalie, and their two sons Emlyn and Harry visited the ship today.
"I've been on two ships before," says Harry. "But this is the first time I have been on this one. This goes to the islands and gives medicine to help people."
Two containers on board have been converted into dental clinics with a local dental professional helping set it up. Once in the islands, local villagers will be able to come aboard for basic health treatment from dentists and doctors.
Many of the remote island communities are only accessible by boat. The vision of YWAM Ships Aotearoa is to be a catalyst to help island communities thrive. This goal is based on the belief that every person has value and should have access to the necessities of life – basic healthcare, clean water, education, and a future of hope.
The ships go by invitation only, partnering with local governments and authorities to develop long term and sustainable relationships. They sail to isolated places, with the volunteer staff setting up clinics ashore, and conducting surgeries on board for free.
The MV YWAM Koha, which was built in 1966, is 48.8 metres in length with a gross tonnage of 486 tonnes.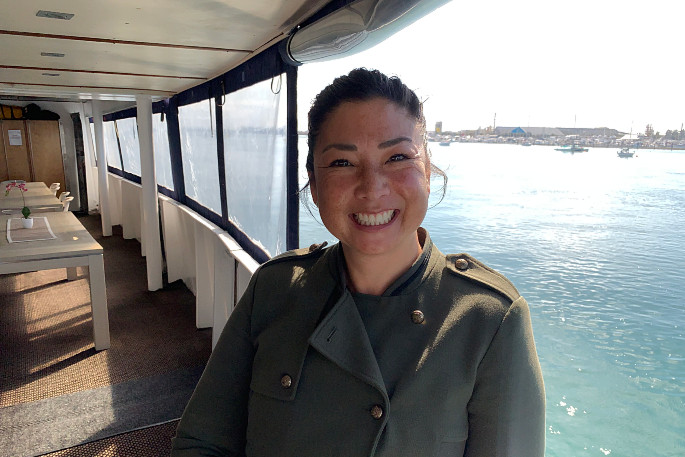 Dr Kaasandra Chee on board Tauranga's medical mission ship.
Dr Kaasandra Chee first visited the YWAM Koha only three weeks ago.
"I organised a group of people and we all came on a tour," says Kaasandra. "Everyone was just so enthusiastic about what the Koha and the medical missions were all about. So I raised my hand to help set up the ophthalmology suite in a container which ultimately will go with them to the islands. I've been all boots in."
Dr Chee has a PhD in biological science while her postdoctoral research focused on ocular wound healing. Her husband, Dr Andrew Thompson, is an eye specialist providing ophthalmology services in Tauranga. Dr Chee is also a board trustee for Glaucoma New Zealand and has previously worked in the not-for-profit sector, more recently as fundraising and marketing manager for Tauranga Riding for the Disabled.
"The major need over there is basic health. Dentistry and ophthalmology," says Kaasandra. "The main surgery they want to do is cataract surgery. How it helps is that it frees up more than one person - it frees up that person plus that family member who has to lead them around. So it really is an amazing surgery."
On the open days in November, the public will be able to visit the galley where a chef prepares meals, and climb through hatches, up steps to the wheelhouse, and down into the inner bowels of the ship.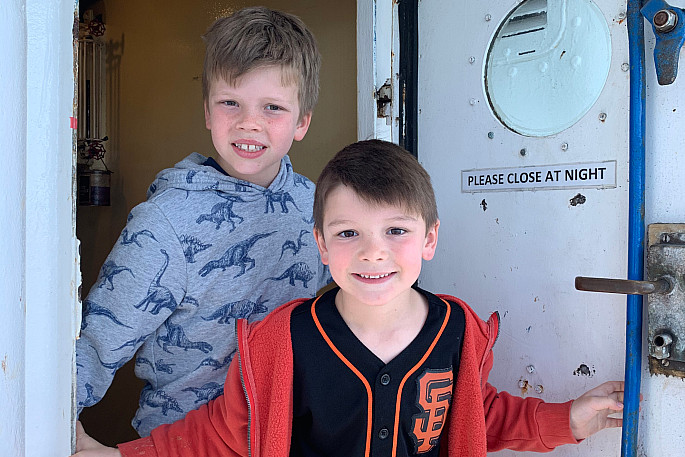 Emlyn and Harry Bridges exploring the MV YWAM Koha
"What YWAM Aotearoa is doing here is just amazing," says Tauranga MP Simon Bridges. "To think that they're going into the islands and solving, what for us in Tauranga, are really basic problems like cataracts, and wound and dental issues. It's such a great thing that they're doing, and I hope that Government can partner more with them and help them to make the things they do with very limited money go even further."
The vessel and its crew will be welcoming the public on board during the weekends of November 7 and 8 and November 14 and 15 from 1-4pm on each of the four days.
"I brought my family, and the boys are having a great time," says Simon. "I'm sure that lots of other families will too."
For more information about the tours and open days go to www.ywamshipsaotearoa.org.nz or email info@ywamships.co.nz
More on SunLive...