Interactive discovery centre opens in Tauranga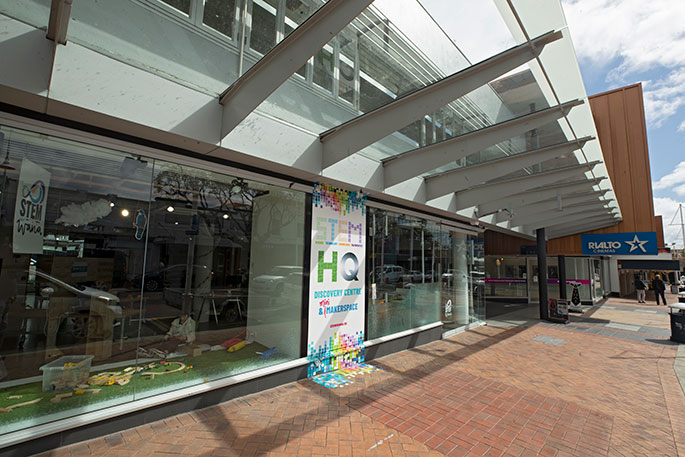 STEM HQ on Devonport Road is being described as "the most incredible hands on science, technology, engineering and mathematics discover centre for kids and adults alike".
The centre, which is open from today, is part of Downtown Tauranga's Activate Vacant Spaces scheme.
The Mainstreet Tauranga Activate Vacant Spaces team were able to secure a vacant space as part of their programme, working in partnership with landlords and property owners to reinvigorate the CBD with activations and installations of interest, whilst the city centre development transformations take place.
Spokesperson Sally Cooke says STEM HQ will be an exciting addition to the growing list of activations coming into the city centre.
"Activate Vacant Spaces is about turning vacant spaces into vibrant spaces. When we heard that STEM Wana Trust were looking for a site we worked hard to find an ideal location for their dedicated science, technology, engineering and mathematics 'discovery' centre.
"It will be an exciting addition to the CBD and a great use of the currently vacant temporary space where Hallensteins used to be."
STEM Wana, a registered charity, responsible for the award-winning STEM Festival (STEMFest) that drew in 3500 visitors to Durham Street for a one day celebration back in October 2019, have adapted their activities to deliver on a series of STEM Initiatives for 2020.
STEM Explorer Trail
This unique website app will be an interactive way of exploring hidden STEM challenges and tasks within Tauranga's CBD.
Designed and developed by Tauranga's YouthDev team, composed of volunteer mentors and youth, the STEM Explorer Trail is a one of a kind app experience made by locals for our locals (and visitors).
Complete challenges as an individual or a team, unlock special tasks, explore our CBD and win some cool prizes.
Click here for more information about the centre.
More on SunLive...