Shining the red alert on the events industry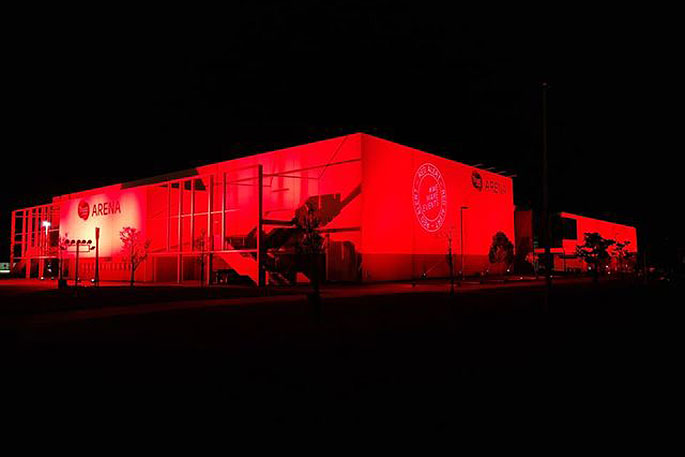 As darkness fell across New Zealand on Wednesday, the Trustpower Arena turned red in support of the thousands who work in the event industry hit hard by lockdowns and mass gathering limits.
The Tauranga venue joined thousands of companies around the world in lighting up their venues red to acknowledge colleagues struggling during extremely tough times.
"We're doing this to raise awareness for the events industry naturally and internationally, it's an industry that's been hit very hard, we need to show solidarity with industry professionals, many of which have lost all their income," says Bay Audio Visual Manager Cian O'cinnseala.
Dubbed the #WeMakeEvents movement, the global wave of red started in New Zealand with events professionals lighting up their spaces or symbols of their businesses.
The aim is to represent the entire value chain of events, from the technical talent, caterers, marquee companies, infrastructure and drivers to everyone in between.
The purpose is more than just coming together to send a powerful message of support; it shows the world that the industry is in the red zone and at risk of disappearing.
Across the Waikato, a collective of events professionals will be uniting to light up their spaces in red as an act of localised solidarity. Mystery Creek Events Centre, X-Site Event Hire and Riverlea Theatre will all be lit up with the help of SBI Productions, who are also lighting their own site.
"As the saying goes, you don't know what you've got until it's gone," says CEO of the New Zealand National Fieldays Society, Peter Nation.
"The red light has been put on events across the world and behind every event is a huge supply chain of businesses that have been equally devastated by the effects of COVID-19. We don't want to lose more than we already have."
Follow the movement here: https://www.facebook.com/WeMakeEventsNZ/
New Zealand was the first country to start the movement last night, Australia is set to be next and then on around the world, event professionals around the world will collectively STAND AS ONE.
Kiwi's will be passing the baton across the time zones initiating creative expressions that will see:
• #LightItInRed buildings – venues and structures illuminated red and projected with the signature expression of Red Alert and We Make Events.
• Shine a Light – strategically placed shafts of white light beamed up into the night sky, each one signifying a number of potential job losses.
• Inside Out – unique images of what would have been taking place inside a venue, projected onto the outside of the empty venues, reminding the press and the public of what they are missing.
• Creative & Art installations – illustrating the numbers of event professionals either already out of work or expecting to be soon.
More on SunLive...