$10 laundry liquid just better than water - study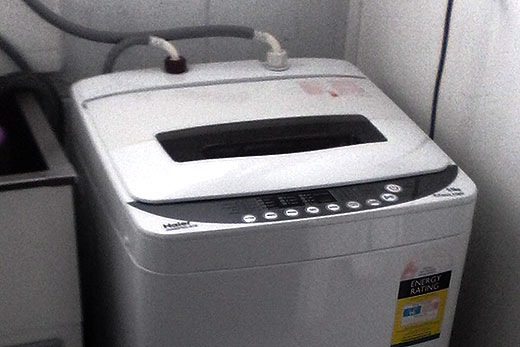 A laundry liquid sold for $10 a litre gets washing only slightly cleaner than water, testing by Consumer has found.
In a test of 32 laundry powders and liquids, the consumer watchdog found several were on a par with or performed only marginally better than water alone.
The detergents were put through their paces against 10 common stains including grass, blood, baby food and chocolate ice cream, in both top and front loader washing machines.
Among the most expensive detergents tested, Ecostore's Eucalyptus Laundry Liquid scored 47 per cent when used in a top loader machine, while water alone scored 44 per cent.
It scored better in a front loader, with 65 per cent versus 55 for a plain water wash.
At $10 a litre on average, the Ecostore product was more expensive than the best performer in a top loader, Persil Ultimate powder, which scored 63 percent in a top loader and has an average price of $7 a kilogram.
It was $2.99 cheaper than the best performing product in front loader testing, Dynamo Professionals 7 Actions in 1 Wash, at an average of $12.99 a litre and a score of 82 per cent.
Ecostore research and development manager Huia Iti says the company disagreed with the statements made and questioned the quality of testing.
"We test through independent experts to give us assurance of the quality of our products.
"As well as performance results, we provide consumers a guarantee of product safety from a people and planet perspective ensuring they are respectful, responsible and ethical throughout the entirety of their life cycle."
Huia pointed to Canstar research showing the brand was voted number one laundry powder and liquid by New Zealand consumers.
Several other detergents were also found wanting in Consumer's testing, including Essentials Laundry Powder and Essentials Laundry Liquid Clean Wash Apple.
Both fared no better than water in a front loader.
In top loader machines, Living Green Lavender and Aloe, and Earthwise Plant-powered Laundry Liquid Ultra Sensitive Fragrance-free scored only slightly higher than water at 45 and 46 per cent respectively.
At the other end of the spectrum, two brands stood out. Dynamo dominated in the front loader stakes and Persil was a similar standout in top loader performance.
Top scorers:
Front loaders
Dynamo Professionals 7 Actions in 1 Wash
Dynamo Professional Oxi Plus
Dynamo Deep Clean Odour Eliminating
Persil with Built in Pre-treaters
Cold Power Smooth and Clean Easy Ironing
Top loaders
Persil Ultimate
Persil with a Touch of Comfort Inspired Freshness
Persil with Built in Pre-treaters
Dynamo Professional Oxi Plus
Fab Perfume Indulgence Sublime Velvet
More on SunLive...