A pastor with a twist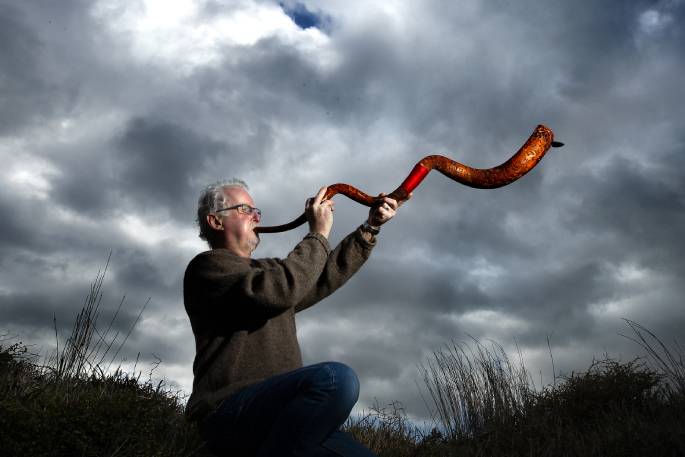 Unless you're Jewish you may not know what a shofar is, much less have owned or played one.
Papamoa man Steve Trim is the exception and can say 'yes' to all three.
As a matter of fact, he makes them – lots of them – in his garage.
The recently retired Baptist pastor has a home workshop in which he's made 61 of the unusual looking instruments over the past ten years.
A traditional part of the Jewish religion the instruments are typically made from a large curved ram's horn and used to celebrate occasions like Rosh Hashanah – also known as the Jewish New Year.
Steve's variety are predominantly made from salvaged native timber like old totara fence posts, but in this kind of woodwork anything goes.
There are even a few pieces of an old power pole in the mix, he says.
His passion for shofars grew from an initial interest in traditional Māori instruments, or taonga puoro.
"I started off by making a putatara, which is a shell instrument, after a friend gave me a suitable shell; then I moved on to making a putaea (a long straight war trumpet) out of wood."
At some point one of his putaea ended up with a few extra curves in it.
"It was wavy and I thought it looked quite good. That led me to wonder if I could make a shofar," says Steve.
After months of experimenting he perfected a technique that enabled him to create the distinctive curved horn shape.
That's when he created "my first good one".
Steve then adds his own style of carving motif to each shofar and gives them a name which he inscribes into the wood in both te reo and Hebrew.
It's a particularly apt way of acknowledging the dual sources of inspiration behind his unique creations.
Listening to him play one of his shofroth, as they're known in the plural, is a mesmerizing experience for both the eyes and ears.
Each instrument is different and capable of producing its own range of deep-toned notes, something that Steve uses to great melodic effect.
Making and playing taonga puoro (singing treasures) has experienced a resurgence around New Zealand in recent years, however Steve says as far as he knows no one else is making curved ones like the shofar.
"I've given most of mine away to friends or people I've met who've shown an interest in them," says Steve.
A fully carved shofar can take him up to 50 hours from start to finish and involves making multiple individual 5cm sections before gluing and sanding them together into the final impressive shape.
"A lot of my original ones were made from old totara fence posts off farms. Totara is a very good carving wood but posts are now hard to come by as people are keeping theirs," says Steve.
"I don't call myself a carver because there are master carvers who just do everything with a chisel and they make beautiful work.
"They do stunning work by hand whereas I cheat and use a rotary power tool similar to a piece of engraving equipment. I'm not a carver, I'm more of a decorator," he says.
Four of the 61 shofars Steve's created were made during the COVID-19 lockdown. Together, with a number of large putatara they make an impressive sight in the lounge of his Papamoa home.
Fortunately his hobby has the blessing and support of his wife Marijan.
The Jewish New Year, or Rosh Hashanah, is one of the holiest days in the Jewish calendar. It's observed by prayers in synagogue and personal reflection, as well as hearing the shofar blown.
The biblical name for the holiday is Yom Teruah, which is literally 'day of shouting or blasting'.
It was celebrated on September 18-20 this year.
More on SunLive...