New trout season begins on October 1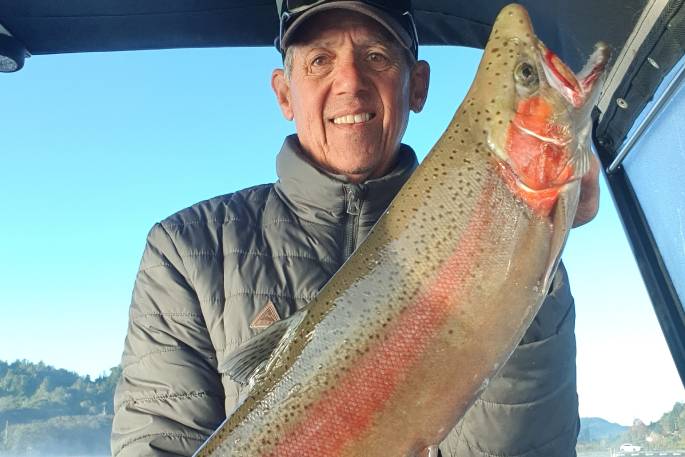 The new trout fishing season is almost upon us, and anglers around the country are prepping their tackle in anticipation of Thursday, October 1.
The Rotorua lakes are a magnet for boaties heading to the region's most famous lakes, Rotoiti, Tarawera and Okataina, to chase hard fighting rainbow trout!
The day will begin at 5.00 am sharp with hundreds of excited fishers venturing out onto the calm, misty Rotorua waters.
Opening this year is extra special because of the issues caused by the Corona virus pandemic, says a statement from Eastern Fish & Game.
"The community has done it tough over the lockdown periods, fishing is a great way to unwind and get some personal relaxation time or family time."
Rotorua's three big lakes, Rotoiti, Tarawera and Okataina close at the end of June and re-open for the beginning of the season.
Keen fishers like to hit the lakes at the outset to catch a trout but also as a way of celebrating the opening and catching up with friends and family.
"There's a real fun and family atmosphere about the opening. People catch up with friends that they might not have seen since the last trout season. This year it's even more special because of what we've all been through. Fishing, like many outdoor activites, is a great way to look after the soul," says Fish & Game office Matt Osborne.
Fish & Game expect Lake Rotoiti to be the most popular at opening as it is the region's best overall performer as far as fish size and quality go.
Tarawera and Okataina are both likely to produce impressive fish also, with each angler having their 'favourite' spot.
Opening surveys
Fish & Game will have teams of staff out on the lakes and at boat ramps weighing and measuring fish and asking anglers about their fishing experiences.
Monitoring the fishery is a vital part in managing it, says Matt.
"We need to know how well the fish are doing each year so that we are able to make improvements and we want to hear from licence holders about their day."
Anglers are reminded to check the regulations and carry their fishing licences at all times when fishing.
Fishing tips
Eastern Fish & Game has offered a few tips on techniques to use on opening day.
Fish & Game Officer Mark Sherburn says initially, and before the sun gets on the water, the fishing is often slow but picks up during the first few hours of daylight.
"Shallow trolling with a 'Tassie' and a smelt fly is often a successful way of beginning. If it's sunny and there's lots of boat traffic, expect the fish to move a little deeper in the morning.
"Under these conditions adopt a deep trolling method such as lead line, wire or downrigger. It's hard to beat orange as a lure colour early in the season, or something with a touch of red and don't forget to try the 'old faithful' black and gold toby! Jigging too can work well early in the season with three flies- something darker on the bottom with two smelt flies above it is ideal"
Mark reminds anglers they should have given their motor a check over "and given it a test run before they get to the ramp. There's nothing worse than getting to the ramp and having motor trouble, so a little effort put into preparation goes a long way."
And he suggests they check over their fishing gear too.
"Check the lines are in good condition, top up the tackle box with the favourite lures and re-fresh the monofilament when you go to the tackle store to pick up a new season licence."
If hitting the water early, make sure the trailer and navigation lights are working and remember to have lifejackets for everyone, he adds.
Mark says that for anglers seeking new spots – or those who're new to the Eastern region – then Fish & Game brochures are a great place to start.
They are available at fishing stores and licence agents, or from the Fish & Game website, www.fishandgame.org.nz
Check, Clean, Drain and Dry
Anglers are reminded of the need to check equipment for weed, clean gear and when possible dry it out to prevent the spread of invasive a species between waterways.
Pest weed and fish species can easily be carried as hitchhikers on boat trailers and equipment and we must all work to prevent the spread of pests which can damage the lakes we all value.
More on SunLive...