Prioritising mental health at Otumoetai College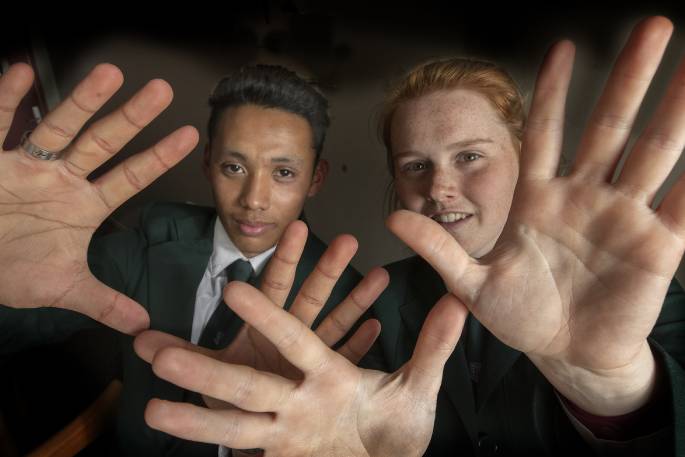 Otumoetai College school leaders are doing their bit to break down barriers and open up the conversation about mental health.
Year 13 students Lilly Muspratt and Liam Turner organised a series of events this week in an effort to start circulating more positivity across the school.
Each day the school's Hauora committee has hosted a lunchtime activity in line with Mental Health Awareness Week – this has included sending out kindness cards, jump jam, gumboot Friday and cutting our paper hands featuring positive messages.
"With this whole pandemic thing, there is a whole lot of negativity running around. We want to get more positive messages out there, so students can take them on board," says Lilly.
"Words have a lot of power – and that's why this week is so important because when people see uplifting messages they can start moving towards more positivity," adds Liam.
He says the week is also about showing support to those who are dealing with stress, anxiety and depression.
"There are a lot of walls people place up when it comes to their own mental wellbeing - nobody wants to be thought of as weak.
"We hope this will start breaking down the stigma so people can have open conversations about their mental health – whether that be with their mates or family."
Passing NCEA, getting into university, working to support their families and uncertainty about the future are just some of the pressures students in Year 13 are facing this year, says Lilly.
She says many of these problems have worsened due to lockdown.
"There is quite a bit of pressure to do well at school, then go straight to university and carry that on.
"We also have students who are working to support their own family - which is unfortunate, but it's something they feel they need to do.
"There have been a few cases where students have left school to get a full-time job to help support their family and younger siblings."
Both Liam and Lilly say that with this year being particularly tough, it's more important than ever to spend time doing things that "fill you up".
"It has been a stressful year – we have had the whole pandemic thing, and also we have been trying to get through Year 13," says Lilly.
"It's the little things I have chosen to do like taking something that I enjoy and making sure I do them regularly so I boost myself up."
Some things fill you up, and some things drain you, says Liam.
"Trying to do schoolwork over lockdown was particularly draining – so I made sure to spend time doing exercise and hanging out with family."
Otumoetai College has employed an additional part-time counsellor this year due to a significant increase in students trying to access the school's counselling service.
More on SunLive...