Terry's cherries in full bloom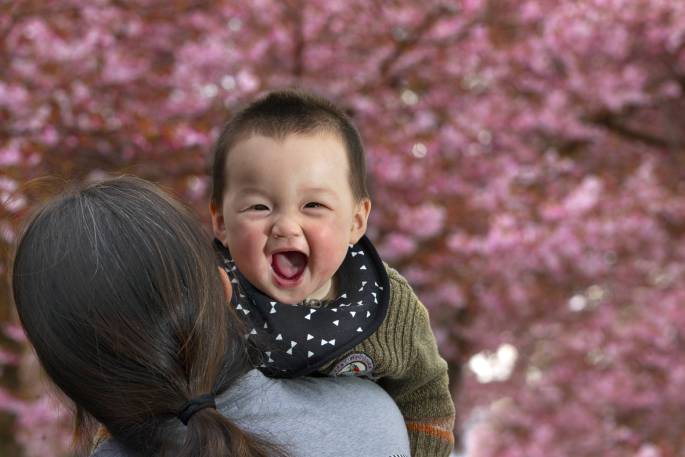 Greerton Village is once again bursting with pink blossoms. Regarded by many locals as the 'Capital of Spring' in New Zealand, the village has a colourful display of cherry blossoms along Chadwick Rd and Cameron Rd.
The annual Cherry Blossom Festival, which was to be held on Saturday, September 21, had to be cancelled due to COVID restrictions, but that hasn't stopped fans of the village coming from all over Tauranga to enjoy the blossoms.
The vibrant village has been humming with activity since the return to Alert Level 2, with shoppers coming from far and wide to support their favourite cafes and retailers. And of course, the cherry blossom trees, now out in full force are painting the village pink.
Former city councillor Terry Molloy was instrumental in the introduction of the trees to Greerton Village.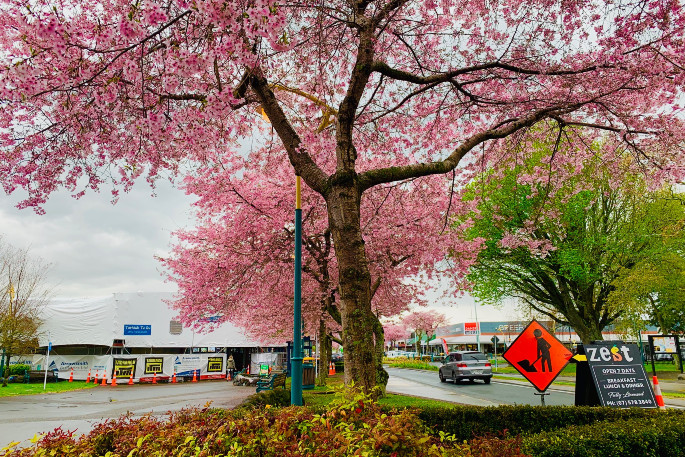 Chadwick Rd, Greerton Village
Terry was born, educated and has lived in Tauranga all his life. His family have lived in the area for nearly 100 years. Past president of Tauranga Fruit Growers, Terry has also been chair of the committee that drove the Greerton Village redevelopment, with some of the now iconic cherry blossom trees – 'Terry's cherries' – coming from his property in lower Pyes Pa. He also played a major part in having the Greerton Library built.
Greerton has a rich history in Tauranga. Ngai Tamarawaho Pa Tutarawanaga, one of the first schools of learning in Tauranga was established 500 years ago on the banks of the Waimapu River in the area known as Yatton Park. Toi Ohomai Institute of Technology in Poike is now sited on the opposite bank.
In 1864 the Battle of Gate Pa (Pukehinahina), an important event in the history of New Zealand, was fought on the northern flanks of Greerton.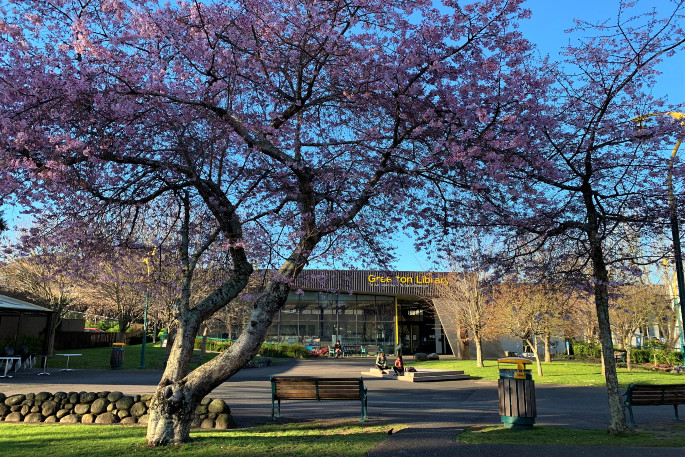 Cherry blossom trees outside Greerton Library.
The racecourse reserve was gazetted in 1878, 14 years after the Battle of Gate Pa, and is Tauranga's most significant reserve. It is now a popular green space enjoyed especially by horse riders and golfers. The Bay of Plenty Garden & Art Festival's hub called 'Bloom in the Bay' will be located at the racecourse from November 19-22.
As the city continues to march southwards, Greerton Village has been on the crest of the wave of expansion. A new library and community centre were built on the northern side of the Village Green in 2016. This complements the village style shopping of the area, creating a delightful pedestrian village centre.
The heart of Greerton is the Village Green located opposite the 130 year old Greerton School, with its native trees that enhance the exotic cherry blossom trees planted in Chadwick Rd.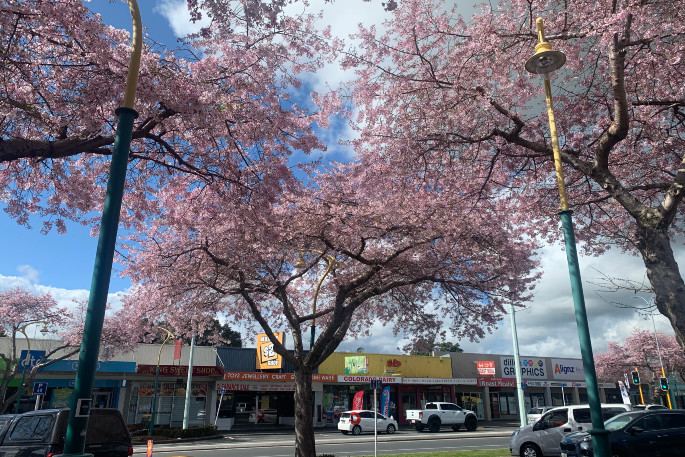 Cherry blossom trees on Cameron Rd, Greerton Village
More on SunLive...