Full steam ahead for Blue Do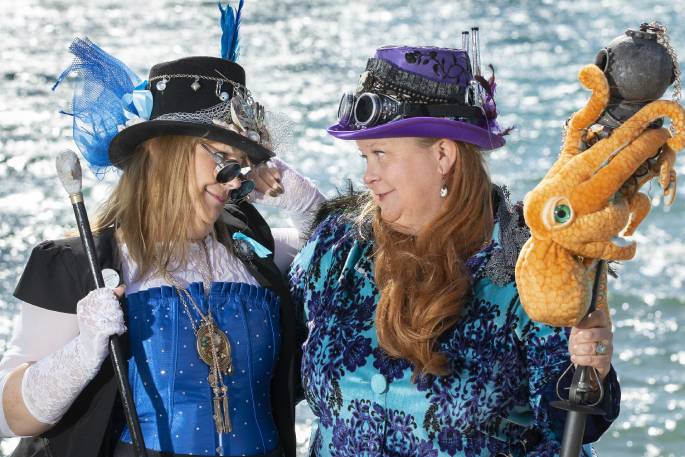 Certain people manage to really stand out in a crowd on a normal day, let alone when they go all out for a good cause like a charity fundraiser.
Steampunk Tauranga is holding its annual Blue Do fundraiser event on Sunday, September 27, to raise money for the Prostate Cancer Foundation.
Due to the success of the previous two years, they've had to move this year's event to a bigger venue at the Tauranga Yacht Club.
Everyone attending is encouraged to dress in blue, or in a nautical theme; or if they really want to impress, in full steampunk regalia.
"As long as you dress splendidly to show your support for the cause," group member Lindsey Morgan, aka 'Lady Hannah' says, laughing.
"We're all about putting fun in fundraising."
Ticket holders will be able to dance the night away to local covers rock band Shabang and food platters will be provided.
Blue Do's support the Prostate Cancer Foundation of New Zealand and are as much about awareness as raising funds, Lady Hannah says.
"We do it for the men in our lives – the husbands, poppas, nephews, sons, uncles, colleagues and friends.
"Prostate cancer is the most common cancer in Kiwi men. Two blokes die a day. We think that is two men too many."
With this week's drop to Alert Level 1, there are no longer restrictions on the size of social gatherings so the group is encouraging last-minute ticket buyers to put their best foot forward.
It's a 'must do' fun evening, Lady Hannah says.
"We have friends from all over New Zealand coming to the city for our event, bringing much needed income to our local businesses."
The Deep Blue Do is not the only thing happening this weekend that Steampunk members will be involved in.
They've teamed up with The Barrel Room restaurant and bar in Wharf Street to hold a 'Light Blue Do' starting at midday on Saturday.
That event will feature Teapot Racing – an activity that perfectly illustrates the steampunk culture's penchant for fun and frivolity and is always a favourite with audiences young and old.
For a gold coin donation, between 1pm and 2.30pm, teapot racers can try their hand at navigating the remote-controlled machines through a set course while pushing a barrel of monkeys in front.
A fleet of teapots will be provided for members of the public to use and owner of The Barrel Room, Stewart Gebbie, says the fastest time through the course will earn the winner a food and beverage voucher.
There'll also be a special menu of 'blue' food and beverages available on the day and a part of those proceeds will also be going to The Prostate Cancer Foundation.
Tickets to the Deep Blue Do event on Saturday night can be purchased through Leone Turner at: slurps@kinect.co.nz
More on SunLive...