Community encouraged to reimagine Whakatane CBD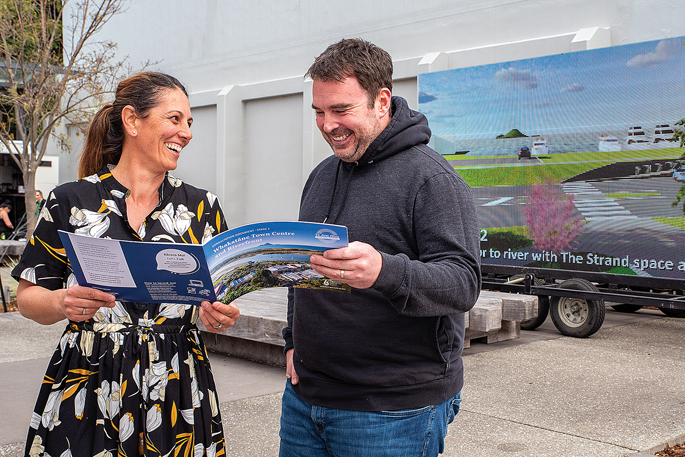 The community is being asked to reimagine what Whakatane's central business district could look like using their wildest dreams and no limitations.
The Whakatane District Council is consulting on two plans – one to temporarily change the CBD streets and the other, Te Ara Hou, to revitalise the town centre and riverfront.
Senior policy planner Deb Ganley says the council hadn't created any plans or made any decisions for the area and would not do so until it had finished consulting with the community.
"We're saying, even before we start making designs and plans, let's look at what the community would like and what outcomes they would like for future generations," she says.
"We want to know what they like about these two spaces, the riverfront, the Kakahoroa Drive parking area, what they don't like, how they use it and what we could potentially change.
"We are thinking we may like to use it differently and that has been something the community has been asking for since 2007, so we're double checking that's still the case, and if it is still the case, what they would like to see happen there."
Following the consultation, the council will create a range of designs based on community feedback that will go back to community for more feedback before a final design is created.
Te Ara Hou is a $20 million-plus programme funded by the Provincial Growth Fund and council investment – not rates – to revitalise and connect the CBD with the river to create long-lasting social, environmental, cultural, and economic benefits for the community. It has been made possible through partnership with Te Runanga o Ngati Awa.
The second project, innovating Kakahoroa Drive and the Whakatane CBD through temporary measures is made possible with funding from Waka Kotahi New Zealand Transport Agency's Innovating Streets Fund which aims to create vibrant, people-focused places in areas traditionally dominated by vehicles.
"They are focused on getting communities to look at ways they can make town centres more people-friendly and that helps to stimulate and promote growth," Deb says.
"They recognise that having a very car-centric, car-dominated town centre cuts off people from what they want to access and can make it hard for people to navigate in and around towns."
Deb says NZTA was asking communities to trial new initiatives to see what could and couldn't work and it was "quite fortunate" the council could use it as a temporary measure to try out whatever the community would like to see in the CBD and use that to inform the wider Te Ara Hou project.
To receive the funding, the council had to put forward designs to NZTA for consideration, which are now open for community comment.
The council has put forward two concepts for consideration. The first creates a pedestrian corridor through the Kakahoroa Drive parking lot, which currently has no spaces for pedestrians, and includes a potential basketball court, green field, giant chess set and spaces for small stalls and food caravans.
The second reimagines The Strand as a one-way street with colourful painting, large gardens and again spaces for small stalls, food caravans and buskers.
Deb says these concepts were simply to spark people's imagination – the council might do it, or might not, depending on the feedback received.
She says having a revitalised town centre could draw more people in, have them stay longer, and visit more businesses.
"When we say open spaces it's not necessarily a green space, it is areas where there might be events or open-air cafes, or a night-time economy, or something that extends the retail timeframe from 8am to 5pm into the evening and weekend economies," she says.

More on SunLive...