Tauranga venue 'fogged' for musical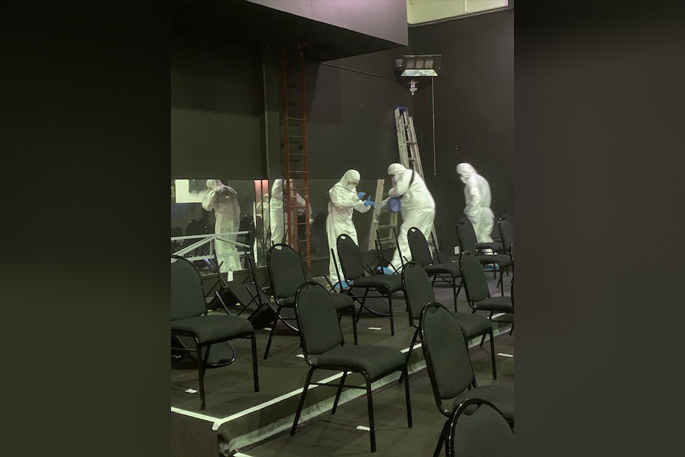 The Tauranga Musical Theatre is now sparkling clean and sanitised after being 'fogged' by a local cleaning business.
The entire venue was fogged with an antimicrobial preventative treatment last week just in time for opening night of the Blues Brothers: First Contact musical.
The show has been delayed multiple times this year due to COVID-19, but it was finally able to go ahead on Friday.
Shield Worx director Glen Wilson says fogging is ideal for cleaning spaces that see high volumes of people, and provides added security to those attending events.
"The Tauranga Musical Theatre approached us. They have been trying to get this musical off the ground for quite some time but due to COVID restrictions they haven't been allowed to," he says.
Glen says the fogging mist reaches places that typical cleaning products usually don't – like underneath chairs.
"The fogging involved spraying all the chairs where the patrons are going to be sitting and the bottom of them. These are the areas that people don't normally clean anyway.
"The amount of grime and gunk under chairs is horrendous."
The company has seen increased demand for their services in recent months – particularly from retirement villages and day-care centres, says Glen.
The cleaning method lasts for about 30-45 days.
The Tauranga Musical Theatre took to Facebook saying that they have spent a "massive amount" of time and effort ensuring that attendee's experience is safe and enjoyable at the theatre.
The show is running until October 3.
More on SunLive...