Art on sale at Pillans Point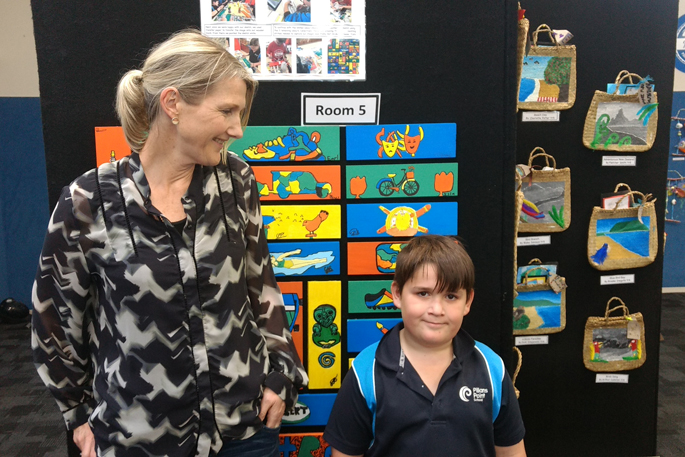 Pillans Point School is 'giving back' to local artists who have been helping mentor students as part of its term three arts curriculum.
The school is holding its biennial art exhibition this Wednesday and Thursday to celebrate the visual arts.
At least one piece of art from each of the school's 580 students will be on show alongside that of well-known local artists like Linda Munn, Susan Tustain, Sasha Groufsky, Nick Eggleston, Elliot Mason, Joyce Van del Lely, and Mandy Williams.
Principal Matt Simeon said it was about promoting the arts as being as important as every other curriculum area.
Every student right up to Year 6 has produced at least one piece of art and some have created several, he says.
In prior years artists have donated works for parents to bid on and the money raised was donated to the school. This year, because of the financial impact Covid-19 has had on many people, including artists, the school has decided to do things differently.
"This year we want to give back to the local artists so their art is on display and yes it's for sale and that money will be for them", Deputy Principal Sarah Stock says.
"This is our way of connecting with our community and celebrating the arts, celebrating our local artists.
"A lot of these people have been into our school, they've helped in the classrooms and given talks about their art. It's been a whole community effort."
The students have been hugely inspired by meeting the artists in person, hearing their stories, and realising that this is a career pathway if they choose to go down there, Sarah says.
Matt says when the students see their own art on show alongside that of professional artists it makes it really come to life for them.
"Moving to Level One is perfect timing. We don't have to go through all the systems and processes, it's just come in and enjoy" he says.
The exhibition will be held in the school hall from Wednesday to Thursday this week and members of the public are welcome.
More on SunLive...