Otumoetai teens on a te reo quest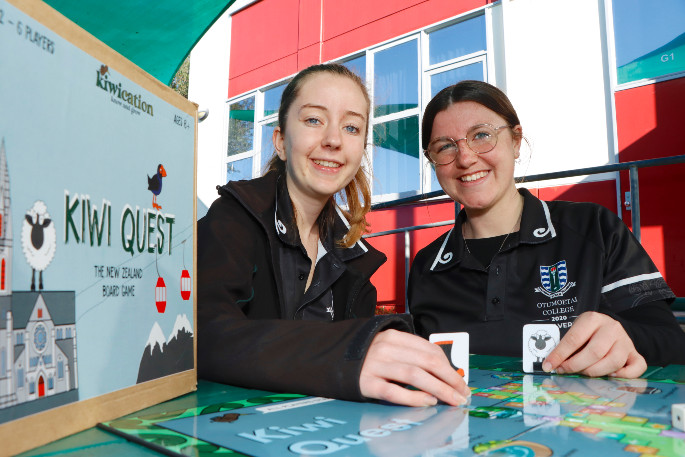 What is the Maori word for visitors?
This is one of dozens of questions you will find the answer to in Kiwi Quest, a new board game that aims to increase people's knowledge about Aotearoa and te reo Maori.
Kiwi Quest has been developed by six Otumoetai College students after they realised a lot people have only surface knowledge about New Zealand and te reo.
"With te reo Maori, even though it's taught at schools, once people leave primary school or they just go into their normal lives, they kind of forget it. And then there's also the mispronunciation of it," says CEO Amber Harrison.
During the game players work their way around a map of New Zealand and answer questions along the way.
There are activity cards with te reo questions which have a QR code that can be scanned to hear the correct pronunciation.
It has taken the Year 13 students five months to work on the design and come up with all the questions.
They got their first run of 50 games last month which sold out in under two weeks and they have pre-sold another 32.
For every game sold $1 is donated to the charity KidsCan.
Three of the team have big plans for Kiwi Quest and will continue the business once the Young Enterprise Scheme ends.
The group calls the enterprise Kiwication and is looking at registering as a New Zealand company.
They have taken the game into primary schools and an English for Speakers of Other Languages cluster meeting and have received great feedback from students and teachers.
Amber says some of their visits to schools were before interval or lunch and the kids enjoyed the game so much they stayed to play during their break.
Marketing and sales director Amy Miedema says students have named it the best New Zealand game ever and teachers say the game is really well designed.
"They keep asking their students: 'should we buy one?' and all the students say yes.
"They've been telling other teachers about it too, which is a good sign."
Amber and Amy have approached all of the primary schools in the country - close to 2000 schools - about using the game as a classroom resource.
In time they want to develop a game for younger children. The game is currently for ages eight and above. They want a full te reo version as well as expansion packs for the activity cards.
The team's business teacher Nyssa Poffley says Amber and Amy are really dedicated and passionate because they spend time before and after school as well as at lunch working on sales and the business.
"These are high achieving students that seem to be enjoying business as well."
She says teachers are often looking for resources that encourage te reo Maori. Kiwi Quest also has the potential to be marketed to Kiwi ex-pats.
"There's such a market out there that they haven't even tapped into."
For more information about the game search Kiwication on Facebook or visit: www.kiwication.mystorbie.com
For those waiting to find out the answer, manuhiri or manuwhiri are Maori for visitors.
More on SunLive...