Locals encouraged to take part in Car Free Day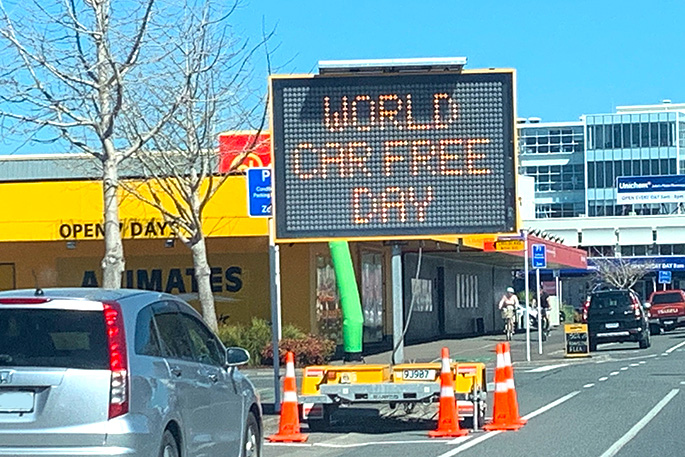 Tauranga City Council is encouraging residents to ditch their car keys and walk, cycle, bus or e-scooter to get around on World Car Free Day tomorrow.

People in more than 2000 cities and 46 countries around the world will ditch their car keys on Tuesday, and council Director of Transport Brendan Bisley says going car-free has many benefits.

"Not so long ago we experienced lockdown at alert level 4 and during that time people used the streets, their suburbs and the city in a different way. People enjoyed more time walking, cycling and less time in cars, which meant a lot less congestion on the roads," she says.

"World Car Free Day is an opportunity to challenge friends, family and colleagues to get out, get moving and see the benefits of leaving the car at home, even if it's just for the day.

"There are many benefits to ditching the car in favour of biking, walking or taking the bus both mentally and physically. Reduced stress, improved health, cleaner air, less congestion and lower levels of noise and environmental pollution.

"Not paying for petrol or parking, vehicle maintenance and other running costs are other financial benefits that people might consider when choosing to make change."

World Car Free Day coincides with Spring, which is a great time to create new travel habits.
Find out more about World Car Free Day and how you can get involved in Tauranga.

Other interesting facts
• 63 per cent of Tauranga's carbon emissions come from transport, mostly cars and trucks. (Source: Tauranga Carbon Footprint Emissions Report 2017)

• 1 bus = up to 40 fewer cars on the road

• About 77 per cent of people travel to work in Tauranga in a private or company vehicle on their own, compared to 68 per cent nationwide. (Source: Census 2018)
More on SunLive...