Musical academy's future under fret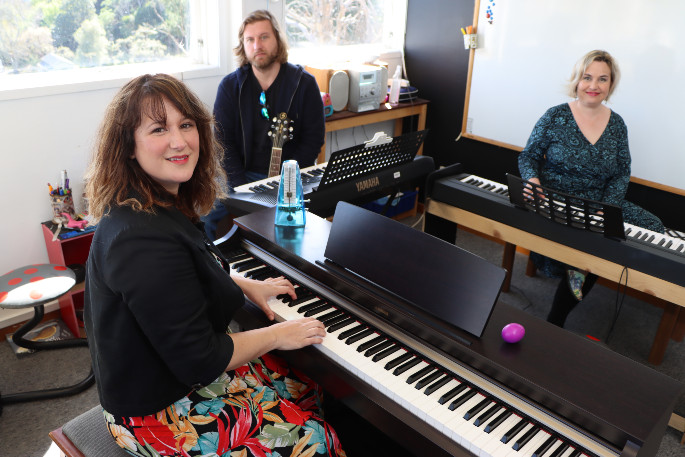 They say you can always make a bandstand by taking away their chairs, but take away a building and what's left are more than 300 musicians needing a home.
That's the case now for Technics Music Academy in Cameron Rd which has grown from 200 to 300 students over the last two years.
Their building is set to be demolished and the academy is asking for help to find a new home by the end of October.
"The owners own the two buildings on either side of us and were able to relocate the other tenants next door but there wasn't room for us," says Technics Music Academy director Katy Cable.
The music academy has been operating from the Cameron Rd building for four years with 12 teachers using five teaching rooms and a large rehearsal space. It's ideally sited between the boys' and girls' colleges so students can walk there after school.
"And it's a safe place for parents to drop off their children. Because everyone is going to class, it's a really buzzy thing.
"We're there 40 weeks of the year and our office hours are 3pm to 8pm. There are sound restrictions in many places but hopefully someone knows a perfect location for us."
The large rehearsal space downstairs is also used after hours by seven or eight different bands such as Abysm, Thunderchild, Leighton Fairlie and Ben Horlock.
Katy says the music academy is at full capacity.
"We're looking for a new home with little rooms for one-on-one teaching – that would be perfect."
She has considered a couple of buildings which look like they would be fine, but other tenants weren't willing to have the volume nearby, or the rent required was too high.
"It's a bit of a shame because everything else is going just ridiculously well. We've been busy all year; the phone rings four or five times a day with people wanting to learn music.
"What really suits us are those old-style offices rather than open plan spaces."
She thinks that lockdown gave people some time to have a think about other things they want to be doing.
"We've had a lot of adults saying: 'I'm finally going to do this, I'm going to learn piano'."
Katy says a week before the country went into lockdown some of the local music shops were selling out of musical instruments.
"People just know it's a good thing to spend your time playing music."
She says the academy has families that may have up to three siblings all learning music.
"They come all at the same time, one pops off to a junior marimba class, the other one's learning flute with a different teacher. We've got a really broad range of teachers with music degrees and teaching qualifications that are not genre specific so we can offer quite a lot of different stuff. That would be the main difference between us and the private practitioners, where they are one-on-one.
"We're quite collaborative between our teachers, where singing and piano teachers may want to team up and show their students what it's like to make music with other people."
Being in the same location has allowed a lot of ensemble music to happen. Having small group classes also helps financially where students are still getting high quality education but doing music with their peers, and the teachers' time can be paid for by more than one student.
Finding a new home that's affordable is the new challenge and Katy wonders if there may be business people out in the community who would consider supporting the arts.
"With the right space we could transition from Technics Music Academy to a broader Tauranga Music Academy and collaborate with the other arts, sharing performance and teaching space."
Anyone with a suitable building or idea for housing the Technics Music Academy is asked to email Katy on: katy@weteachmusic.co.nz or phone: 027 362 0665.
More on SunLive...