Celebrating a new surf lifesaving hub for Omanu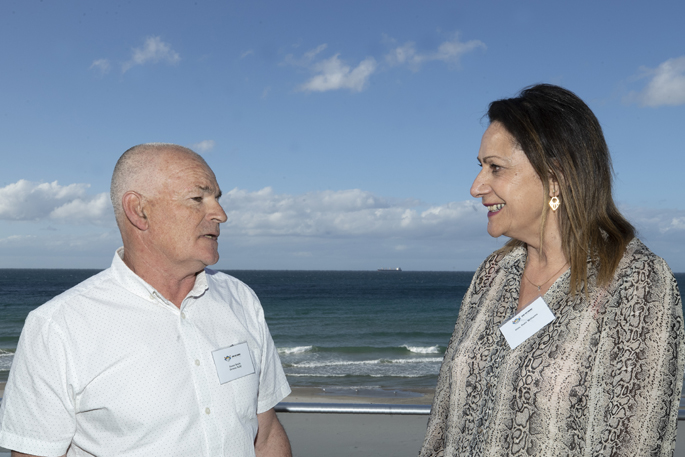 More than five million dollars in government funding going towards Bay of Plenty and Coromandel surf lifesaving clubs has been described as "the biggest gift" for hardworking volunteers.
Minister for the Community and Voluntary Sector Poto Williams paid a visit to Omanu Surf Lifesaving Club yesterday to celebrate the funding, which will support surf lifesaving infrastructure projects across the region.
Recently, the government announced funding towards 11 Surf Lifesaving New Zealand projects across the country, including $5,382,000 towards projects in the BOP/Coromandel area.
About $2.9m of the funding is set to go towards an Eastern Region Rescue Centre which will be based in Omanu.
The Pāpāmoa Surf Lifesaving Club will also receive about $800,000 to complete their club rebuild.
Omanu Surf Lifesaving Club president Donal Boyle says receiving the funding for the hub was a "huge relief".
"It gives surf lifesaving a base – we now have a purpose-built building for all of the Eastern Region.
"The benefits now is that we will have a rescue centre and a storage area that will cater for our club. We need a base outside of the incident area to mobilise our lifeguards.
Surf Lifesaving New Zealand Eastern Region manager Chase Cahalane says this funding will take huge pressure off volunteers who are responsible for developing building projects.
"These are the guys that give thousands of hours into developing projects and trying to find the money for them. To be able to take this weight off their shoulders, so they can spend more time on actual lifesaving – that is the biggest gift, to be honest."
Papamoa Surf Lifesaving Club president Andrew Hitchfield says thanks to this funding injection, the club can now finish their new clubrooms debt-free.
"It has been a long, hard process. Now we can invest all our money back into our people, and our community."
Williams says it was extremely humbling to hear about the "enormous differences" that the funding will have on local clubs.
Tauranga Mayor Tenby Powell says the Omanu and Papamoa Surf Lifesaving Clubs make a huge contribution to community safety in the western Bay of Plenty.
"On behalf of local beachgoers, passes on sincere thanks for the work the club committees put into their submissions and for the funding support provided by the Government.
"Surf Lifesaving does an extraordinary job around Aotearoa and our Tauranga clubs provide a critical service which keeps locals and visitors safe while they are enjoying our beaches and ocean," he says.
Surf Lifesaving New Zealand CEO Paul Dalton says the funding will ultimately directly impact safety along our country's beaches and coastlines.
"Surf Lifesaving facilities are at the heart of many communities. They support and facilitate the safe public use of New Zealand's iconic beaches," he says.
Paul says that in the 2019/2020 season, SLSNZ Surf Lifeguards saved 577 people from drowning and assisted 1,543 people to safety.
"Millions of New Zealanders benefit from lifeguards' presence on our beaches each year and, as a charity, we rely on government and philanthropic funding in order to maintain this vital community service. This funding injection is a win for coastal safety in Aotearoa."
More on SunLive...