Labour pledges to focus on apprenticeships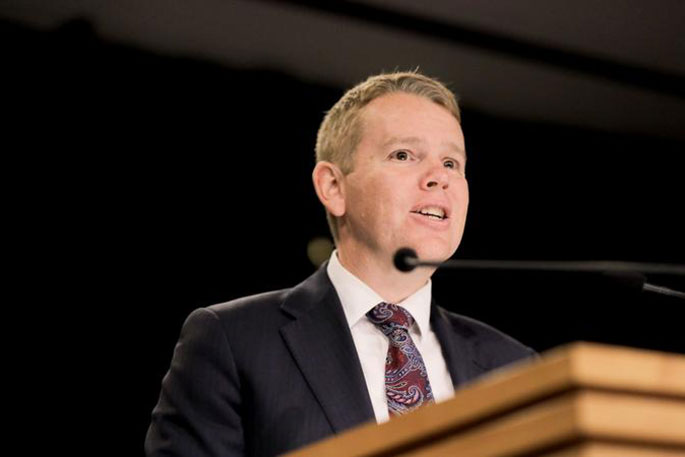 Labour has announced it won't be extending the fees-free tertiary programme past the first year of study, instead prioritising free apprenticeships and targeted areas of vocational training.
Education spokesperson Chris Hipkins has announced the initiative as part of the party's $1.7 billion education package announced in Porirua today.
Key policies in the education package:
• Replace the decile system with the Equality Index

• Significantly close the pay gap for teachers working in education and care centres

• Continue rolling out free lunches programme to a quarter of all school-aged children

• Targeted funding in areas such as trades training and apprenticeships
The party says it will provide free access to all apprenticeships and to many trades training courses for the next two years if elected.
"We will be targeting our additional tertiary education spending in areas that are critical for the country's economic recovery in the post-Covid environment," Hipkins says.
"We're putting trades and vocational training back on the map, and that includes free apprenticeships and free vocational training in those areas where New Zealand has skill shortage.
He attributes the decision not to extend fees-free tertiary education beyond the first year to the Covid-19 pandemic, saying the funding had been redirected into skill shortage areas.
He denies the virus is being used to cover up the failure of the fees-free policy.
"That's what's gonna give us a better bang for our buck ... it is an admission that it's the sort of thing that you do when the economic going is good rather than at a time that you need to invest in order to keep the country moving."
He says the initiatives will be supported by the reform of the Vocational Education System which will be completed if the party is re-elected.
Labour says tens of thousands of learners are eligible to save between $2500 and $6000 a year under this policy.
From 2022, the party would also implement the Equality Index in schools, scrapping the current decile system.
In September 2019, Hipkins first pledged to scrap the decile system saying it made sense to use a system that more accurately predicted whether children were at risk of failure.
He says the equity system is expected to mean an extra $75 million in funding for schools and early learning - an increase of about 50 percent, up from $150m.
"We want every child no matter who they are or where they come from to have the opportunity to fulfil their potential and live life to the fullest. This is a huge step towards addressing the inequities in our public education system.
"Once it's fully implemented the new funding system is expected to involve additional funding of $75m per year, across schooling and early learning. But it's important that there's also a transition period where the shift to the Equity Index is managed carefully."
The target of free healthy lunches for a quarter of school children would increase the number from about 8000 to more than 200,000, he says.
"Free lunches in schools, rolling out to 200,000 kids is a really big step, it's going to take quite a bit of work ... we're committed to doing because the feedback that we've had from the first round of schools who have taken part in the programme is it has made such a difference to kids learning.
"They're just much healthier and much more engaged in their learning."
Labour also pledges to "ensure all 17,000 teachers working in education and care centres are paid what they deserve".
It will continue to work towards pay parity between teachers in education and care centres and their counterparts in schools and kindergartens.
"We inherited a sector that was somewhat dispirited and in desperate need of some additional investment," he said. "We're here today at a community-based early childhood education service because we've got one big piece of unfinished business when it comes to early childhood education teacher pay and that's the issue of pay parity.
"Teachers who are working in community based services like this one, private early childhood education services as well, they're not currently paid as well as the teachers working in kindergartens and that's because the government subsidies don't allow for that.
"We've seen significant increases in funding for ECE (early childhood education), for all ECE. We're going to continue that investment."
He says the coronavirus has not meant teaching te reo Māori in more schools has gone on the backburner.
"If you look at the investment we've had in te reo Māori, if anything we've ramped it up as a result of Covid-19. We've been training over 1000 - I think it might even be getting up towards 2000 - additional te reo Māori teachers during our time that we've been in government ... a lot of additional curriculum resourcing has been developed.
"I've been really open about this, I would have loved to have learned te reo Māori when I was at school and I'm really disappointed that I didn't have that opportunity ... I'm embarrassed to say that I have not made any progress in that area, but I do think it is important.
"It is one of the things that makes us unique as a country, it is our first language, and we should absolutely be investing in it."
Yesterday, the National Party pledged a $1.9 billion education package if elected into government.
Hipkins says National's plans are similar to what Labour has already been implementing in its first term.
"We've been putting extra money into counselling services and mental health support in schools because we know that makes a big difference, we have put more money into things like sign language, english as a second language support.
"Many families will say it's not the lack of support that's the problem, it's not being able to access it."
He also touted learning support coordinators, teacher and teacher aide pay increases, and increasing numbers of teacher aides.
More on SunLive...