Living with aphasia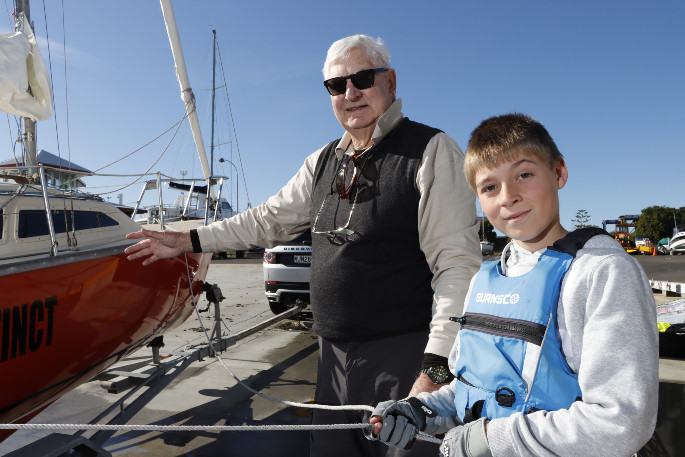 Everyone has moments where the word you want to say is on the tip of your tongue but it won't come out.
For people living with aphasia this moment is a constant struggle.
Aphasia literally means 'absence of speech'.
It is partial or total loss of the ability to articulate ideas or comprehend spoken or written language resulting from damage to the brain caused by injury or disease.
The speech and language disorder is predominantly acquired from stroke.
Owen Souter had a stroke in 2017 and it has altered his life immeasurably; he had to learn speak again, is much less outgoing and struggles to the read the paper.
"It's not something that I would want anybody to go through. Bloody horrible," says Owen speaking about the stroke.
Owen says it took him about a year to become confident speaking again and aphasia is a part of his everyday life.
"Words were the worst. I couldn't write anything down, so therefore I couldn't read. Now I read a little bit out of the paper, that sort of thing and then I've had enough."
If the 75-year-old is really interested in an article, like those in his sailing magazines, he will keep pushing until he's read it.
He occasionally stumbles on a word or takes a moment to recollect it but you wouldn't think Owen was unable to speak just a few years ago.
When he can't find a word he gets frustrated and it is only when he voices this frustration that you are aware he's struggling.
Owen has spent his life on or next to the water. He grew up in Lyttleton before moving to Tauranga in 1968.
He worked as a boat builder then joined the Port of Tauranga in 1969, working there until he retired in 2011.
Owen started at the port doing carpentry work, then he was on the lines tying up ships, before getting his skipper's ticket and was a skipper on the pilot boats for 11 years.
Not content with just working on the water, Owen sails his 7m yacht, Basic Instinct, whenever he can.
He never let his stroke prevent him from getting out in Basic Instinct, named after the Sharon Stone movie.
"I missed it for the first year, but I got back into it and started teaching myself how to sail again."
Owen loves the freedom of getting out on the water, hand on the tiller guiding his yacht through the waves.
"I was out the other day and there was very light winds. I just got the sails up, sat down on the on a deck and I could just feel everything going whoosh. It just felt right."
He will take his grandson Tyler out sailing as often as school and the weather allows. The eight-year-old already has six years' experience under his belt and loves everything about sailing.
Owen also finds comradery in a weekly support group run by Aphasia New Zealand. Owen's Korero Club meets every Wednesday with around 10 other people where they do word activities and practice public speaking.
"The Korero Club is the best part of this phase I'm going through because we're all the same, we all have to listen to each other.
"We have a hell of [a lot of] fun. We're always laughing and joking, and we have a really good group."
The Korero Clubs are just one of the support services Aphasia NZ offers – there are Community Aphasia Advisors in a number of areas around New Zealand, they loan laptops and iPads to help with self-directed learning, offer community education and have a resource library.
Aphasia NZ executive director Emma Castle says aphasia isn't a well-known condition even though it is more common than Parkinson's disease.
She says the charity is trying to raise more awareness about aphasia and how it affects people.
"A lot of people, when they think about stroke, they think about the physical disability that comes with strokes. So paralysis down one side of the body, but the problems with speech and language that also come with stroke are very common."
Aphasia NZ steps in to support people once they have left hospital to help them regain some of the skills they have lost.
Emma says the iPad loans are their most popular service because people can practice in the comfort of their home and they are customised to the user.
"If you go to a cafe, you want to order a coffee, for some people with aphasia that might be really challenging so they can actually use the iPad as a prompt to do that.
"We just try to fill a gap really. People are often at home and they've exited the health system and had all of the speech and language therapy or other services. And then they're kind of just wondering now what happens?"
All of Aphasia NZ's work is done through grants and donations. They recently received a grant from the Mazda Foundation for a new iPad.
For Owen daily life with aphasia can be difficult but the support he receives from the Korero Club has helped to restore his confidence.
More on SunLive...