RDA Volunteers recognised with awards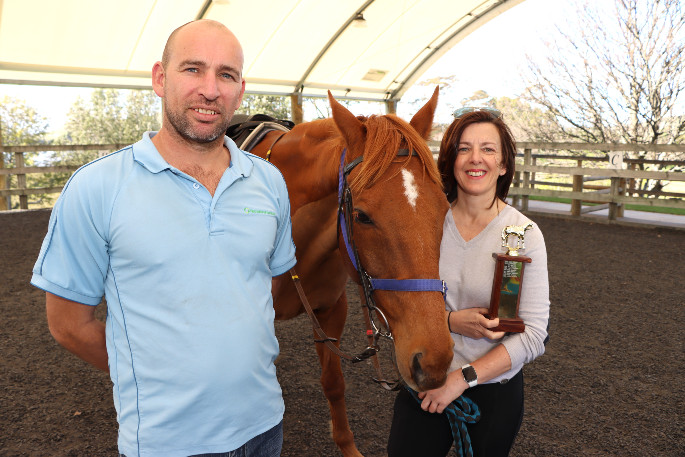 Tauranga Riding for the Disabled and its 120-strong volunteer team have taken time out to celebrate and recognise all the hard work with an awards ceremony at its arena in Welcome Bay.
RDA offers equine therapy to anyone with disabilities and social challenges.
"We currently have 160 riders a week and it is volunteer-intensive, with some individuals requiring three volunteers to assist them to ride," says manager Elisha Olds.
"Our volunteer team are the heart of the organisation. Each and every one of them provide us the support to operate at the level we do. They play a very important role.
"Recreational Services have again sponsored this special week and we appreciate their ongoing support," says Elisha.
Tauranga RDA Volunteer of the Year is Andrea Chambers.
"Andrea has only been with us for one year but has made a significant contribution to our group during this time. Andrea has proven herself to be a valuable team member both within the volunteer group and the riders she works with," says Elisha.
Initially Andrea volunteered two days a week but has recently increased her hours to include an extra afternoon.
Junior Volunteer of the Year is Charlotte Wilde.
"She started riding with RDA in the Holiday Programme two years ago when she was 13 and with the experience she gained, has progressed on to start volunteering with us," says Elisha.
"Charlotte demonstrates great leadership skills and is very trustworthy and responsible. We are very privileged to have such young talent on our team."
This year also marks the launch of a new recognition award, for long-serving volunteers including Lynette Farmer, Roger Lindsay and Alisse Richardson who have been part of the team for over ten years.
No experience is required to become a volunteer, and training is provided.
"We urge people to visit and see if Tauranga RDA is somewhere they feel they can invest their time," says Elisha.
"Becoming a Tauranga RDA Volunteer is the opportunity to join a passionate team who are committed to offering equine therapy to better lives."
More on SunLive...