More NZDF to support Rotorua isolation facilities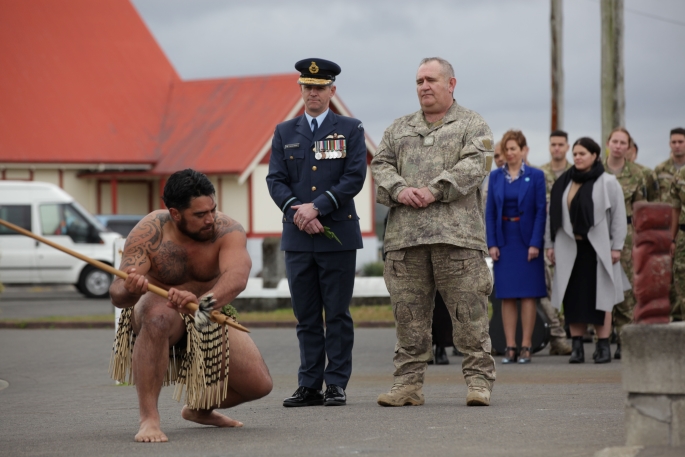 Fifty members of the New Zealand Defence Force have been welcomed to Rotorua as they take up positions in the city's three managed isolation facilities.
On Thursday, Te Arawa welcomed Air Commodore Darryn Webb, Deputy Chief Executive Managed Isolation Quarantine Megan Main and a contingent of 50 defence personnel to Te Papaiouru Marae with a pōhiri that recognises the continued support of iwi for Managed Isolation and Quarantine in the rohe.
Rotorua has three Managed Isolation Facilities - the Sudima, Ibis and Rydges hotels - and Te Arawa has helped to develop and shape a special experience for returnees, infusing a te ao Māori approach into their stay.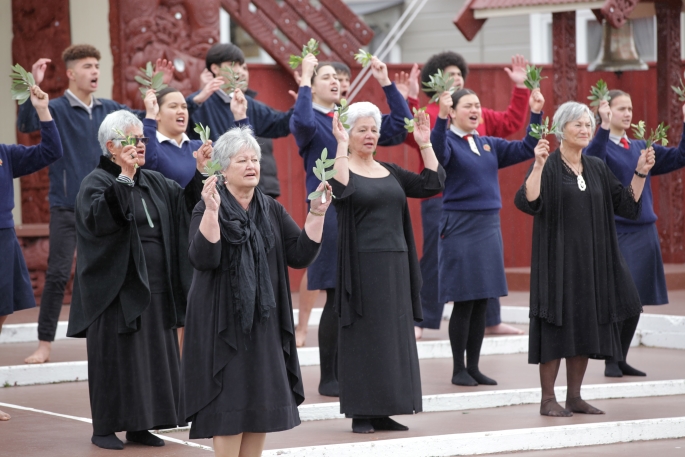 Members of the Te Arawa welcoming party. Photo/NZDF
"This pōhiri is a huge honour for managed isolation and MBIE," Air Commodore Webb says.
"We see great importance in building an on-going and enduring relationship with Te Arawa waka to support our returnees to Aotearoa."
"Our primary goal continues to be managing the public health risk of Covid-19 and prevent its spread into any community," says Deputy Chief Executive Managed Isolation and Quarantine Megan Main.
The additional Defence Force personnel will be completing duties such as managing movement of returnees within the facilities, conducting patrols, providing advice to returnees on Ministry of Health guidelines, escorting agency staff within the facility and assisting with security.
The deployment of the additional personnel will bring further protection for the mana whenua (local people) and the returnees.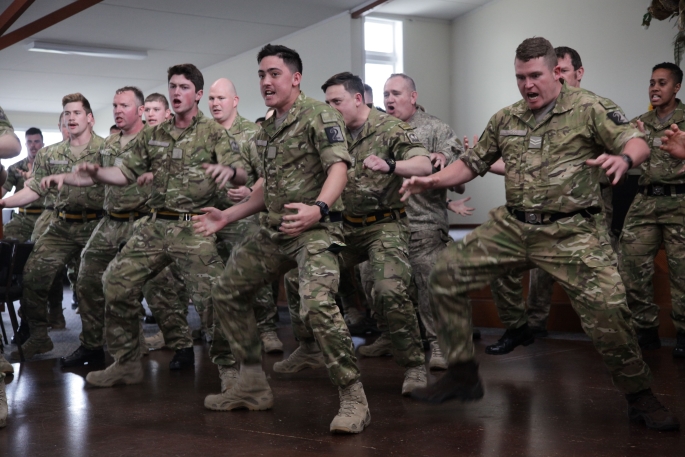 NZDF personnel respond with their haka. Photo/NZDF
Around 400 additional Defence Force personnel will be deployed across New Zealand, bringing the number of Defence Force in Rotorua to 50.

Major Joel Barter has recently begun a second tour as the Defence Force Officer In Charge of Rotorua Managed Isolation operations.
The Defence Force personnel will be joining a dedicated team at each Managed Isolation Facility which consists of at least eight private security staff, Police, Lakes DHB medical and wellbeing staff along with existing hotel employees.
Before they arrive in Rotorua, all personnel receive pre-deployment training that covers acting with empathy and compassion in difficult circumstances, appropriate conduct and legal powers, PPE use, training in standard operating procedures, and Covid-specific health information to identify symptoms and take care of their own health and wellbeing.
PPE is worn at all times within communal areas of Managed Isolation Facilities.
More on SunLive...