Diamonds in the making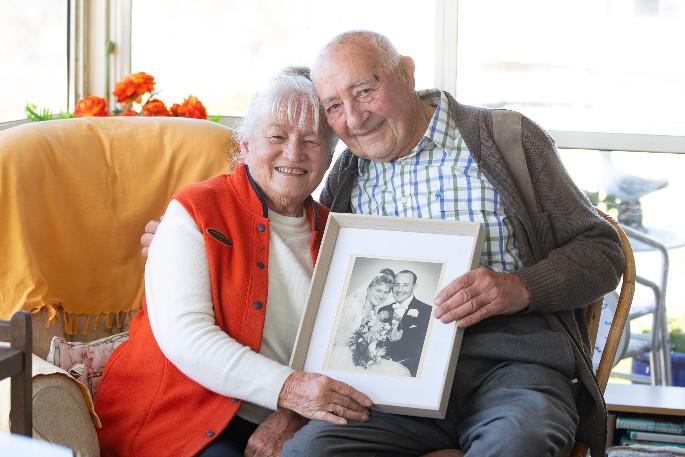 It took a Barry Crump book to draw a young couple from England to start life in New Zealand more than 55 years ago.
Derek Read, 88, is English, and his wife Else Read, 85, is Danish. They arrived in New Zealand in 1964, with their two daughters aged one and three, and are now celebrating their diamond wedding anniversary.
"We arrived with 60 pounds, camping gear and a VW Kombi van," says Derek.
Starting out living in Taupari, they shifted to Tauranga about six months later. Working in England bulldozing snow and using heavy machinery had set Derek on a similar path here, working with large earth moving machines and helping straighten out the road over the Kaimai Range.
"There's a lot of traffic now."
Living metres from the railway line in Bureta, the couple enjoy a view overlooking the harbour and Derek remembers the port wasn't here when they arrived. Driving to the Mount was a long trip through Welcome Bay.
"The Maungatapu Bridge hadn't been built yet."
The only time Derek was really upset with Else during 60 years of marriage was when he got caught in a rip at the Mount.
"I put my hand up to signal I was in trouble. Else was on the beach playing with the children in the sand.
"She thought I was waving to her so she waved back. I thought: 'that woman! I'm dying and she's waving back at me'."
Fortunately a surfer spotted him, bringing him safely ashore.
The family moved from Tauranga to Taumarunui then on to Tokoroa, with Derek working on airfields, roads and building sites.
"We lived in seven different houses in three years, because wherever the job was, we moved with it.
"Everything we owned we moved in our VW Kombi van."
When their eldest started school, Derek became a fitter welder and they moved back to Tauranga about 29 years ago.
"It doesn't feel that long since we got married," says Else.
"I went from Denmark to England to improve my English, working as a parlour maid in a stately home. It was lovely."
She happened to talk to one of the gardeners who was very keen to take her out.
"He was only 16 and I was 21. I said: 'no, no, no.' So he said: 'I've got a nice brother and he's got a car'."
She laughs at the memory. The brother turned out to be Derek who was 24 at the time. She had seen him while taking the master's dogs for a walk. The year was 1956.
"Dinosaurs were still here," says Derek, joking. "Life was simple in those days."
"He was alright, nice and kind," says Else. "I didn't think it was going to last, just somebody to go out with while I was in England."
After a four-year courtship, the couple married in Denmark.
"I wasn't too keen on living in England at that time, so we talked about moving somewhere else. Derek had read some books about New Zealand."
"Barry Crump," says Derek. The stories of hunting had drawn him here and it quickly became a passion for him, so much so that for 17 years he wasn't home on Else's birthday on April 7.
"The roar was on and he was away hunting," says Else.
"Deer were a pest in those days," says Derek. "Everything you could carry out – pigs and deer – you could sell them, and I carried hundreds out. I used to make a week's wages on a weekend's hunting."
They never expected to go back to England and Denmark but have returned many times, as well as trips to other parts of the world.
They have two daughters, three grandchildren and two great grandchildren.
The couple have had approximately 120 Danes stay over the years with them, some coming three times.
"We've helped the New Zealand economy," jokes Derek.
Derek says to find a partner and decide to spend your life together is most likely the greatest event to happen in your life, and not to be treated lightly.
"New Zealand has been great for us and our family but a lot of work and effort has gone in to get that and we have good memories with family and friends."
More on SunLive...