Funing moves closer to NZ for further ballast work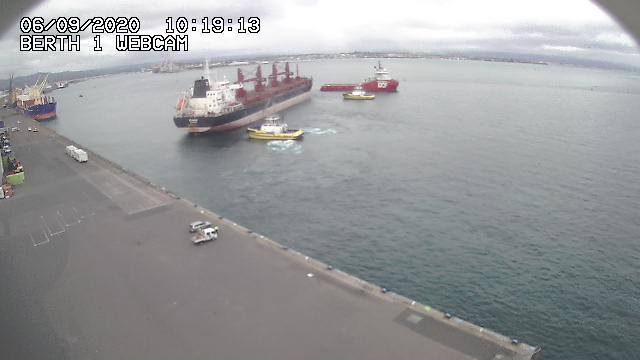 The bulk carrier Funing has been moved closer towards the New Zealand coast, whilst crew work to ballast the ship down further.
A number of people tracking MV Funing's movements since it left the Port of Tauranga on Sunday, have reported to SunLive that the vessel seemed to be tracking back towards NZ.
On Tuesday, a caller to the 0800 SUNLIVE news hotline said Funing had been heading north early on Tuesday but, by around lunchtime, it had changed course and was heading south.
"In order to stabilise the tow of the MV Funing the captain of the tug Skandi Emerald, which is towing the vessel, made the decision to move closer towards the coast into smoother water whilst the crew on the Funing work to ballast the ship down further," says a Maritime NZ spokesperson.
"This has necessitated a reversal of course whilst the ship is held into the wind and seas for this process."
Today, two SunLive readers reported that the Funing seemed to have moved closer to NZ and appeared to be near the Port of Auckland.
Maritime NZ says on Tuesday, both the Funing and Skandi Emerald were in international waters and there were no plans to return to port.
"The tug master worked to ensure that the Funing was well under control before heading out into the open ocean and kept Maritime New Zealand updated throughout the day. There were no reported issues with the tow wire itself."
Later on Tuesday evening, the Skandi Emerald and Funing elected to head towards the Auckland outer anchorage in the Hauraki Gulf as they required calmer waters to undertake further ballasting of the No 3 cargo hold, at the towed vessel's owners instructions.
"Neither vessel intends to enter Auckland Harbour and will remain at the outer anchorage."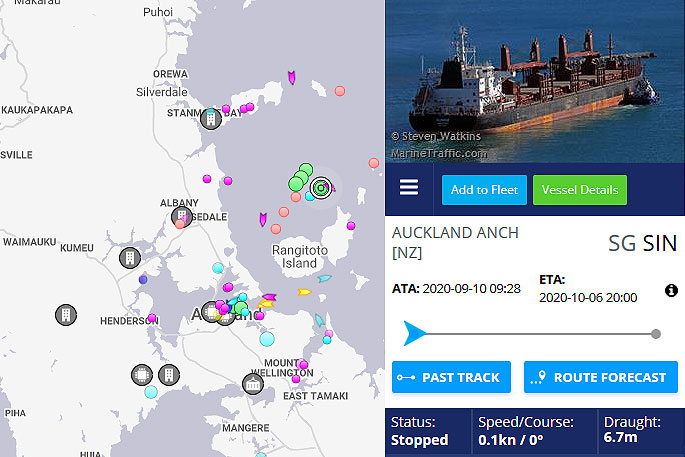 The Funing is anchored near Auckland. Image: marinetraffic.com
"As of 10.15am, the Funing was in the process of anchoring at the outer.
"A harbour tug is currently astern of the Funing aiding in anchoring, Skandi Emerald is ahead of the Funing and to port.
"Once at anchor the tow bridle on the Funing will be checked by a certified rigging company."
Once the tug master is satisfied with the set up on the Funing, they will resume passage towards Singapore, a trip that is expected to take around 40 days.
"Communication from the company/owners to the New Zealand authorities has been timely and appropriate throughout.
"Maritime NZ will continue to monitor the situation closely."
More on SunLive...