Tauranga: a growing city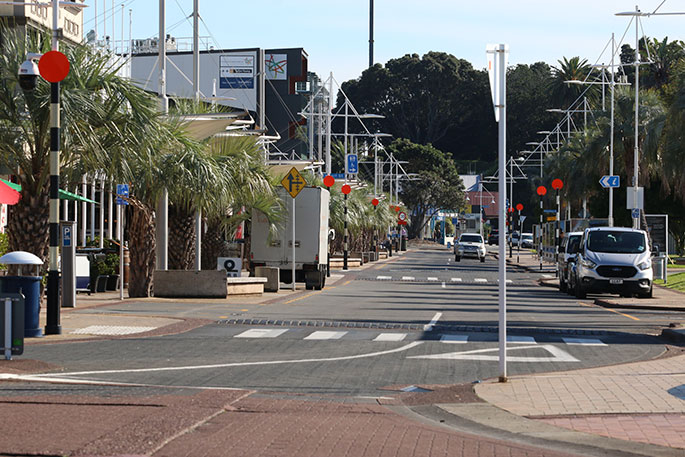 Tauranga is one of New Zealand's fastest-growing cities. Its population jumped from about 114,800 in 2013 to 136,700 in 2018, and it is expected to swell to 250,000 over the next 30 years.
According to Smart Growth Bay of Plenty, 43,000 news homes are required to meet the demands of this burgeoning population, with around 80 per cent of these new dwellings to be within Tauranga city.
So what does this mean for the future of Tauranga's city centre?
Tauranga has an opportunity to map out a vibrant central precinct and redevelop spaces that respond to the evolving needs of the population and the city's cultural identity.
For developers and architects, this is an opportunity to create new spaces that respond to the way people live, work, and play.
While greenfield sites will be converted to urban housing lots, Ignite Architects believe the most exciting opportunities lie in redeveloping Tauranga's inner-city brownfield gems.
"Our anchor projects include the mixed-use Farmers development at Elizabeth Street, and the recently completed Latitude Residences on Park Road," says a spokesperson for Ignite.
Latitude Residences is an example of considered intensification in Tauranga's city centre.
Located on the corner of Park Road and Cliff Road, the six-storey apartment building provides 28 one, two, and three-bedroom apartments with views over Robbins Park and across Tauranga Harbour to Mount Maunganui.
The $35 million project is the first major apartment development located in the CBD or city fringe in over a decade.
Ignite's Bay of Plenty regional manager Damian Simpson says Latitude Residences responds to Tauranga's demand for high-quality housing, while contributing to the vision of Tauranga as a metropolitan hub.
"There's been a genuine shift in thinking towards apartments as permanent homes, as people realise they can have low maintenance, security, and high amenity within a quality development," he says.
Damian says in a growing city like Tauranga, apartments like Latitude Residences make the best use of available land and reduce the impact on infrastructure.
The developer, TYBI Limited, is a group of local businesspeople who are working to revitalise central Tauranga.
Partnering with Veros Property Services and Form Construction, TYBI Limited leveraged the brownfield site to build the 5401m2 development; a move that Tauranga City Council has been encouraging developers to consider.
At the official opening and site blessing in July, Tauranga's mayor Tenby Powell advocated for more developments like Latitude Residences in downtown Tauranga to "enable people to live in what will become one of New Zealand's most desirable suburbs". https://sunlive.co.nz/news/247366-latitude-residences-officially-open-tauranga.html
Why are developments like Latitude important?
While apartments are commonplace in major centres like Auckland and Wellington, there has been a distinct lack of high-rise apartment development in Tauranga over the last decade, and according to Smart Growth Bay of Plenty, fewer than 20 per cent of new housing development occurs within the existing Tauranga urban area.
Ignite Associate Shara Paulo says this has to do with developers' confidence in the appeal of high-density living in the region.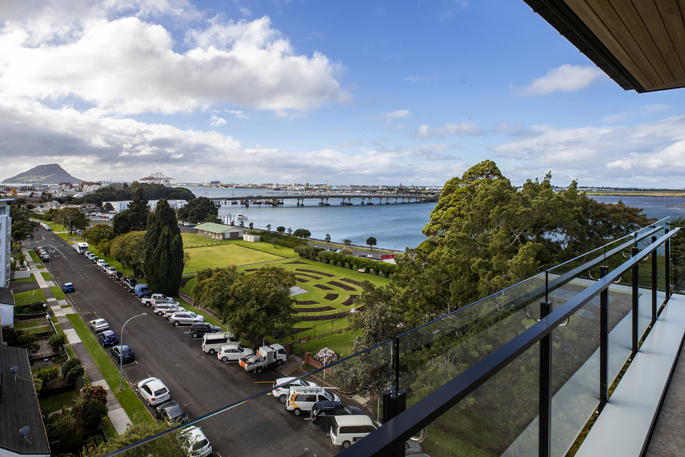 The apartment building provides views across the Tauranga Harbour to Mount Maunganui. Photo: John Borren/SunLive.
"It's easier to do what is market-tested, like a conventional subdivision of standalone houses," she explains.
"So TYBI did something pretty brave with Latitude Residences. They've proven that intensification can work here, and I think that deserves praise because these kinds of developments play such an important role in creating liveliness in the city centre."
This is exciting news for the Bay of Plenty's largest city; by breaking the pattern of low-density subdivisions that are typically seen in Tauranga, Latitude Residences instead creates something positive for the CBD.
By drawing people into the inner precinct and being within walking distance to all central hubs, it's hoped that it will potentially start a domino effect of new hospitality and entertainment spaces popping up in its wake, helping to organically build vibrancy in the CBD.
While Latitude Residences isn't the only answer to Tauranga's CBD challenge, it certainly takes a bold step forward – Latitude is leading the way for increased density in the region and is playing a key role in activating the neighbourhood and injecting new life and vivacity into the urban centre, says Damian.
"We have a vision to transform the heart of Tauranga into a truly bustling, people-centric neighbourhood.
"With this project complete, we're now seeing that vision become a reality."
More on SunLive...